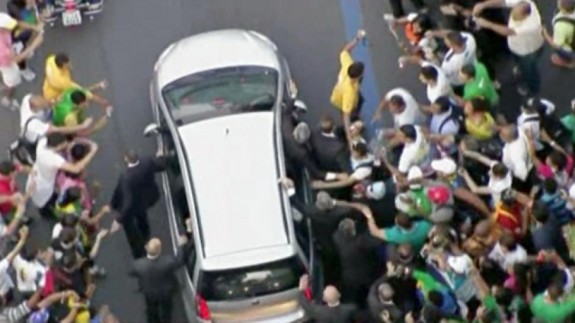 From Reuters:
Pope Francis is shunning bulletproof vehicles during his trip to the Middle East this month, insisting that he use a normal car and be allowed to be as close to people as possible, the Vatican said on Thursday.

The Vatican, briefing reporters on the trip, also confirmed that a rabbi and an Islamic leader will accompany Pope Francis on his trip to the Middle East in a gesture of the importance he attaches to inter-religious dialogue.

Francis will visit Jordan, the Palestinian Territories and Israel during the May 24-26 trip, his first as pope to the region.

"The pope wants an open popemobile and a normal car. The local security official took the desire of the pope into consideration," said chief spokesman Father Federico Lombardi.

"I don't think there was too much discussion about that," he said, hinting that local security officials had suggested the use of bulletproof vehicles but were over-ruled.

Francis' predecessors were driven in bulletproof limousines on their trips, whether just around Rome or abroad. Heads of state visiting the Middle East tend to use bulletproof cars.

Francis instead uses a blue Ford Focus in Rome and during his trip to Brazil last July, he was driven around Rio de Janeiro in a small silver Fiat at his own request.

At times during that trip security broke down and police were unable to control the crowds, who surrounded the car. Lombardi said he did not expect similar scenes in the Middle East because Catholics are a minority there.

Lombardi also said the Vatican was not overly concerned by threats to Christians scrawled by suspected Jewish extremists on church property in the Holy Land.

On Monday, "Death to Arabs and Christians and all those who hate Israel" was daubed in Hebrew on an outer column of the Office of the Assembly of Bishops at the Notre Dame Center in East Jerusalem.

Francis is due to meet Israeli Prime Minister Benjamin Netanyahu at the Notre Dame Center, located just outside the walls of the old city, on the last day of his trip.