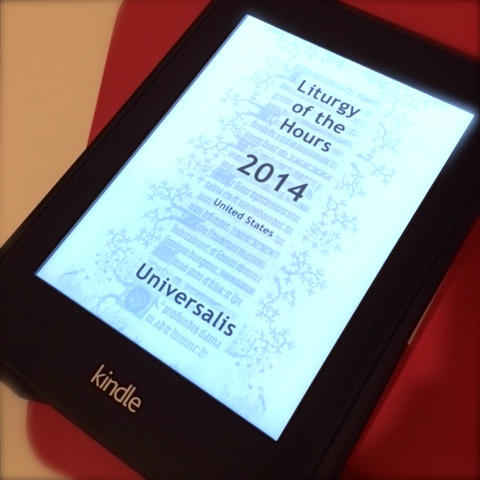 If you've been itching for an edition of these prayers for your e-reader, the wait is over.
Universalis in July published an edition of The Liturgy of the Hours for the Kindle Paperwhite. (Various editions for the Kindle Fire have been around for a while; I've used both the iBreviary and Divine Office apps, and they're both very good.)  But if you don't have a tablet, or the ability to use apps, this could be the next best thing.
The pages are easy to navigate, and include all the hours, from the Invitatory to the Office of Readings and Compline and everything in between.
The one issue I have is the price. A complete year is $9.99…which means you'd have to buy a new edition annually. With the apps for tablets, you buy it once and you're set for life. (Though you do have to download the prayers daily. If you are in a place with sketchy Wi-Fi—on retreat, or in a foreign country—that might be problematic.)
Nonetheless: the Paperwhite version is a welcome addition, and should help to make these prayers more accessible to more people.
Let us pray!
Curious? If you have the Paperwhite, you can search for "Liturgy of the Hours," and download a free sample.
UPDATE: A few people have pointed out that the Universalis translation is not authorized for use in the United States. Based in the UK, Universalis uses the Grail Psalms and Jerusalem Bible.