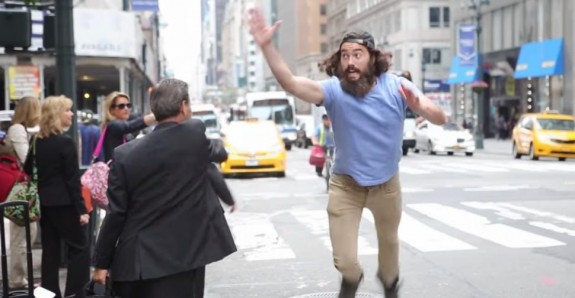 When so much of the world seems to be bad, here's a little slap of good.
The New York Daily News notes:
If you stick your hand in the air long enough, someone may just give you a high five.

Filmmaker Meir Kalmanson ran around Park Ave. in July giving unsuspecting people trying to hail a cab the friendly gesture for his online video "High Five New York."

The 24-year-old told the Daily News he was walking around Manhattan one day when he saw a person with his hand in the air. He told a friend he would try to give the man a high five and pulled it off. He later decided to try to create a video about the concept.

"I love making videos where they are not just funny but also are heartwarming and have a good feel and message to it," he said. "I love seeing all of the people (in New York) and it just clicked in me. 'How cool would it be to give someone a high five?'"
Check out the results below.  It's hard not to watch it and smile.