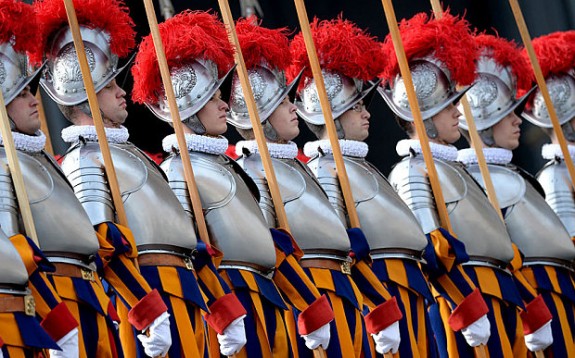 He has dismissed and demoted cardinals, bishops and the Vatican secretary of state, and now Pope Francis's reformist zeal has claimed a new scalp – the head of his own private army, the Swiss Guard.

In a dispassionate one-sentence notice, the Vatican's official newspaper, L'Osservatore Romano, announced on Wednesday that Daniel Anrig will no longer serve as the commandant of the 500-year-old corps after the end of next month.

No official explanation was given for the decision, but it was widely rumoured that the Argentinean Pope, who has established a warmer, more inclusive style of governance since being appointed pontiff in March last year, found the commander's manner overly strict and "Teutonic".

The 77-year-old pope is said to have been appalled recently to have emerged one morning from his private suite of rooms to find that a Swiss Guard had been standing guard all night.

"Sit down," he told the young guardsman, to which the soldier said: "I can't, it's against orders."

The Pope replied: "I give the orders around here," and promptly went off to buy a cappuccino for the exhausted soldier.

In October, the Pope was photographed shaking hands with a member of the elite corps, breaking years of protocol which demanded that pontiffs should treat the Swiss Guardsmen with aloofness.

The Jesuit pontiff, nicknamed "the people's Pope", is said to want the Swiss Guard to be less rigid in its rules, even "less military", according to Il Messagero, a Rome-based daily.
Well, I'd take this with a grain of salt. The cappuccino story sounds too much like the sandwich story that was widely circulated last year, just a few weeks after the conclave — and it's never been confirmed. And the "widely rumoured" reason for the dismissal sounds like idle gossip around the Swiss Guard barracks.
UPDATE: The BBC account has more detail and context. Snip: 
Col Anrig's approach has riled colleagues, with one Swiss Guard telling Italian media "this is the end of a dictatorship", on news of his departure.

Pope Francis, according to Vatican sources, is unhappy at the Swiss officer's excessively strict military discipline imposed on his non-commissioned officers and men.

Colonel Anrig was head of a criminal investigation team in Switzerland before his appointment by former Pope Benedict in 2006.

He was investigated by the Swiss Red Cross and by Amnesty International for alleged human rights violations during a raid he led on an immigrants' refugee centre in 2003, but has denied any wrongdoing.

Pope Francis is apparently also unhappy at the commander's refurbishment of a large and luxurious penthouse apartment for his family above the barracks inside the Vatican where the Swiss Guards are quartered.