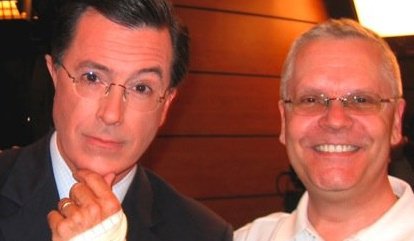 As MCPF (My Close Personal Friend) Stephen bids farewell to his show at Comedy Central tonight, Busted Halo has a nifty roundup of top Colbert Catholic moments.
This one below, however, remains, my all time favorite.
UPDATE: James Martin, S.J., the chaplain of The Colbert Report, has some insight into Colbert The Catholic over at America:
He describes himself as the "Most Famous Catholic in America," and demonstrates a vast knowledge of the Catholic faith. In fact, I always smile when I see guests who think that he doesn't know what he's talking about, only to be brought up short by his knowledge. And yes, I do see him very much as a catechist. In fact, he's probably one of the most effective catechists in the American church. As I see it, he evangelizes with humor, and reaches a population–of mainly young, well educated, and sometimes skeptical men and women–who enjoy the way he combines some lighthearted satire of the church with a clear love for his faith. Stephen is, in my mind, an especially good evangelist of the Gospels' emphasis on care for the poor. And he catechizes more people in a few minutes than I could do in a month of homilies.