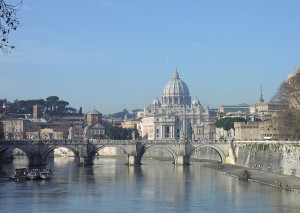 The liturgy should help the faithful enter into God's mystery and to experience the wonder of encountering Christ, Pope Francis told priests of the diocese of Rome.

People should feel the wonder and allure "that the apostles felt when they were called, invited. It attracts — wonder attracts — and it lets you reflect," the pope said during an annual Lenten meeting with Rome pastors in the Paul VI audience hall.

Sitting behind a table and talking off-the-cuff, glancing occasionally at a few pages of notes in front of him, the pope led the pastors Thursday in a reflection on the homily and "ars celebrandi," the art of celebrating the liturgy well.

…Concerning the homily, the pope again suggested clergy read Jesuit Fr. Domenico Grasso's "Proclaiming God's Message: A Study in the Theology of Preaching" and Jesuit Fr. Hugo Rahner's "Theology of Proclamation," adding that what distinguished Fr. Hugo Rahner from his theologian brother, Jesuit Fr. Karl Rahner, was that "Hugo writes clearly."

Before the pope's talk, Cardinal Agostino Vallini, vicar of Rome, said he and his audience were ready to reflect together with the pope on what French theologian Fr. "Louis Bouyer called the danger of the 'nausea of the word' in the liturgy caused by an inflation of words that are at times repetitive, a bit trite, obscure or moralistic and that do not pierce the heart."

The cardinal said they try to preach well, but are always looking for improvement.

"A good homily leaves its mark," he said, while a homily "that is lacking does not bear fruit and, on the contrary, can even make people give up on Mass."

"We want our words to set people's hearts on fire" and want the faithful "to be enlightened and encouraged to live a new life and never be forced to suffer through our homilies," he said.