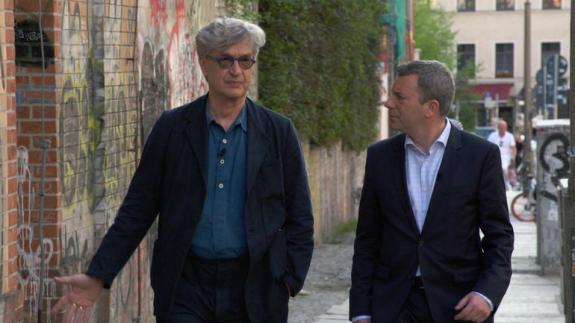 The CBS News program "60 Minutes" last night aired an interview with director Wim Wenders, and gave viewers an exclusive first look at his new documentary on Pope Francis, "A Man of His Word." As reporter Jon Wertheim puts it in the introduction:
A German experimental filmmaker — and a lapsed Catholic at that — is hardly the conventional choice for the Vatican to hand-pick as the pope's documentarian. But Pope Francis has, you might say, excommunicated convention.
You can watch the segment here. 
From the transcript:
Wenders interviewed the pope four times for more than eight hours total. They both agreed this spot in the Vatican gardens was their favorite setting. But it didn't come without challenges.

Wim Wenders: And now you already hear the bloody parrots.

Jon Wertheim: Were you warned that the Vatican's parrots might interrupt the shoot?

Wim Wenders: No, even the Vatican itself didn't know that they had these…

Jon Wertheim: They didn't know?

Wim Wenders:  …birds that were really loud.

Jon Wertheim:  Was this project top secret? Did people know this was…

Wim Wenders: I don't think anybody knew. We shot under the radar.

One possible reason – these are fraught times for the church. Francis has been critical of the Vatican's bloated bureaucracy, and traditionalists have pushed back, accusing him of neglecting his spiritual role. All this plays out amid the church's unrelenting sexual abuse scandals. When Wenders inevitably raised the subject, it brought out a simmering rage.

Wim Wenders: We saw this anger once really very strong. And it was almost physical, it was the way it translated. And that was my question about pedophilia and there he got so worked up. And there was a very angry man speaking into the camera.

Pope Francis (Spanish with English subtitles): Towards pedophilia, zero tolerance! And the Church must punish such priests who have that problem, and bishops must remove from their priestly functions anyone with that disease, that tendency to pedophilia, and that includes to support the legal action by the parents before the civil courts. There is no other way out of this! Zero tolerance, because it's a crime, no, worse! It's leaving them alive, but destroyed.

And yet on this point too, Francis has his critics, who believe he could do more to confront the abuse.

Jon Wertheim: You say he's not a politician, but he has a constituency. Do you think he's influenced by or even aware of public opinion?

Wim Wenders: I can say one thing: he is the most fearless man I ever met.

Jon Wertheim: Fearless?

Wim Wenders: Fearless. And he is not influenced by polls or whatever. I don't think he would ever consider any public opinion over something he means and he's convinced of. He's totally fearless. Because he has a lot of opposition.

Jon Wertheim: Do you think he's aware of that?

Wim Wenders: I think he's totally aware of that.

That fearlessness was on display in the interviews. Wenders could ask any question he thought apt. Imagine asking the pope why God allows children to suffer.

Pope Francis (Spanish with English subtitles): It's a question that we all ask ourselves. And if you ask me why children suffer, the only thing I can say is: "Look at the Child of God on a cross." I don't know what other answer to give you. But let's talk about why God allows it, which is the core of the question. Quite simply, because he created us as persons, and as such: free! God is respectful of freedom. He allowed his son to be killed on the cross. The game of human freedom: God risked a lot here! It would more dishonor man, if God could take away his freedom, than if man, with his freedom, committed a crime.
Read it all and watch the piece. 
Below is additional material from CBS News' exclusive online YouTube series, "60 Minutes Overtime," which sheds more light on how the story was put together.