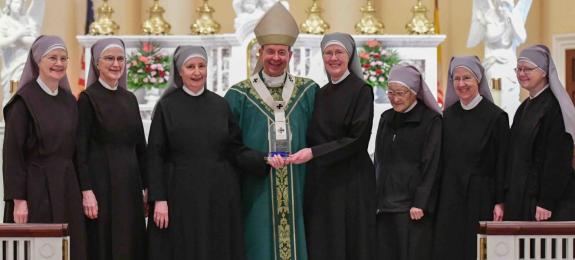 It happened outside Baltimore.
From The Catholic Review:  
Apparent Good Samaritans turned out to be nothing of the sort after allegedly stealing Christmas presents from two Little Sisters of the Poor outside the Costco in Columbia Nov. 26.

Mother Superior Joseph Caroline Beutler and Sister Bernadette Mary Wilson, who care for the elderly poor at St. Martin's Home for the Aged in Catonsville, were taking advantage of holiday sales to purchase $510 worth of items, including blankets and socks they intended to give as gifts to the employees of St. Martin's at an upcoming Christmas party.

At approximately 5:15 p.m., Mother Joseph Caroline said, they were approached by a man who offered to help them outside the store as it began to rain.

Accompanied by a woman Mother Joseph Caroline described as "very nervous," the man pushed their carts and loaded packages into the Little Sisters' car in what the sisters assumed was a gesture of goodwill.

"The next thing we knew, the carts were empty," she said. "It wasn't until we got home that we realized that we only had about half our packages. There was $220 worth of merchandise stolen. When we turned our backs, he must have gone off with the goods."

Sherry Llewellyn, director of public affairs for the Howard County Police Department, said a police report has not been filed, but an investigation has been opened.

"We have not seen a trend of incidents like this," she said.

Marcy Shea-Frank, director of development for the Little Sisters of the Poor, said the sisters were notified by Costco officials Nov. 27 that a flatbed of merchandise believed to have been purchased by the sisters was found on the store's property. It was not in the same location as where the sisters were Nov. 26. Mother Joseph Caroline believes the alleged thieves had a change of heart or decided they didn't want the items after they saw what they were.