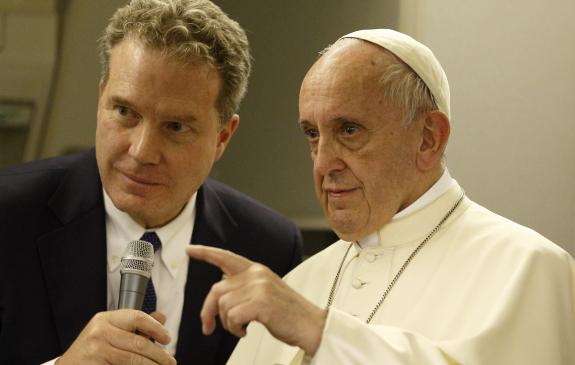 This is huge.
The unexpected announcement came via tweet this morning, noting that both Burke and his deputy would be departing tomorrow.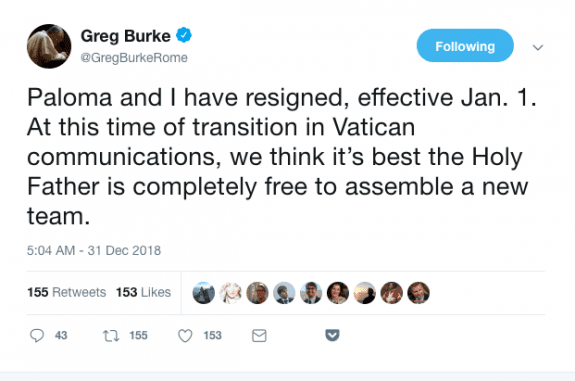 Burke, you may recall, was a veteran American journalist who came to work at the Vatican after years at Fox News. His Wikipedia entry notes:
He was the Director of the Holy See Press Office. He was formerly a correspondent for the Fox News Channel, and for Time Magazine, based in Rome. In June 2012 it was announced he would be taking up the position of senior communications adviser with the Secretariat of State.

He was appointed vice director of the Holy See Press Office in December 2015, and was promoted to director of that office 1 August 2016. On 31 December 2018, he announced his intention to resign his appointment.

Burke is from St. Louis, Missouri. He is a graduate of the Columbia University School of Journalism. He is a member of Opus Dei.
CNN reports on his departure:
Vatican spokesman Greg Burke and his deputy, Paloma Garcia Ovejero, have resigned, an official Vatican statement announced Monday.

The statement confirmed that Pope Francis accepted their resignations but did not provide more details about their abrupt exit.

Burke, an American, tweeted Monday that he and Ovejero, a Spaniard, had resigned effective January 1.

"At this time of transition in Vatican communications, we think it's best the Holy Father is completely free to assemble a new team," Burke said.

The former Fox News journalist, who joined the Vatican in 2012, described his experience as "fascinating, to say the least."

Francis appointed Alessandro Gisotti, a member of the Vatican's communications office, as interim director of the Holy See Press Office.

Their departure comes several weeks after Francis appointed Italian journalist Andrea Tornielli as editorial director of all Vatican media and Andrea Monda as editor of the Vatican newspaper, marking a significant shake up of the Vatican's media operations.
No doubt,
this
news, announced just before Christmas,
has something to do with it:
Pope Francis made new appointments to the Dicastery for Communication, naming Andrea Tornielli, an Italian journalist, as its "editorial director" and Andrea Monda, an Italian journalist and religion teacher, as editor-in-chief of the Vatican newspaper, L'Osservatore Romano.

The Vatican made the announcement Dec. 18.

Tornielli, a respected Vatican reporter, was born in a city near Venice in 1964 and earned a university degree in the history of the Greek language. He worked at the Italian Catholic magazine, "30 Giorni," and later at the Italian newspaper, "Il Giornale," before running the "Vatican Insider" website of the Italian daily, "La Stampa."

His role as "editorial director" will be to coordinate the "editorial line" of all the Vatican's media outlets, to work on "strategic development" of new forms of communication and to integrate "traditional media with the digital world," according to the dicastery's statutes. He is the first to hold the post since it was created in 2016.
America adds this:
The Holy See has not provided an explanation for their sudden resignation, but sources to whom America has spoken believe that it was motivated by the fact that their vision and understanding of their role as spokespersons for Pope Francis and the Holy See, and of the role of the Vatican press office, was not fully shared within the Vatican. It seems that this contrast in visions and the conviction that, notwithstanding their suggestions, change was unlikely to happen in the foreseeable future, led them to conclude that their positions were no longer tenable.
Stay tuned.