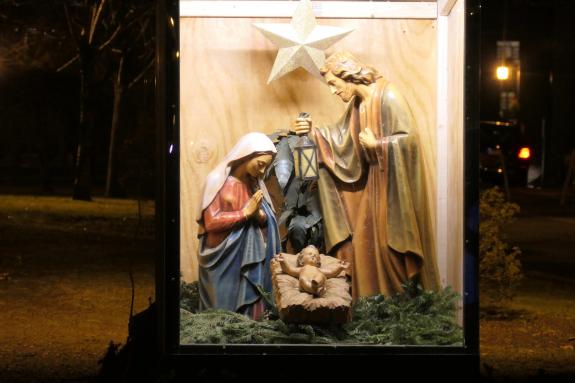 Christmas Eve, I was invited to offer the invocation at the annual Forest Hills Christmas Eve Celebration, held this year at Greenway Terrace Park.
It's always a festive event, bringing together a few hundred locals to sing, drink hot chocolate and get in the Christmas spirit.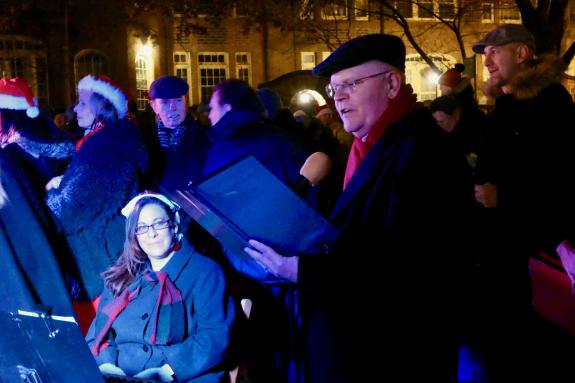 My remarks kicked off the festivities, just a few yards from the Nativity scene set up in the park:
Let us pray.
Almighty God, we gather tonight on the earth you created, beneath the stars that you set in place.
As we look up in wonder at the heavens, we recall others who stood under the evening sky all those years ago, waiting and watching—shepherds who heard the song of angels, a song that still echoes in our hearts:
A song of "Glory to God…peace on earth."
Gracious God, as we give glory to you, on this night of miracles and wonder, we ask that you bless all who gather here.
Bless us with your hope and with your abiding peace.
Bless us with the gift of remembrance.
Help us remember.
As we ponder the baby Jesus, our Savior "wrapped in swaddling clothes," help us to remember others like him we encounter in our world today.
Help us to remember those others often forget.
Make of our hearts a manger— to hold the small and the weak, the vulnerable and the poor.
Make of our lives a stable — to protect the persecuted and the outcast, the lonely and abandoned.
Dear God, continue to make of this community a place of welcome to all.
On the night of our savior's birth, a star pierced the darkness.
Heavenly Father, we ask you to give to all of us the blessed gift of your light—to banish the darkness of doubt and despair.
Finally: here on this solid ground, underneath your heavens, we look not only to you, but to each other—people from many cultures, beliefs and backgrounds.
And we see in every face in the crowd another child of God.
This night, we embrace that as our prayer.
This night, we pray together. We rejoice together.
And we stand together.
May we always stand together in fellowship, in friendship — and, above all, in peace.
We ask all this through the one whose birth we acclaim tonight: Emmanuel, the prince of peace.
We ask this through Jesus Christ our Lord, Amen!
Merry Christmas!