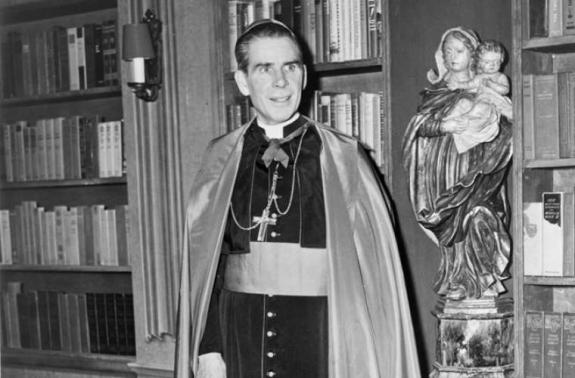 This makes a lot of sense.
The beatification of Archbishop Fulton Sheen was delayed at the request of Bishop Salvatore Matano of Rochester, according to several sources close to the beatification process.

The bishop is reported to have requested the delay due to concerns that Sheen could be cited in the final report covering an ongoing state attorney general's investigation into New York's bishops and dioceses.

In September, New York's attorney general began an investigation into whether any of the state's eight Roman Catholic dioceses had covered up acts or allegations of clerical sexual abuse. Sheen was Bishop of Rochester from 1966 to 1969.

The bishop, who was a prolific author and television personality, was set to be beatified on Dec. 21, the last step before a person can be declared a saint.

A "postponement" of the beatification was announced by the Peoria diocese, where Sheen is buried and would have been beatified, on Dec. 3.

The diocese said that "a few members of the Bishops' Conference" had "requested a delay," adding that "the Diocese of Peoria remains confident that Archbishop Sheen's virtuous conduct will only be further demonstrated."

According to a source close to the Vatican's Secretariat of State, Matano contacted the apostolic nuncio after the beatification date was set, to express concerns that Sheen could be named in a report by the attorney general, or accused of insufficiently handling allegations of abuse during his tenure as Rochester's bishop.

There was apparently specific concern that such an allegation against Sheen could be timed to coincide with the beatification on Dec. 21, sources told CNA.