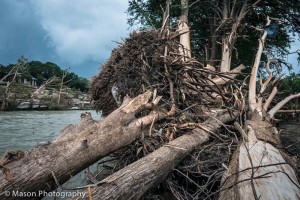 Just when I think the world is going hell in hand basket, I hear or see something that restores my faith in humanity.
Most recently, it was a group of young volunteers who planted new trees where they had been ripped up by a flood in my town.
The Memorial Weekend flood in Wimberley, Texas, sent a 40-foot wall of water down the Blanco River, smashing bridges and destroying homes on both sides of the riverbanks.
And the trees! Stripped bare. Broken. Uprooted. Or simply gone.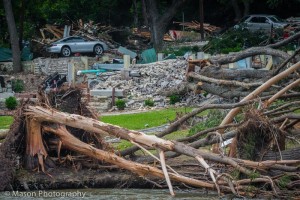 Flash floods are common in the Texas Hill Country. But this was not a 100-year flood or even 500 years. The water was stronger, higher and faster than any of the environmentalists or engineers had imagined was possible here.
FEMA swooped in, nonprofits and churches went into overdrive, and millions of dollars were spent helping to restore homes and businesses.
But our hearts broke every time we drove down River Road, where beautiful homes once overlooked a row of enormous trees along the Blanco River.
The river usually laps along at ankle depth, sparkling green in the sun, and the trees had swayed over it for who knows how many decades or centuries. But not anymore.
Then came Retreet, a nonprofit based in Dallas, which draws volunteers from all over the country for weekend planting trips. I had not heard of them before they showed up to do good.
They describe their mission thusly:
RETREET is a kaleidoscopic group of tree and bicycle enthusiasts with strong backs, sharp minds, and big hearts who volunteer to replant communities in the wake of disaster, thereby redefining the concept of disaster relief.
Eighty volunteers left 200 new trees in Wimberley, along the river and at private homes whose landscapes had been decimated in the flood. Native species – Texas ash, cedar elm and chinkapin oak. (You can watch coverage from The Weather Channel or Austin news.)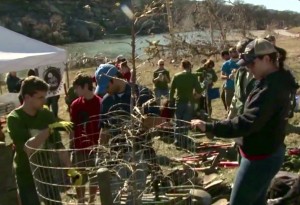 This hardy group also planted trees on Long Island after Hurricane Sandy; in Moore, OK, after the EF5 tornado; and in Bastrop, TX, after wildfires. They have worked in Colorado and Canada.
What a gift to the planet!
Okay, I worship trees. Maybe I was Druid in another life.
Or maybe it's because I grew up in dry and dusty West Texas, where the only trees were those planted, watered and tended in someone's yard. My father used to say, "Trees grow on money."
In 20 or 30 years, you'd have a decent-sized tree.
The Retreet trees won't grow any faster. But even while the trees are young, they'll be pumping oxygen into the air and easing the stress of people living in disaster areas.
I speak and write all the time about the divine essence of human beings. I keep insisting we are made in God's image and are inherently good, despite all appearances.
Most of the time, I have to stand in faith.
But every now and then, someone proves it. Thanks, Retreet.
Where to you see divinity in action? Scroll down for the comment section.