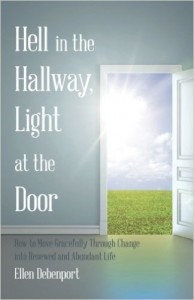 Hell in the Hallway, Light at the Door
How to Move Gracefully Through Change into Renewed and Abundant Life
by Ellen Debenport
Copyright: October 23, 2015
Publisher: BalboaPress
Summary:
"When one door closes, another one opens, but it can be hell in the hallway."
The hallway is that place between jobs, between relationships, after a death or divorce-whenever life as you know it has changed, and you don't know what's coming next. No matter how difficult or painful, the hallway can be a place of tremendous inner growth and renewal.
Ellen Debenport understands that every challenge in life is spiritual, whatever the circumstances. She will walk with you through the dark until you can see light at the door.
* Find out which kind of hallway you have entered.
* Learn the spiritual steps to move through transition.
* Create what you want behind the next door.
Hell in the Hallway, Light at the Door will lessen your fear of change and open your heart to the gifts of a renewed life.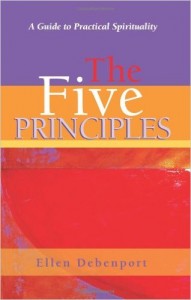 The Five Principles
A Guide to Practical Spirituality
by Ellen Debenport
Copyright: June 1, 2009
Publisher: Unity House
Summary: The Five Principles was written to provide tools for daily living and suggests answers to the great questions of existence that humans have been asking since the dawn of conscious awareness.
Questions such as:
What is this greater Presence that we sense around us?
Who and what are we?
Why do things happen in our lives the way they do?
How can we communicate with this Presence?
What are we here to do?
These five principles constitute the core teachings of the Unity spiritual movement founded in 1889 by Charles and Myrtle Fillmore. These same principles reflect the laws of the universe that apply to everyone, all the time. They show up in every major religion, and are all reflected in the teachings of Jesus Christ.
The author encourages every reader to "work with the principles, test them, apply them to your life, and watch what happens."