This year has been a profound season of growth for me. After a miscarriage in March, I spoke publically about the experience and my sorrow. I'd written of our struggles before, but really felt terrified to talk openly about my pain. But actually saying the words to an audience led me to deep healing. Since then I haven't encountered the same triggers when people ask if we have children and why not. I found peace.
In some sense, I thought I'd overcome the agony of the barrenness trial. I celebrated the victory.
Festivities Fall Flat
As this holiday season approached, I found myself emotional, preferring isolation to festivity. Even my writing outlet ceased. I had no words.
I had a meltdown before and during December's book club because I felt overwhelmed by the upcoming loss of so many church friends in 2018 who will be leaving Oahu for various reasons.  Feeling so sucker punched by losing friends (that weren't even moving for months still) shocked me.  I mean Anthony and I typically move every one to two years. I've dealt with losing friends for years.
I felt the loss viscerally.
My zest for the Christmas season fell flat.  Anthony put up the tree and even created our Christmas greetings!  What a gift to me!
Still, something in the pit of my stomach churned. When I thought of missing Christmas surrounded by family, I felt nauseous and cried. I've lived away from family for years and I miss them. But I've never been overcome by grief for being absent.
I couldn't figure out these deep-seated emotions. I decided our family's near loss of my sister-in-law in November and the empathy that brought for friends and family who lost family members this year kept emotions near the surface.
Turning to Old Friends
During the Christmas season, I love finding and reading Nativity stories. This year I felt drawn to reread stories I'd read many times before.
As I read The Nativity of Mary's story of her parents' struggle with barrenness, my soul's floodgates opened.
Joachim took sacrifice to the temple, which he always did willingly to obey the law. The High Priest condemned him for bringing sacrifice "asking why he, who had no offspring, presumed to stand among those who had; saying that his gifts could not by any means be acceptable to God, since He had deemed him unworthy of off-spring: for the Scripture said, Cursed is everyone who has not begot a male or a female in Israel. He said, therefore, that he ought first to be freed from this curse by the begetting of children; and then, and then only, that he should come into the presence of the Lord with his offerings."
Deciding to not return to Nazareth because of his shame, Joachim retreated to the sheepfolds of Bethlehem. After some time, like months according to some stories, an angel appeared to him with a promise of Mary's birth.
"For He hath seen thy shame and hath heard the reproach of unfruitfulness which has been unjustly brought against thee. For God is the avenger of sin, not of nature: and, therefore, when He shuts up the womb of anyone, He does so that He may miraculously open it again; so that that which is born may be acknowledged to be not of lust, but of the gift of God."
Not Fully Accepting His Gift
I habitually grieved every miscarriage loss. I found peace for that loss. But I tried to sidestep a major part of total recovery—the grief of losing that identity. I needed to forgive myself for expectations set and still held in the recesses of my heart. I needed to claim another expression of that identity. I needed to acknowledge this piece to find peace.
Over the years, the Lord spoke peacefully to me about this trial. He gave me clear vision of purpose and opened doors of opportunity. Despite His graciousness, I still clung to a hope, something so deeply entrenched in my soul that it's taken 20 years to bring to the surface to lay before the Lord on my sacrificial altar.
The Lord also speaks to me through visually and through music. While processing this latest realization and grief, my friend and I headed to the temple Thursday morning for our weekly temple trip. After I climbed in her van, she turned toward the complex gate. Bursting dramatically on the scene was the most glorious rainbow.  It filled the whole sky and demanded our awe.
And I saw another mighty angel come down from heaven, clothed with a cloud: and a rainbow was upon his head, and his face was as it were the sun, and his feet as pillars of fire…And the voice which I heard from heaven spake unto me again.
Fall On Your Knees
Last night, I found the other half of His message as I sought Him in my favorite Christmas song.
Till He appeared and the soul felt its worth, A thrill of hope, the weary soul rejoices, For yonder breaks a new and glorious morn. Fall on your knees! O hear the angel voices! He knows our need, to our weaknesses no stranger. Chains shall He break…and in His name all oppression shall cease.
This morning, I felt His new and glorious morn. He knows my need and abundantly supplies.
I love Him and will praise His Name forever! Christ is the Lord!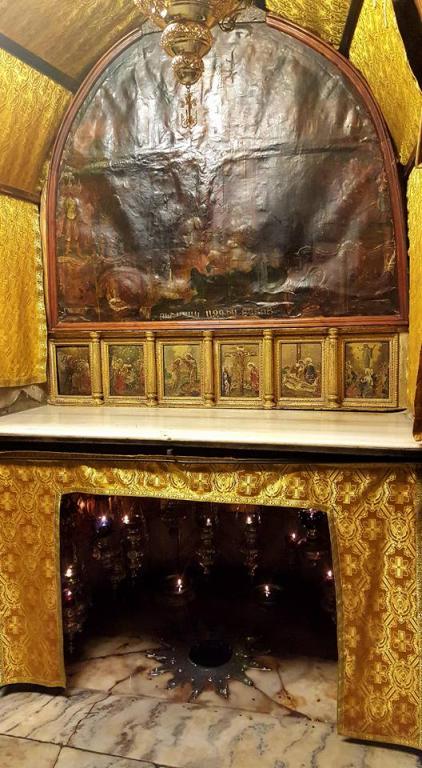 O holy night! The stars are brightly shining,

It is the night of our dear Saviour's birth.

Long lay the world in sin and error pining,

Till He appear'd and the soul felt its worth.

A thrill of hope, the weary soul rejoices,

For yonder breaks a new and glorious morn.

 

Fall on your knees! O hear the angel voices!

O night divine, O night when Christ was born;

O night divine, O holy night, O night Divine.

Led by the light of Faith serenely beaming,

With glowing hearts by His cradle we stand.

So led by light of a star sweetly gleaming,

Here come the wise men from the Orient land.

The King of Kings lay thus in lowly manger;

In all our trials born to be our friend.

 

He knows our need, to our weaknesses no stranger,

Behold your King! Before Him lowly bend!

Behold your King, Before Him lowly bend!

 

Truly He taught us to love one another;

His law is love and His gospel is peace.

Chains shall He break for the slave is our brother;

And in His name all oppression shall cease.

Sweet hymns of joy in grateful chorus raise we,

Let all within us praise His holy name.

 

Christ is the Lord! O praise His Name forever,

His power and glory evermore proclaim.

His power and glory evermore proclaim.