I loved this engaging teenager's talk on family history and thought you would, too.
From Jesse Welling.
Brothers and sisters, buenos dias and aloha! My name is Jesse Welling and after six weeks of preparation, I can now fluently say good morning in Spanish. In case you missed the announcement, or had better things to do, I will be leaving to serve a mission in Guayaquil, Ecuador, around Halloween.
I couldn't ask for a more loving or supportive ward as I prepare for my service and I would like to thank my church leaders and quorum members especially for blessing me with many opportunities to practice and flex my spiritual quads.
I nearly pulled a muscle on this most recent opportunity, however. I was asked to give my thoughts on Elder Renlund's talk from April's General Conference, which was family history and temple work.
I've always had 100% faith in this church since Day 1, but this was bearing witness to a direct message from the Spirit— a "war that's too freaky to be coincidence," because up until seven hours ago, I had kept a very distant relationship with this topic. And I could almost hear the Spirit say, "You gotta do this, bro."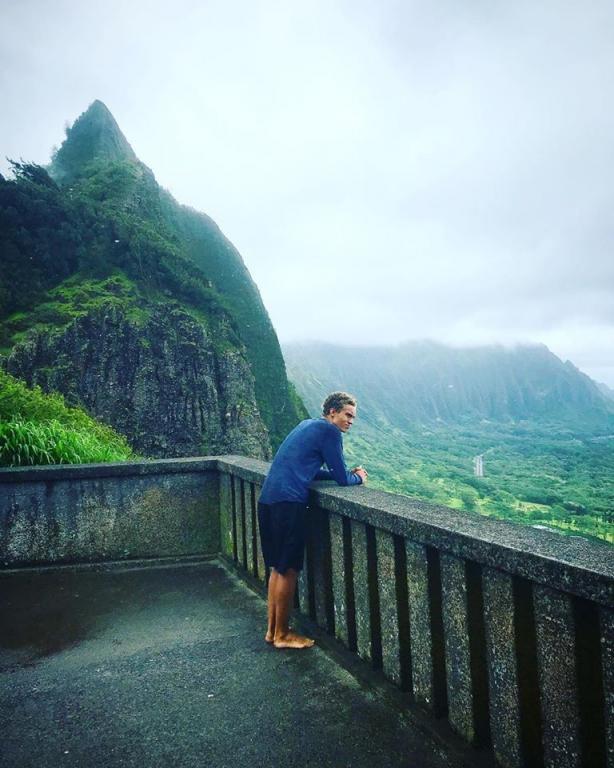 "Don't Worry About It System"
From birth to present day, I have been developing an effective stress reduction mechanism I like to call the "don't worry about it system." It operates on the idea that when presented with an alien force of high stress reduction motivation rather than allowing that negative energy to coax you into your own flurry of activity on a task that is originally only to the alien consciousness, let the raw power carry you until either the original objective is completed of value or both parties return to a functional state of consciousness.
An example could be my Eagle Scout. Ready to be completed since 2014, it fell to the bottom of things that I needed to get done and went to the top of mother's. I would still work on it, but using the "don't worry about it method," I would let the frenzy of energy work itself out of la madre rather than calling Brother Theler at 11:30 in my own state of panic.
The reason I bring up my unfailing system is that every relative on my father's side shares this kind of passion for family history. After hearing how Aunt Myra finished 18,000 names last weekend, the system would dictate a restive state until she has returned to human standards. It's been 18 years and I haven't seen the pace slacken.
Thankfully, this talk has found some flaws.
Blessings of Temple and Family History Work
Now I'll ask you the question I pondered five hours ago. Why should you do family history work?
I'll first appeal to your more conventional side of mortality by informing you of the "healing blessings" promised by prophets and doctrine. We will have an increased understanding of our Savior and His atoning sacrifice. We will more clearly feel the influence of the Holy Ghost and an increase in faith. Increased motivation and ability to repent. If you have the motivation to be working at Aunt Myra's pace, then you can get motivated for absolutely anything.
Your heart will be touched with refining, sanctifying, and moderating influences. You'll become a more well-shaped person is what it's trying to say. You will be happier as you are able to more fully feel the Savior's love. A general blessing on your family no matter its current status and increased assistance with troubled hearts.
We can receive all of these blessings by doing our family history work.
Putting it into perspective, you almost feel guilty accepting such substantial blessings for giving so little of your time and effort. The final synopsis of this appeal comes out to a sentence that would make anyone do a double-take, but is an undeniable truth. We have more to gain from losing ourselves in the service of others than in acts of pure self-promotion.
President Russell M. Nelson said, "You can be inspired by promises of blessings all you want, but you must seek to enjoy them for yourselves."
Helping Others Obtain Eternal Happiness
My second appeal will be to your more spiritual, altruistic side. These temple ordinances you are performing on behalf of family and loved ones are mandatory prerequisites for entering the kingdom of God.
The two minutes you spend finding and documenting a name allows for the eternal happiness of a child of God. Attaining a spot in the celestial kingdom was always the final goal and you can be a key instrument in helping someone else enjoy that eternal happiness.
The engagement in family history work is not merely to access the vault of blessings promised to us, but to help and lean on each other so that we may all fulfill our duties in this world and enter into the Celestial Kingdom. The happiness of seeing a brother or sister succeed outweighs any physical blessing we could wish on ourselves.
Try It For Yourselves
With the blessings in store for you and your brethren, I refer back to my quote by Russell M. Nelson. I could chant and explain these blessings to you with the lyrical genius of Kristine Flaherty, but it wouldn't compare to your personally filling out a name and experiencing the authentic joy that comes from being in the service of your fellow men.
If you are to take anything home with you today, let it be a desire to experience the joy from feeling the pure love of Christ as you work in your family history. For those of you who have your own system or are similar to mine, break conduct, if you lack the motivation, do it out of grudging respect for how well I put a talk together with four and a half hours to spare, and when the blessings come rolling in, you'll feel empty as soon as you stop your family history work.
We have been presented with an opportunity to serve our Heavenly Father and fellow man whether it be for your benefit or theirs, and we must seek to take advantage of this opportunity. For those of you who are already diligently working through family names, let the blessings of doing so serve as a renewed energy and let me tell you personally to keep up the good work.
For those of you like me who have a lot of room for improvement, and I hope I'm not the only one, let me say to you for the third time, try it for yourselves. Experience the happiness and joy that are special solely to you. Knowing the blessings by heart after rehearsing this talk so many times, I am eager to get home and give a personality boost and untainted joy a whirl and also help my fellow men.
I leave my testimony with you that although I may not be a shining example of a diligent family history worker, I believe in the importance of family history work in our everyday lives and the happiness we can bring to others by doing so.