"[P]rove me now herewith, saith the Lord of hosts, if I will not open you the windows of heaven, and pour you out a blessing, that there shall not be room enough to receive it."
General Conference has always felt like a weekend of revelation. But now, it feels like a firehose opens and every talk substantially applies specifically to me. New announcements breathe life into past the revelatory changes that became ordinary. Watching specifically for new directions keeps me engaged and tuned in to every word. I am partaking of the Word, not merely watching it. And so, I'm watching conference infused and energized.
A sentence in my patriarchal blessing rings in my ears during every conference session. "The Leaders of the Church will help you as they guide and direct the affairs in your day and that new direction and the emphasis on that direction which you ought to take will be given to you and you will know because of the burning in your heart that those things are right."
I've read this sentence to memorization years ago. It's applied several times over the years. But, like I said, now it's ringing in my ears as I watch every General Conference talk.
Direction to be Magnified
When our friends moved, we inherited their beloved Beta fish, Rover. Though small and unobtrusive, Rover's become an integral part of our family. He is a weak and simple thing, as am I.
Today, after feeling the power infused words of Prophets, Seers, and Revelators, I happened to look over at Rover in his bowl and was immediately startled. Rover was gigantic!! My vantage point relative to the angle of his body in the bowl resulted in a substantial magnification of little Rover.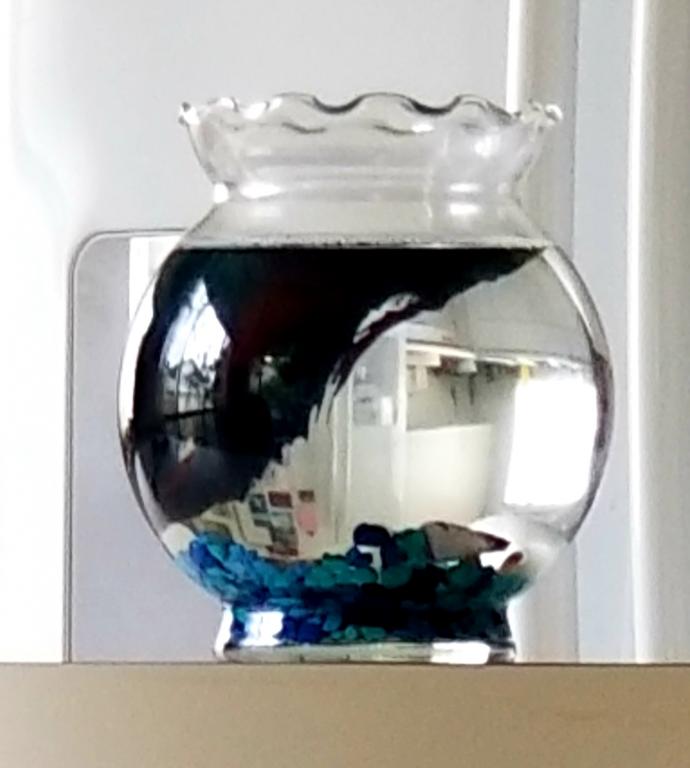 The Lord promises to magnify our capacity despite our weakness! As we do His work and fulfill our purpose and divine destiny, our efforts are magnified and multiplied beyond our individual capacity. The Lord's given so many examples throughout the scriptures of people who are magnified.
And the Lord said unto Joshua, This day will I begin to magnify thee in the sight of all Israel, that they may know that, as I was with Moses, so I will be with thee.
and
O magnify the Lord with me, and let us exalt his name together. I sought the Lord, and he heard me, and delivered me from all my fears.
and
And I give unto you a commandment that you shall teach one another the doctrine of the kingdom.

Teach ye diligently and my grace shall attend you, that you may be instructed more perfectly in theory, in principle, in doctrine, in the law of the gospel, in all things that pertain unto the kingdom of God, that are expedient for you to understand;

Of things both in heaven and in the earth, and under the earth; things which have been, things which are, things which must shortly come to pass; things which are at home, things which are abroad; the wars and the perplexities of the nations, and the judgments which are on the land; and a knowledge also of countries and of kingdoms—

That ye may be prepared in all things when I shall send you again to magnify the calling whereunto I have called you, and the mission with which I have commissioned you.
and
Yea, I know that I am nothing; as to my strength I am weak; therefore I will not boast of myself, but I will boast of my God, for in his strength I can do all things.
Our Father can and will magnify us spiritually, physically, and in every way in between.
And it shall come to pass that power shall rest upon thee; thou shalt have great faith, and I will be with thee and go before thy face.

Thou art called to labor in my vineyard, and to build up my church, and to bring forth Zion, that it may rejoice upon the hills and flourish.