Grandmas who have live long and faith-filled lives have lots of wisdom to share and know how to share that wisdom simply so a child can understand. Darla Bushman shared her formula on how to overcome obstacles to courage.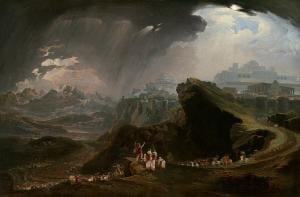 Having Courage
Ever since I was a child, the word courage was associated in my mind with the wonderful characters in Bible stories, such as Daniel in the lion's den, Queen Esther, and David, who fought a lion and a bear as well as a giant. I often wondered if I could ever have such courage.
While it certainly takes courage to face perils, the true badge of courage is overcoming the fear of men. For example, Daniel's prayers helped him face lions, but what made him lion-hearted was defying King Darius.
Queen Esther's prayers also gave her that same courage to confront her husband the King knowing that she risked her life in doing so.
We all have a conscience and conscience is the root of moral courage. A truly brave person will always obey his conscience. To know what is right and not do it is cowardice.
But courage is not just one of the cardinal virtues. As C. S. Lewis observed: "Courage is the form of every virtue at the testing point."
Lynn G. Robbins has pointed out that:
Pilate was merciful until it became risky.

King Herod was sorrowful at the request to behead John the Baptist, but wanted to please "them which sat with him at meat."

King Noah was ready to free Abinadi until peer pressure from his wicked priests caused him to waver.

King Saul disobeyed the word of the Lord by keeping the spoils of war because he feared the people and obeyed their voice.
And so on.
How to Overcome Obstacles to Courage
But how do we overcome tendencies like these?
Joshua, a great leader in his time, was told by the Lord "Be strong and of a good courage; be not afraid, neither be thou dismayed: for the Lord thy God is with thee whithersoever thou goest.
A chapter in the Old Testament gives us four guides to help us overcome obstacles courageously. The Lord taught Joshua and all who read Joshua 1 how to overcome obstacles to courage.
In verse 5, the Lord reassures us. "I will not fail thee nor forsake thee." We are encouraged to pray.
In verse 7, the Lord says, " Observe to do all the law, turn not from it to the right hand or to the left." In other words, be obedient.
Verse 8 holds the third key. The Lord refers to a book of the Law and tells Joshua to "meditate therein day and night that thou mayest observe to do all that is written." Study the scriptures.
Lastly, in verse 16, the children of Israel respond to Joshua's words in a speech to them by saying "All that thou commandest us we will do." Keep the commandments.
I invite you to apply these four guides in your life. They can help us be successful in our challenges just as Daniel and Esther were in theirs.