A Dream About My Future Wife by Jeffrey A. Bushman
I have always enjoyed reading the scriptures and one area that I thought was amazing was that the Lord uses dreams to bless the lives of His children. I have had many dreams, but only a few that I felt had the hand of the Lord in giving guidance in helping make life decisions. Sometimes I haven't realized the purpose of a dream until much later.
The following experiences came after I was called to the Eastern States Mission in 1969. My first assignment was to serve in Pittsfield, Massachusetts.
When I arrived, I learned that my companion, who with his previous companion, had been teaching a man by the name of Gleason Novitz. I was able to get to know Brother Novitz and enjoyed getting to know and teach him. Shortly after my arrival, we baptized Brother Novitz and enjoyed attending church with him.
Not long after this baptism, I had a dream which seemed very real to me. That is the way most dreams were for me. I dreamed that I was attending a church meeting and was sitting by Brother Novitz, which had become a normal activity while serving in that area.
As I sat by him, I noticed that he was holding a little child on his lap around two or three years old, but I did not recognize the child. As I looked around to see whose child he was holding, I noticed that on my other side there was a young woman barely in her 20s sitting next to me. I wondered why she was sitting there and looked around for my companion, for she was making me a little uncomfortable. When I couldn't see my companion, a thought came into my mind that this was my own family and that I was visiting there after my mission with my family.
I then realized that if it was just a dream maybe I could look at this woman. If she was to be my future wife, I could see what she looked like. As I turned to look at her, she turned her face away from my sight so I could only see the back of her head. I turned back again wondering what was going on and decided to look at her again, but it resulted in the same result. I could not see her face and wondered, "Why can't I see her?"
Realizing that I could not see her face, I decided to look closely and see what the back of her head looked like so that after my mission if I ever met someone who looked like her from the back I would pay special attention to her. That was the last thing I remembered happening in my dream that night and soon morning came. I thought that was a strange dream and I placed no more thought about it.
A Shared Dream
The coming Sunday, my companion and myself went to church as usual and when I saw Brother Novitz, I told him that I had a dream and he was in it. He looked at me with a strange look and said he had a dream about me during the past week and was excited to tell me about it. In his dream, just as in my dream, I was sitting by him in church and he was holding my little child on his lap and I was sitting with my wife on the other side from him.
I was shocked and then realized that this dream we both had was different than many other dreams. As he finished telling me his dream, my curiosity got the best of me and I asked him, "What did she look like?" He then replied, "I don't know because every time I turned to look at her, she turned away and I could only see the back of her head."
Dating at BYU to Find His Future Wife
After I finished my two-year mission, I returned directly back to school at Brigham Young University. As I started dating, the memory of my dream would sneak back into my head, and I wondered if the young woman would fit the description of the young woman in my dream. As we walked or talked, I would look for an opportunity to walk behind her to see if she fit the description I had seen before. I also think that I pretty much gave up on dating blonds because in my dream my wife had dark hair.
At one point, I met a girl who could have fit the description of the woman in my dream. I thought maybe she was the one. As our relationship progressed, I felt my feelings deepening for her. But later after we were engaged, I had some help from the Lord showing me things about her past that she had kept back which were important to the building of our relationship and developing mutual trust. These events eventually resulted in our breaking up.
During the time of my engagement, I met a nice young woman who was a roommate to my brother's wife's sister. One day after my breakup, as I came out of a class, she was right by the door where I came out and since I had met her before we starting talking. I eventually asked Wendy out on a date to attend a BYU basketball game. She was enjoyable and fun to be around and we spent more and more time together. I started to remember my dream and realized that at least the back of her head fit the description of the person in my dream.
We spent much time together and soon realized we would like to continue this relationship to see where it would lead. Because of my last relationship, I wanted to know as much about her as I could. She probably got tired of my questions. It did not take long before I knew that I could marry her and be happy. I knew that this was about the most important decision I was asked to make at this time in my life. I did not want to make a mistake for both of our sakes.
As I prayed to get a confirmation, I felt like I was getting nothing from heaven that I understood to be an answer on whether to marry her or not. Because of other experiences in the past, I had just decided to go ahead with what I thought was the best course of action. I think I was hoping for a personal visit from an angel or a voice or something. Finally, I said, "Lord, if you don't want me to marry her, you had better tell me because if not, I am just going to go ahead and marry her because I feel good about her."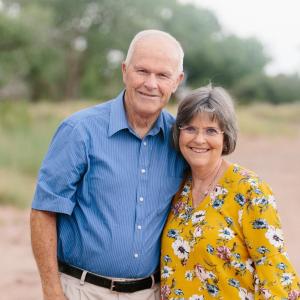 Ways the Lord Speaks
Later I seemed to remember reading in the Doctrine and Covenants where the Lord said to Oliver Cowdery, "Did I not speak peace to your soul? What greater witness can you have?" I realized I had been given direction from above during our dating time, at least I felt good. And so I went ahead with our plans and we married 29 September 1972.
After we had been married for a short time, one night I had the same dream that I had on my mission when I was sitting by Brother Novitz and I thought I would try and look at the young woman again. When I turned to look at her, she turned her head towards me and looked at me with a smile on her face. It was Wendy. It was a great confirmation. It made me think of the scripture that you receive no confirmation until after the trial of your faith.
As I look back over this experience, I think I had seen her face the first time I had the dream, but had not been allowed to remember, and I think that helped me respond better to Wendy than any other young woman. Now many years later, I know that I am a very lucky man to have her in my eternal life. I could not have done better.
I have learned that the Lord will speak and do things in His way and if we want to recognize His voice, we have to learn how to receive His direction by learning the language He uses.