So many of you are going through such difficult, refining trials right now. I stand in awe of your faith, trust in the Lord, and sheer grit to keep going day after day, hour after hour, and minute after minute.
One of my very favorite scripture stories is of the woman with an issue. Isn't she all of us?  We all have issues. Because of her experience with the world, this woman knew that the only source of healing, change, progress, her way forward lay in an intentional and deeply personal interaction with Jesus.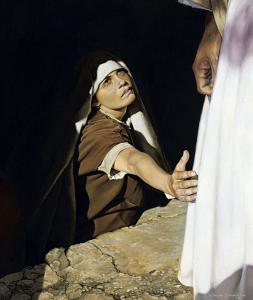 Draw near unto me and I will draw near unto you; seek me diligently and ye shall find me; ask, and ye shall receive; knock, and it shall be opened unto you (Doctrine & Covenants 88:63).
In her intentional way, the woman with an issue drew near to Jesus and touched the hem of His robe. His enabling power, His grace healed her issue. And He kept His promise.  He acknowledged her. He identified her. He knew her.
Daughter, be of good comfort: thy faith hath made thee whole; go in peace (Luke 8:48.)
"The scriptures use these terms [sons and daughters of God] in two ways. In one sense, we are all literal spirit children of our Heavenly Father. In another sense, God's sons and daughters are those who have been born again through the Atonement of Jesus Christ" (Guide to the Scriptures.)
Daughters, Come unto me, all ye that labour and are heavy laden, and I will give you rest. Take my yoke upon you…and ye shall find rest unto your souls. For my yoke is easy, and my burden is light (Matthew 11:28-30.)
Even though the Redeemer's promise is real and amazing, it isn't always easy to actually give Him our burdens.
"I cried by reason of mine affliction unto the Lord, and He heard me; out of the belly of hell cried I, and Thou heardest my voice. For Thou hadst cast me into the deep, in the midst of the seas; and the floods compassed me about: all thy billows and thy waves passed over me…. When my soul fainted within me I remembered the Lord and my prayer came in unto Thee into thine holy temple" (Jonah 2:2-7.)
Daughters, For I know the thoughts that I think toward you, saith the Lord, thoughts of peace, and not of evil, to give you an expected end. Then shall ye call upon me, and ye shall go and pray unto me, and I will hearken unto you. And ye shall seek me, and find me, when ye shall search for me with all your heart.  And I will be found of you, saith the Lord (Jeremiah 29:11-14.)
We are covenant women of God and He keeps His promises to us!  The issues are persistent. The stresses are constant. The waves are mighty. The anguish is deep. And still, He is ever present in our lives, your life.  He knows you by name, and He knows you by covenant: Daughter.
The Lamb which is in the midst of the throne shall feed them, and shall lead them unto living fountains for waters: and God shall wipe away all tears from their eyes (Revelation 7:17.)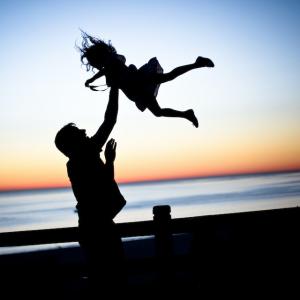 Daughter, you are His.