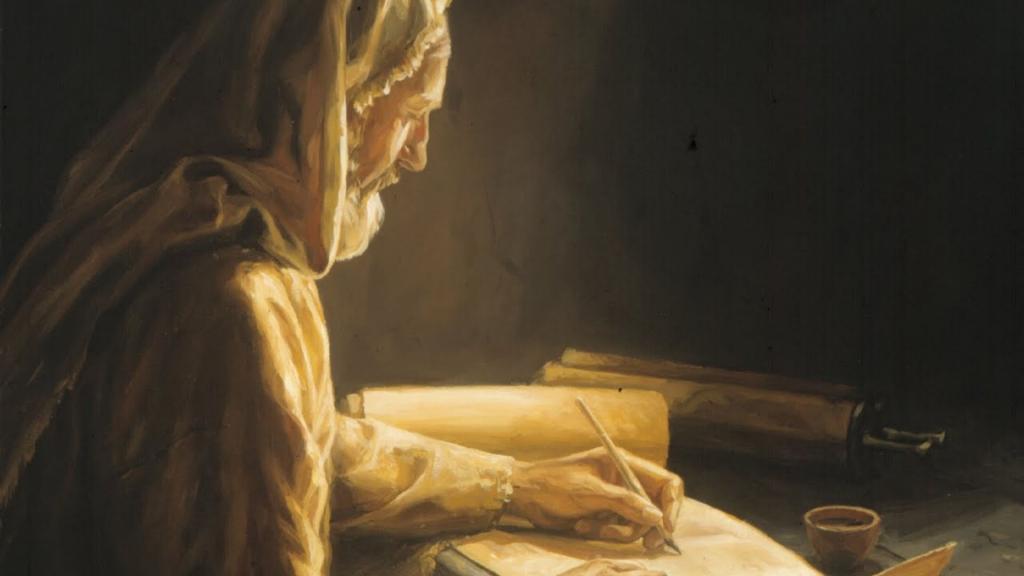 Monday: Read Luke 21:1-38
Luke 21 (see parallels in Matt 24-25 and Mark 13) presents Jesus' pronouncement of judgment on the temple and Jerusalem.[2] The passage begins with a contrast between the "rich" and the "poor widow" (1-2) at the temple. This sets the scene for the entire chapter.
We already know how Luke feels about "the rich" (1). Every occurrence of the word "rich" in Luke is negative (Cf 6:24; 12:16; 14:12; 16:1, 19, 21, 22; 18:23, 25; 19:2). Our first introduction was in 6:24 where Jesus said, "woe to you who are rich." In Luke eyes, the rich have become wealthy at the expense of the poor.[3] Hence, the contrast with a "poor widow" (2).
By stating that the woman is both "poor" and a "widow," Luke wants us to recognize her plight; especially as it contrasts the rich who were also giving. That she gave "all she had to live on" is not a commendation of her giving, but an indictment against the wealthy and powerful who were not contributing to her well-being and still demanding that she contribute. This is why Jesus says in the previous verse (don't let the chapter breaks get in the way), "Beware of the scribes . . . who devour widows' houses" (20:46-47).
It is the behavior of the leaders, whom we must recall are put in power by Rome, that leads to Jesus' pronouncement of judgment on Jerusalem and the temple (6). Jesus is then asked, "when will these things happen" and "what will be the sign when these things are about to take place?" (7).
Jesus' answer, as in the Matthew and Mark, stresses the need to be prepared (34) and to not be deceived (8-11). After all, it will not happen right away (9). That wars, earthquakes, famines, pestilence, and signs from heaven (10-11) will occur are not to be taken as acts of God that precede the end. Instead, they are merely the regular occurrences of life. In fact, this is what happens when empires such as Rome are in power (e.g., famines are often the result of human devastation and war).
The need for being prepared is because persecution (12-15) awaits them, and because this persecution will lead for an opportunity to witness (13).
The destruction of Jerusalem is indicated in verses 20-24—which was fulfilled in AD 70.
NB: the "generation that will not pass away" (32) is not some future generation. In Luke, "this generation" always refers to the present generation: which, according to Jesus, was an "unbelieving and perverted" generation (9:41; see: 7:31; 9:41; 11:29-32, 50-51; 16:8; 17:25).
 Questions to ponder/discuss:
Too often Christians read Luke 21, Mark 13, and Matt 24-25 and wonder when the end will come. The Scriptures never give us any indication as to when Christ will return. We are not called to watch for the signs of the times, but to "be on guard" (34). Read through Jesus' words and discuss what you think "be on your guard" means. What changes do you need to make to be more diligent about being on your guard?
Tuesday: Read Luke 22:1-53
Luke 22 is Luke's description of the last supper and the events leading to Jesus' arrest. As we have noted, the Gospel writers are not concerned with telling the story of Jesus in chronological order. Thus, Mark places Jesus' speech on servant leadership as taking place on the journey to Jerusalem (Mark 10:42-45). Luke, however, places Jesus' teaching at the Last Supper (24-28).
The significance of Luke's placement is that the dispute over who was the greatest follows Jesus' explanation: "I am going to die for you! So, here eat this bread and drink this cup as a reminder of my body and my blood which is poured out for you" (14-23). In the very next verse, the disciples are arguing as to who was the greatest!
Then Jesus reminds them of the times that He sent them out in pairs to proclaim the kingdom of God (cf 9:1-6; 10:1-16). On those occasions He sent them out "without purse and bag and sandals" (35). "BUT NOW" (36: the Greek is very emphatic), Jesus says, "whoever has a money belt is to take it along, likewise also a bag, and whoever has no sword is to sell his coat and buy one" (36).
Something has changed! When Jesus sent them out earlier, they were relatively safe. Now, things have changed, and they will not be safe as they were before. Jesus, in fact, declares, "Simon, Simon, behold, Satan has demanded permission to sift you like wheat" (31; note the Greek "you" is plural). What has changed?
What has changed is the fact that soon it will be understood that Jesus is indeed proclaiming a kingdom and that He is the king of that kingdom! Even though it is an alternative kingdom, it still poses a threat to Rome and those in power. Anyone who advocates for that kingdom will suffer.
(NB: we addressed the "buy a sword" statement on the Determinetruth podcast. I would simply say here that Jesus is not giving them an order but is using hyperbole–exaggeration. After all, two swords would hardly be enough for eleven disciples to defend themselves.)
Questions to ponder/discuss:
We are reminded again that the kingdom of God comes through the sacrificial death of Christ. We are also reminded that Jesus calls us also to die for the sake of others. Not only is His call not appealing, but it is a threat to our comforts and secure way of living. What do you think you would do if Jesus came into your context and showed you all the things that you believe, have, or do that run counter to His kingdom?
Communion is more than just a reminder of what Christ has done for us—as significant as that may be. Communion is also a reminder that we are called to lay down our lives for others too. (This Jesus thing is just not easy!). As you take communion, or just as you go to a time of prayer, ask the Lord for help to live as Jesus did!
Wednesday: Read Luke 22:54-23:25
The events of Jesus' last night and into the next morning highlight several key themes. First among them is that Jesus is indeed the world's true King (23:2-3). His kingdom, however, is not like the kingdoms of the world. And it is here that these kingdoms clash.
Jesus' kingdom, of course, is epitomized by His act of selfless love. A love that lays down its' life for others.
The kingdoms of the world are represented by Pilate—the local representative of Rome. Pilate hands over an innocent man (Jesus) to be crucified. Pilate's doing so illustrates how easily the kingdoms of the world are concerned with utilizing and maintaining their power. Pilate's act of injustice was power flexing its muscles.
Secondly, the story of Peter's denials lay bare the demand of following Jesus. Earlier that same night, Peter had asserted, "Lord, with You I am ready to go both to prison and to death" (33). It is quite easy among Christians to laugh at Peter's overzealous shenanigans. We, however, might do well to recognize that we are rarely even willing to proclaim our intent to "go both to prison and to death" for Christ. Peter's betrayal reminds us that all the zeal in the world is not enough to keep us faithful. We need to rely on the Spirit daily lest we too fall.
Questions to ponder/discuss:
One of the many reasons why we fail to acknowledge Christ when we are threatened is because we have so much to lose. What are you most afraid of losing that might well hinder your ability to profess Christ when needed?
Thursday: Read Luke 23:26-24:12
The events of the cross exemplify what empires do. They crush rebellion and anything they perceive to be a threat. Crucifixions were notoriously despicable. They were intended to expose victims with some of the most inhumane suffering imaginable. They were meant to serve as a reminder to everyone else in the empire that those who pose a threat to Rome's power will suffer the same fate.
Once again, women play a prominent role in the Gospel of Luke. Luke notes that while He was on the cross, "the women who accompanied Him from Galilee were standing at a distance, seeing these things" (23:49). Then, while they are laying Jesus in a tomb, Luke adds, "the women who had come with Him out of Galilee followed, and saw the tomb and how His body was laid" (23:55). Of course, on Sunday, it was the women who were the first witnesses of the resurrection.
The fact that the women's testimony was not believed ("these words appeared to them as nonsense, and they would not believe them"; 24:11) is due, in part, to the fact that they were women. There is, however, more going on that leads to their unbelief, which we will explore in tomorrow's reading.
Questions to ponder/discuss:
Even while hanging on a cross, Jesus says, "Father, forgive them; for they do not know what they are doing" (23:34). Are you struggling with forgiving? What hinders your ability to forgive right now? Remember that not forgiving someone allows them to maintain power over you. As long as you remain bitter and angry, their sin against you remains in control. This is not to say that forgiving is always easy. Nor does it mean that we are to "forgive and forget" as the saying goes. This is not a Christian idea! Forgetting is not the command. Forgiving is. You may not be able to do it alone. Do not be afraid to find help.
Friday: Read Luke 24:13-53
Luke narrates Jesus' encounter with two disciples (Cleopas and his wife?: 18)[4] who were leaving Jerusalem that Sunday and were heading to the village of Emmaus (7 miles to the west of Jerusalem). Jesus' conversation with them is critical for understanding several aspects of the NT.
First, note that they were still anticipating a nationalistic king—one who would establish a Jewish kingdom (21). This is one of the key reasons why they did not believe the women. In fact, when Cleopas and his wife explain everything to the rest of the disciples, they still didn't believe (38). In fact, they remained doubtful even after the risen Jesus suddenly entered the room (36).
Secondly, Jesus explains to them that all of the Scriptures (the OT: which are designated as the writings of Moses and the prophets: 27) testify that it was "necessary for the Christ to suffer these things and to enter into His glory" (26). Later, Jesus will explain to all the disciples that everything that was "written about Me in the Law of Moses and the Prophets and the Psalms must be fulfilled" (44). And, Jesus adds, this included the fact that, "the Christ would suffer and rise again from the dead the third day and that repentance for forgiveness of sins would be proclaimed in His name to all the nations, beginning from Jerusalem" (46-47).
Luke ends his gospel with an eye towards the book of Acts (47-49). Those present were going to be commissioned to proclaim the gospel of the kingdom to the nations.
Questions to ponder/discuss:
I suspect that the Gospel of Luke has challenged you more than Matthew and Mark. I am still amazed that Luke was writing to Theophilus (a Roman elite). I wish we knew what Theophilus thought about all this. What did he think about Jesus' command to give without expecting anything in return (6:35)? What part of Luke's story stood out to you the most? What did you learn that was new? What did you learn that was most challenging?
I would encourage you to make Luke 17:5 your prayer as you reflect on these things: "Lord, increase our faith."
Our goal is to keep these posts free of charge. I do not intend to ever hide them behind a paywall. I can only do this if those of you who have been blessed by them and can afford to give ($5, $10, $25, or more/month) do so. You can give a tax-deductible contribution by following this link.
Please share this post and let others know about determinetruth.
If you wish to view this blog on your smartphone through the Determinetruth app simply download the "tithe.ly church" app on your smartphone and insert "determinetruth" as the church name you wish to follow. Once it is loaded, simply click on the "blog" icon and it will automatically load. 
If you would like to have Rob speak at your church or organization in person or via zoom, please let us know by filling out the contact info on the Contact me tab on this site.
[1] This guide is meant to be done either as a group study over the course of 2 or 4 meetings (Day 1-5; 6-10; 11-15; 16-20), or as a private devotion over the course of 4 weeks (or a calendar month—5 lessons per week).
[2] For a detailed discussion of Jesus' declaration of judgment on Jerusalem and the temple see my: Understanding the New Testament and the End Times, chapter 10.
[3] Note: this is not absolutely true in our world. In ancient Israel, the only way one could acquire great wealth was to take land from another and not return it as commanded in the Law.
[4] We cannot be certain who the second person was. It makes the most sense that it was Cleopas' wife—hence, as a woman, she might not have been named. We cannot be certain but Cleopas is likely the same person as Clopas (John 19:35). If so, then his wife was Mary (John 19:35)—another of the many "Marys" in the NT. It is suspected that either Clopas was the brother of Joseph—Jesus' father—or that Mary was related to Jesus' family. Still others suggest that Cleopas is the same person as Alphaeus (Luke 6:15), who is the father of James and John since their mother was named Mary (Mark 15:40).