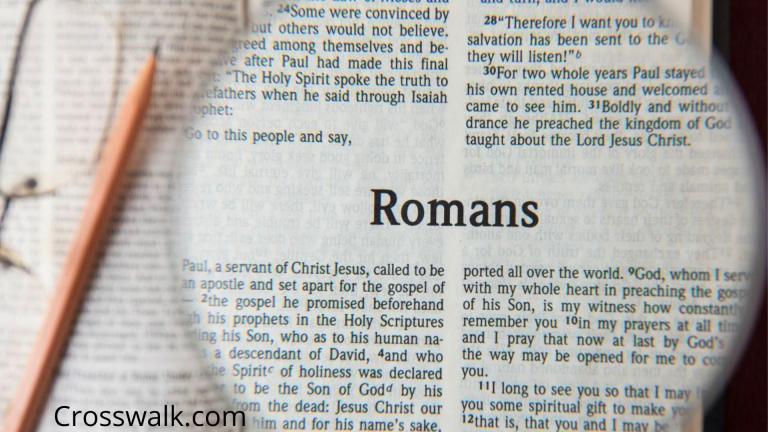 Monday: Read Romans 8:1-17
Well, we have entered the heart of the book of Romans, the heart of Paul's theology, and the heart of the NT. Romans 7 ended with the crisis that was the story of Israel and the question, "who will set me free?" (7:24: "me," of course, refers to the nation of Israel). Paul's answer is that it is the Spirit (8:11). God has now done in Christ what the Law was not able to do! He has condemned sin in the flesh of Christ! In addition, God created through the Spirit what Law could not. "Therefore," Paul says, "there is no condemnation for those who are in Christ" (1) and who "live according to the Spirit" (4).
Paul then contrasts life in the flesh versus life in the Spirit. We must not think of this in terms of one being spiritual and one being physical. The question is simply whether the life we live is dominated by the Holy Spirit or by the sinful desires of our flesh. Living according to the flesh is death (6). Living according to the Holy Spirit is life and peace (6).
The key is that the Spirit now dwells in us you (9). This is the same Spirit that dwelt in the temple (the Shekinah glory of God; cf 1 Cor 3:16; 6:19). The result is the guarantee of resurrection (10-11). Because of this we too will experience resurrection just as Jesus did (11). In fact, this life is guaranteed.
This means that we have an obligation (12). This obligation is to live by the Spirit (13). Those who are led by the Spirit are children of God (14-16). In fact, Paul notes, we are heirs with Christ, "If we suffer with Him" (17; see: Mark 8:34-38). It is then that "we might be glorified with Him" (17).
Questions to ponder/discuss:
The heart of the Gospel and the heart of Romans is what Christ has done and what the Spirit is doing for us. Our task is to live according to that Spirit. What do you think living according to the Spirit looks like?
Note that one of the consequences of this is that we will suffer with Him (17). The nature of the kingdom of God is to love our enemies. The result is to suffer as Christ did. Why do you think that loving like Christ means suffering like Christ?
Take some time to remember the Christians around the world that are suffering for Him today.
Tuesday: Read Romans 8:18-39
The argument that Paul began in 8:1 ends in 8:39. "There is no condemnation" (1) because "nothing can separate us from the love of God" (39). There is no question that Romans 8 is Paul's greatest teaching on the Spirit. Paul stresses that the present work of the Spirit will bring about the future resurrection. For Paul, the resurrection is not just for us. It is the restoration of all creation (19-22).
The last section ended with an assurance of our inheritance in light of our suffering. Now Paul notes that our present sufferings will not compare with the glory awaiting us (18; 2 Cor 4:17). Paul also notes that suffering is characteristic of this age (19-21; 22-25; 26-27; 28-30). The creation also experiences suffering and it longs to be set free from it.
Paul then reminds them that they already have the "first fruits" of the Spirit (23; 2 Cor 1:22; 5:5; Eph 1:14), which is a foretaste of the eternal. This Spirit helps us in our weaknesses (26). This includes prayer. Paul says that we do not know what to pray for. So, the Spirit intercedes for us (26; note: so also does Christ: 34).
The result of the Spirit's intercession for us is that God is causing all things to work for good (28). At the same time, our present sufferings lead us to being "conformed to the image of His Son" (29).
Paul then adds that those whom God foreknew-predestined-called-justified, "He also glorified" (29-30). Therefore, we have no reason for concern. What God started He will finish (cf Phil 1:6).
This chapter closes with seven rhetorical questions: the answer to all of them is: "no one."
Questions to ponder/discuss:
Notice the progression: the creation groans (22); we groan (23); and the Spirit groans (26). When Paul says that Spirit intercedes for us, he is not saying that the Spirit is praying for us: but that the Spirit is doing the interceding. What do you think this means when it comes to praying?
Wednesday: Read Romans 9:1-18
In Romans 9-11, Paul returns to the earlier discussion as to what all this means for Israel. In light of Paul's mission to the Gentiles, has God lost concern for His own people? Paul stresses two key points: God never abandons his promises and there has always been an Israel within Israel.
Paul is adamant that God has been faithful to His people. He notes that there has always been a believing remnant among the Jewish people. Paul, after all, is Jewish. He also affirms that the gathering of the Gentiles to the Lord is the very purpose for which Israel was called. Certainly, God has been faithful.
The difficulty of this passage is that we read it from the context of our western individualism. Paul's point that God has been faithful must be understood from the larger context. The Gentiles have come in: therefore, God has been faithful.
Paul begins this section with God's mercy and he ends with a reference to God's mercy (11:32; note 32-36).
Questions to ponder/discuss:
We again must be careful about reading Romans (or the rest of the Bible for that matter) through our individualist lens. The question before Paul is whether or not God has been faithful to His promises to Israel. This question is especially pertinent in light of the apparent failure of Israel to believe. Paul replies that many Jewish people have believed. Christianity began among the Jewish people. Also, for our sakes, we should recognize that many Jewish people have continued to believe.
One of the mistakes we make in the church today is that we continue to look at the world in light of ethnic distinctions. Such distinctions exist in the world. In Christ, however, we are all one (Gal 3:28). Does God have a favored people? No. He desires all persons to be saved (1 Tim 2:4).
Do you look down on others because of their ethnicity, their socio-economic place, their gender, or their physical or mental limitations? If so, repent and ask God for help to overcome this sin.
All people are made in God's image and are worthy of value. God has chosen His people (not to make them a superior race or nation) but to be the instruments through which He is revealed to the world.
Thursday: Read Romans 9:19-33
Much of this complex passage is set within the context of ancient Israel who has just been led out of Egypt. Paul is telling Israel's story from Abraham to the promise of return from Exile. Paul notes that God has been faithful to His promises because He continued to have mercy. We must remember that God's choosing of Abraham was an act of mercy and that Abraham and the Jewish people were chosen to be the means through which the nations might know of the Lord.
One of Paul's points is that if God did not have mercy, then Israel would have been destroyed and God's promises to Abraham would never have been fulfilled.
In 9:22-23, Paul affirms that although Israel deserved wrath, God, because He wanted to show His power, was patient with them.
The chapter is full of quotations that support Paul's claim that what God promised to do, He has done.
Questions to ponder/discuss:
Perhaps the best we can do to summarize this passage is to note that God's ways transcend ours. Read Isaiah 55:8-9.
Though we often want to question whether God is just or not—after all, how could He have allowed "X" to happen?—we must remember that He is in a much better place to determine justice than we are. God determines justice by looking at the larger picture. We often determine justice by looking at our own lives and determining if it was "fair." We should be reminded that while we were His enemies, Christ died for us (Rom 5:8).
Friday: Read Romans 10:1-21
The key at the beginning of this chapter is to recognize that 10:2, 3, 4, and 5, in Greek, all begin with the word "for"[2]—hopefully, your English Bible brings this out. The same is true for 10:10, 11, 12, and 13. Paul is grounding his argument.
He begins by noting that "Christ is the end of the law" (4). By this Paul means that the Law was pointing to Christ all along—"end" indicates the "goal" or the "purpose." The consequence of this is that the Law is no longer the means of righteousness. Christ now is! This is why Paul will say that those who confess "Jesus is Lord" (9) will be saved. He adds that "the reason why" this is true is because God has promised that "Whoever believes in Him will not be disappointed" (11, citing Isa 28:16). Then Paul adds that "Whoever will call on the name of the Lord will be saved" (13, citing Joel 2:32).
Paul closes this section with the reminder that no one will believe unless someone proclaims the message (14). And no one will proclaim the message unless they are sent (15).
Questions to ponder/discuss:
The word "for" in Greek often indicates the reason why. Go back and read 10:2, 3, 4, 5, 10, 11, 12, 13, and at the start of each verse insert, "the reason why."
Perhaps no passage is as clear as Rom 10:9-13 that the heart of the Gospel is the confession that "Jesus is Lord." Paul says unequivocally that Jesus is the Lord upon whom we must call to be saved. We should be reminded that this is not a mere confession. To say that Jesus is Lord is to affirm that nothing else is Lord. Then we must live in accord with this confession. It is as radical an affirmation as one could possibly make. And it requires a radical transformation of one's life. One cannot confess that Jesus is Lord and then live as though He is not. Of course, the struggle of the Christian life is the daily battle of surrender to Jesus as Lord.
NB: our goal is to keep these posts free of charge. I do not intend to ever hide them behind a paywall. I can only do this if those of you who have been blessed by them and can afford to give ($5, $10, $25, or more/month) do so. You can give a tax-deductible contribution by following this link.
Please share this post and let others know about determinetruth.
If you wish to view this blog on your smartphone through the Determinetruth app simply download the "tithe.ly church" app on your smartphone and insert "determinetruth" as the church name you wish to follow. Once it is loaded, simply click on the "blog" icon and it will automatically load. 
If you would like to have Rob speak at your church or organization in person or via zoom, please let us know by filling out the contact info on the Contact me tab on this site.
[1] This guide is meant to be done either as a group study over the course of 2 or 4 meetings (Day 1-5; 6-10; 11-15; 16-20), or as a private devotion over the course of 4 weeks (or a calendar month—5 lessons per week).
[2] Technically "for" is a post-positive in Greek so it is the second word in the sentence.