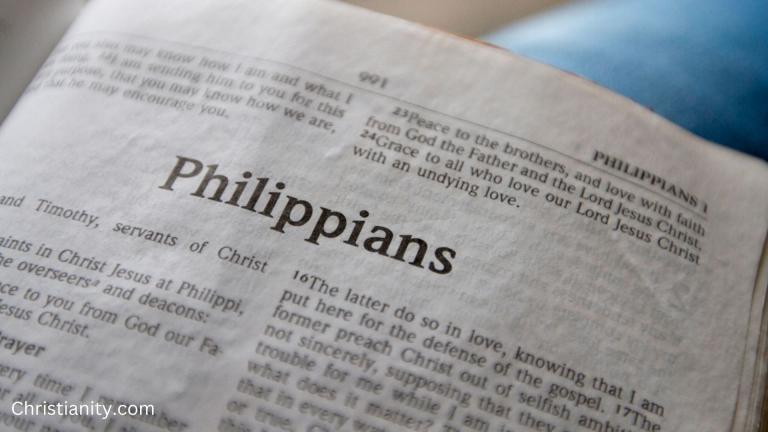 Monday: Read Philippians 2:19-30
Today's reading contains Paul's ministry report to the Philippians. It may be that there was some misunderstanding that Paul was trying to clear up. The church in Philippi had sent Epaphroditus, one of their members, to assist Paul's work in Rome. (This is one of the few times in which Paul received a gift from a church. See our notes on 1 Corinthians). It may have been that they were hoping that Paul would reciprocate by sending Timothy to them.
Thus, Paul begins by explaining that Timothy is very dear to him (20) and that he hopes to send Timothy to them soon (19, 23). However, Paul explains, he had to send Epaphroditus because he became sick (25-28). It may also be that since the church was expecting Timothy and not Epaphroditus, Paul was concerned that they would not receive Epaphroditus well (28-30). It might have been that they were boasting to their community that the "respected" Timothy was coming for a visit. Hence, their surprise when it was Epaphroditus and not Timothy who showed up in town.
Questions to ponder/discuss:
It may come as a surprise to see that the Philippians might not have happily welcomed one of their own back. Do our churches pay more respect to a "distinguished" guest than our own servants? We need to be reminded that we are all one in the body of Christ. Make an effort to affirm others equally.
Tuesday: Read Philippians 3:1-11
Paul begins this section with "finally, my brethren" (1). This suggests that he is coming to the end of the letter.
Paul opens with a warning against the "dogs" (2). "Dogs" is a term used for people outside the community of God's people. Paul further identifies them as "evil workers" and "false circumcision" (2; see Ps 6:9). Paul may have in view here individuals similar to those who confronted the Galatian churches. Namely, those who claimed that Gentile (non-Jewish) believers must also follow the law of circumcision.
Paul's response is very strong. He explains, "we are the circumcision" (3). He then provides an autobiographical response. (This most certainly counters the false teachers who were appealing to their credentials as support of their message). And when it comes to one's credentials with regard to Judaism, Paul's credentials are very impressive (4-6).
Paul, however, claims he considers everything else as rubbish/dung, "so that I may gain Christ (8). Paul desires to "be found in Him" (9). And to have a "righteousness from God" (9). Contrary to what the false teachers were likely claiming, Paul explains that this righteousness is on the basis of faith (9).
For Paul, to "know Him" and "the power of His resurrection" as well as the "fellowship of His sufferings" means that he is "being conformed to His death" (10).
The result is that Paul hopes to "attain the resurrection from the dead" (11)
Questions to ponder/discuss:
Paul's response against those in Philippi who were threatening the church is strong because he believes that reverting back to the law both undermines the cross (see 3:18) and it makes Gentiles second-class citizens in the church. Paul's response in 3:7-11 details the difference between his theology and the false teachers. Read through 3:7-11 again and make it your prayer. Commit it to memory over the next week.
Wednesday: Read Philippians 3:12-4:1
In this section, Paul responds to some in Philippi, though it is hard to identify them. It may have been a group that was claiming that if they have already been raised with Christ, then they have already been made perfect.
Paul responds by noting that he has not "obtained it" (12). In fact, he says, "I press on so that I may lay hold of that for which also I was laid hold of by Christ" (12). He reaffirms, "I do not regard myself as having laid hold of it" (13) and "I press on toward the goal" (14). Paul then exhorts them to "follow my example" (17).
Sadly, the false teachers "are enemies of the Cross" (18). Their end is "destruction" (19). They "set their minds on earthly things" (19).
Paul, however, affirms that "our citizenship is in heaven" (20). And "we eagerly wait for a Savior" from there—"Jesus Christ" (20).
Paul, then, reiterates the exhortation of 1:27: "therefore, . . . stand firm" (4:1).
Questions to ponder/discuss:
Again we are reminded that while we are citizens of Christ's heavenly kingdom, we at the same time have not attained it. Therefore, we are to labor and strive according to His grace until we do.
Many Christians err when it comes to the NT and good works. Some stress salvation by grace to the point that they fail to labor and strive. Others conceive of "heaven" in a mere spiritual sense, as a result, they fail to reckon with good works that truly impact the way we live in the world.
Thursday: Read Philippians 4:2-9
Today's reading begins the closing of the letter. There doesn't appear to be any formal argumentation or direct connection with what precedes. We might say that section includes exhortations on how to "live a life worthy."
Paul begins by encouraging "Euodia and Syntyche to live in harmony" (2). Whoever they were, they were Paul's "fellow workers" and they "shared my struggle in the cause of the Gospel" (3). They must have been prominent leaders for Paul to call them out. And they must have been strong enough for Paul to do so.
Paul then lists four admonitions. Some scholars have noted that Paul's language here suggests a context of persecution.
They are to "rejoice in the Lord always" (4). If there is a context of persecution residing behind these words, then this is not a call to a superficial happiness.
Paul also encourages them to "let your gentle spirit be known to all (5).
In addition, they should "be anxious for nothing" (6) The context suggests that Paul is speaking about worry or fear that may come as a result of one's faith in Christ.
Instead, Paul says, "let your requests be made known to God" (6). The result is that the "peace of God, which surpasses all comprehension, will guard your hearts and your minds in Christ Jesus" (7).
Paul concludes "finally, brethren" (8). If 4:6-7 call the Philippians to prayer, then 4:8-9 calls them to reflect on the virtuous things.
Questions to ponder/discuss:
Philippians 4:4-8 are often quoted. Usually, when we cite such verses we detach them from their context. In context, Paul's exhortations suggest an attitude of active non-retaliation. Paul's use of a "gentle spirit" (5) suggests an attitude of kindness when others expected retaliation. Read these verses again and meditate on them as something to pursue in the midst of opposition.
Paul encourages them to pray instead of being anxious. Prayer is in many ways the opposite of anxiety. Compare Jesus' admonition to not worry is based on the fact that God knows our needs (Matt 6:25-32). Make it your habit to spend time in prayer always. But even more so when things are difficult.
Friday: Read Philippians 4:10-20
Paul closes with a word of thanks and a final greeting. He thanks them for sending Epaphroditus and the gift they sent. He speaks with gratitude but doesn't want to appear as though he was in need of more. (11-13). After all, he has learned how to be content (11). He can live in poverty or prosperity (12). In fact, Paul says, "I can do all things through Him" (13). At the end of the day, Paul's source of contentment was Jesus Christ.
The church in Philippi is the only church that Paul received material support from (15). Paul affirms, "you have done well to share in my affliction" (14). At the same time, Paul iterates, "I have received everything in full and have an abundance; I am amply supplied" (18) He certainly doesn't want them to think that he is making a request.
The letter closes with customary words of greeting (21-23). He greets everyone in Philippi. Interestingly, he does not name anyone who is with him (perhaps because he was in prison). He does mention "those of Caesar's household" (22). This is likely a reference to some slaves that Paul had come into contact with.
Questions to ponder/discuss:
Those who live in prosperity have a much more difficult time citing 4:13. The context is that we can do all through Christ knowing that He will provide for our needs.
Although we may have an assurance that Christ will provide, we must also understand that God provides through His people. If the church in Philippi didn't provide for Paul, then he would have lived in greater poverty, and his ability to do ministry may have been hindered.
Maybe the solution is that those who live in prosperity should give so that those who struggle may not have to live in such poverty and those who give may have to become more dependent on Christ. Win-win!
Our goal is to keep these posts free of charge. I do not intend to ever hide them behind a paywall. I can only do this if those of you who have been blessed by them and can afford to give ($5, $10, $25, or more/month) do so. You can give a tax-deductible contribution by following this link.
Please share this post and let others know about determinetruth.
If you wish to view this blog on your smartphone through the Determinetruth app simply download the "tithe.ly church" app on your smartphone and insert "determinetruth" as the church name you wish to follow. Once it is loaded, simply click on the "blog" icon and it will automatically load. 
If you would like to have Rob speak at your church or organization in person or via zoom, please let us know by filling out the contact info on the Contact me tab on this site.
Remember that our friends at Hearts & Minds, an independent bookstore in central Pennsylvania, have offered to give our listeners a 20% off on nearly anything ordered. Just mention Determinetruth and they will get back to you promptly with personalized service like you rarely see these days.
[1] This guide is meant to be done either as a group study over the course of 2 or 4 meetings (Day 1-5; 6-10; 11-15; 16-20), or as a private devotion over the course of 4 weeks (or a calendar month—5 lessons per week).