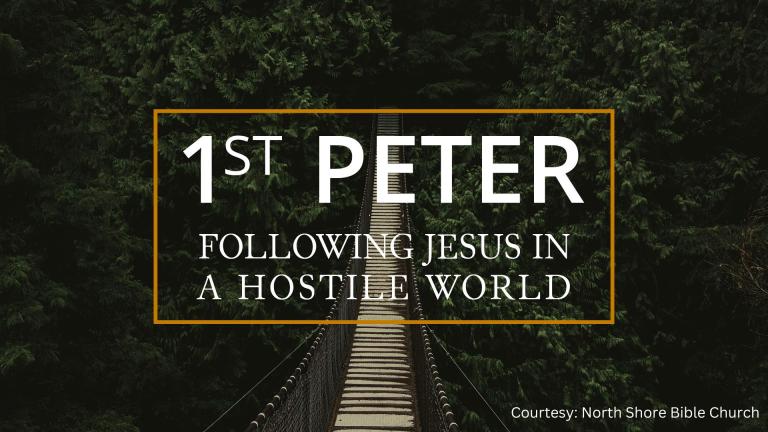 Monday: Read 1 Peter 3:1-7[2]
Today's reading is a prime example in which understanding the cultural context (in this case, the Greco-Roman context) is critical to a proper understanding of the text. In the Greco-Roman world, a family's religion was mediated through the father/husband. The conflict for many women in the early church was created when they came to faith in Christ and their husbands did not. The end result is that these women were following a god different from their husbands.
Peter instructs women on how to live in such a situation. His instructions alone affirm the independence and moral capacity of women to determine their own religion. If this wasn't a problem enough, the situation would have been exacerbated by the wife's desire for her husband to come to know Jesus as well. If she were to instruct her husband regarding Christianity, it may have been viewed as undermining her husband.
Peter's exhortation, then, to wives to "be submissive to your own husbands" (1) is at the same time instructing her to assert her independence but to do so with restraint.
This means that though Peter empathizes with a women's desire to witness to her husband, he exhorts them to not use words, which would be culturally very problematic and potentially dangerous, and might even lead to physical abuse, but, instead, they should attempt to win him over by your "behavior" (1).
1 Peter 3:1-6 not only does not teach the subordination of women, but it actually affirms a woman's rights. She may choose her own religion, have friends outside her husband's circle, and receive instruction from a man who was not her husband.
In 3:7, Peter addresses the men. Note that his instructions to the men are brief. This is likely because Peter's primary concern in this section was to address those who were in culturally vulnerable positions and most men in the Greco-Roman world were not culturally vulnerable.
In addition, contrary to most English translations, Peter is not likely addressing "husbands" but "men" in general. Peter does address them with the general term for husband (aner), which may also mean "men." But he does not use the standard Greek word for wife (gune) when addressing the women in 3:7. Instead, he employs the more general term for women (gunaikeios).
What about Peter's reference to women as weaker vessels? Simply put, Peter was not indicating that women were inferior in their roles. As argued above, Peter has already affirmed the independence and equality of women when it comes to choosing their own religion. The fact that they were listening to his advice in this letter is an affirmation of their rights in Christ, which were often not granted to them in the Greco-Roman culture. In light of all this, the best understanding of Peter's reference to women as "weaker vessels" is in terms of their social status. Peter was informing the men on how to treat the women. In particular, the men must be understanding towards the women who, because of their very act of coming to church were in a much more precarious cultural situation. The women were "weaker"  only in the sense of their position within society.
Questions to ponder/discuss:
The Church today needs to recognize that the NT elevates the role of women. This is evident from Jesus' inclusion of women as disciples. It is also evident from the pouring out of the Holy Spirit in Acts 2 where it says, "That I will pour forth of My Spirit on all mankind; And your sons and your daughters shall prophesy." If the New Creation has begun, and if in the New Creation, there is no distinction between "Jew nor Greek, . . . slave nor free . . . male nor female" (Gal 3:28), then should not the people of God be striving towards and implementing this truth in the present?
Tuesday: Read 1 Peter 3:7-12
Peter concludes ("to sum up": 8) his version of a code of conduct for those who dwell in Roman households and what it means for them to live as "aliens and strangers" (2:11) in the world (8-12).
Now Peter begins to address what is the focus of this letter: namely, the relationship of Christians to the hostile world. Peter addresses how they are to live in a world that is hostile to the Church. We should recall that the primary manner of hostility is character attacks and verbal abuse.
His exhortations to each of the subgroups were summarized in the opening of the section when he says that the people of God are called to live "excellent" (2:12) lives in the midst of a hostile pagan culture, even though such behavior will lead to suffering—which in 1 Peter is primarily slander or shaming. For Peter, the result is that unbelievers may be won over to the faith.
Peter first addresses the character of Christians (8). He concludes his list with the command to be "humble in spirit" (8). We must understand that humility was not a virtue in the ancient world. Humility was associated with persons of low status and was a sign of their low social status. To not defend one's honor, as Peter is encouraging, may have been looked at from the perspective that one was simply unable to defend one's honor.
Peter's encouragement to not respond "evil for evil or insult for insult" (8) was also very counter-cultural. His exhortation, however, to give "a blessing instead" (8) would have been even more incredible. But for Peter, this was the very reason why the people of God have been called: "for you were called for the very purpose" (9). Peter then cites the account of David (a righteous sufferer) fleeing from the Philistines (see Ps 34:13-17).
Questions to ponder/discuss:
We must recognize that Peter is speaking of enemies in the context of social relations and one's effort to shame another. Peter is not addressing how we are to respond when someone endeavors to bring violent harm to us.
I think if we are honest with ourselves, the exhortation to give a blessing to our enemies may be the most difficult part of the NT. It is one thing to not hate someone who hates us or to not return evil for evil to them. But to give them a blessing is quite the charge.
One of the best ways to begin learning to love your enemies is to pray for them. When we pray for them, we are asking God to change them. This is the first step to seeking to bless them.
Interestingly, blessing your enemies may well be a way to disarm them.
Do you or anyone in your group have an experience of loving your enemies and eventually the relationship was healed?
Wednesday: Read 1 Peter 3:13-4:11
Peter's exhortations in the section that began in 2:11 are brought to a climax in 4:11. In this section Peter now interprets their sufferings in light of Christ's suffering. For Peter, one of the fundamental differences between the life of believers and unbelievers is that the latter is focused on human desires, and the former is focused on doing God's will.
Peter asks, "who is going to harm you" (13)? Of course, his readers were likely to think of many who would do so. Peter likely has in mind, however, eternal harm. In this case, the answer is "no one."
Peter then says, "even if you should suffer for the sake of righteousness, you are blessed" (14). In saying this, he is reminding them of God's eternal perspective. Ultimately, we will both be blessed eternally and our enemies cannot inflict eternal harm on us.
Peter then exhorts them to "sanctify Christ as Lord in your hearts" and to "always being ready to make a defense" (15). Although this verse has been widely used as the ground for Christian apologetics, it seems as though Peter has in mind the call to live a life of holiness which is characterized by suffering and non-violent retaliation. Thus, Peter says that they are to respond with "gentleness" (15) and not a violent outburst in defense of themselves. As a result, we can "keep a good conscience" (16) and put them to shame by our "good behavior" (16).
In 3:18-22, Peter again refers to Jesus as the role model for Christian behavior. Peter notes that Christ suffered for sins "so that He might bring us to God" (18). Then Christ was "made alive in the Spirit" (18). Peter then adds that Jesus "went and made proclamation to the spirits now in prison" (19). What Peter is referring to is highly debated.
Regardless of the difficulty of this passage, Peter's point is that Jesus only suffered for a little while and was then brought into the presence of God. Since Jesus is a model for Christian suffering, Peter clearly has in mind the goal of encouraging his readers by reminding them that they too will only suffer for a little while.
In 4:1-6, Peter encourages them to stop participating in the things they used to do even though their ceasing such things will lead to their suffering. He begins, "Therefore, since Christ has suffered in the flesh, arm yourselves also with the same purpose" (4:1).
In 4:2-4, he separates the Christian life into two parts. The first part is our life before coming to Christ and the second part is our life after faith in Christ. He argues that even though we are still in the flesh, we should choose to suffer for Christ because this shows that we are no longer motivated by human desires but by the will of God.
Peter concludes this section with a reminder that the end is near (7).
Questions to ponder/discuss:
It is interesting how much of the message of the NT encourages Christians to be faithful despite suffering. We have addressed this numerous times in our study of the NT. Each time it brings us back to the question of why many Christians in the West do not experience much suffering. I wonder if the answer, at least in part, is found in the fact that we have become so much like the world that the world has no reason to persecute us.
Many Christians in the West have found an increasing opposition within society primarily centered on certain political and ethical convictions. I wonder here, however, if the "opposition," which some may choose to label "persecution," is not so much because of our Christian convictions but because of our failure to present them in love. I am reminded of the title of Eugene Cho's book Thou Shall Not be a Jerk.
What are your thoughts on this and how might Christians be able to hold to their convictions and yet present them in love?
Thursday: Read 1 Peter 4:12-19
The final section of this letter extends from 4:12-5:11. Note that Peter begins in 412 with "beloved," which often marks the beginning of a new section.
In 4:12-19, he begins by putting their suffering in the context of the kingdom of God. There was a popular conviction within Judaism and early Christianity known as the "messianic woes." This tradition associated the suffering of God's people with the coming of the Messiah. It is in light of this conviction that Peter notes, they should "not be surprised at the fiery ordeal among you . . . as though something strange were happening to you" (12).
Peter's concerns are two-fold. First, he wants them to understand that suffering is to be expected. Second, he wants to encourage them to continue to live faithfully as a sign of their trust in God. For Peter, our sufferings are a sharing in "the sufferings of Christ" (13). The idea then is that in our suffering we are not only not to be ashamed (16), but to "glorify God" (16).
Peter also explains that our suffering should be understood in light of the judgment (17). The people of God experience judgment in the present. The rest, however, will have to face judgment later (18).
"Therefore," Peter concludes, "those also who suffer according to the will of God shall entrust their souls to a faithful Creator in doing what is right" (19).
Questions to ponder/discuss:
Many Christians might struggle with the idea that we share in "the sufferings of Christ." For them, Jesus' sufferings were sufficient and "once for all" (Rom 6:10). And this is certainly true. But what Peter is getting at here is the idea that the people of God suffer as a means of being made perfect (or growing in sanctification as some might prefer to say). Note that Paul says something similar in Col 1:24, "in my flesh I do my share on behalf of His body, which is the church, in filling up what is lacking in Christ's afflictions."
In light of this, what do you think the role of suffering is for you? And how do you see this working out in your situation?
Friday: Read 1 Peter 5:1-14
Peter brings the body of the letter to a close in 5:11. Note the opening, "therefore" (1). Peter addresses three groups in this section. Peter focuses on how they are to use their privileged position within the church and society.
First, he speaks to the "elders" (1-4). They are to be like shepherds and to "shepherd the flock of God" (1). In doing so, the leaders must lead for the benefit of others and not for their own gain (2).
Second, Peter speaks to the "younger men" (5). Peter is concerned that they respect the elders and submit to them (5). We might see how this could be a problem if the elders are encouraging them to follow Christ and this results in shame and troubles within the larger society. One might suspect that many young men might choose to pursue the honor and benefits that Rome has to offer rather than the sufferings brought about by listening to their elders.
Third, Peter speaks to everyone. They are to "clothe yourselves with humility toward one another" (5). There is no doubt that Peter's exhortation to pursue humility will create tension and anxiety for them as they attempt to navigate the Roman world. Thus, he urges them to cast "all your anxiety on Him, because He cares for you" (7).
In addition, they must be on the alert because the devil "prowls around like a roaring lion [and] seeking someone to devour" (8). The devil attempts to lead the people of God astray by offering ways to alleviate suffering. Consequently, he must be resisted (9).
Finally, once the people of God have completed their suffering, then God "will Himself perfect, confirm, strengthen and establish you" (10). For Peter, as with Paul (see Phil 2:5-11), humility leads to exaltation.
Peter concludes the letter with the customary greetings (12-14). His reference to those in "Babylon" (13) most likely indicates Rome. He refers to Mark as "my son" (13). The relationship between Peter and Mark was well-known in the early church. This has led many to suspect that Peter was the primary source of the Gospel of Mark.
Questions to ponder/discuss:
How much does humility characterize your relationship with others—especially those in the church?
What can you do to demonstrate greater humility?
Note: one of the difficulties of living humbly is that others may take advantage of your love and generosity.
Our goal is to keep these posts free of charge. I do not intend to ever hide them behind a paywall. I can only do this if those of you who have been blessed by them and can afford to give ($5, $10, $25, or more/month) do so. You can give a tax-deductible contribution by following this link.
Please share this post and let others know about determinetruth.
If you wish to view this blog on your smartphone through the Determinetruth app simply download the "tithe.ly church" app on your smartphone and insert "determinetruth" as the church name you wish to follow. Once it is loaded, simply click on the "blog" icon and it will automatically load.
If you would like to have Rob speak at your church or organization in person or via zoom, please let us know by filling out the contact info on the Contact me tab on this site.
[1] This guide is meant to be done either as a group study over the course of 2 or 4 meetings (Day 1-5; 6-10; 11-15; 16-20), or as a private devotion over the course of 4 weeks (or a calendar month—5 lessons per week).
[2] See my blog post from June 11, 2021, for a more detailed discussion of this passage.