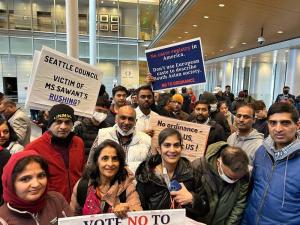 If the media is to be believed, America is being overrun by a new scourge – "caste discrimination" brought to our fair land by "Indians or South Asians" as they flock here in "large numbers". This is the stated belief of many of the caste equity champions who have been driving the caste narrative from their privileged positions in academia and government – even though data on the ground shows a completely different picture. Over the past two years caste has been added as a protected category, in places far apart as UC Davis, California State University, Brown, Harvard and the City of Seattle and now the state of California. The main "evidence" cited for caste measures has been ONE survey from a private entity and ONE lawsuit against employees at Cisco Systems by the California Civil Rights Department. 
Yet, the 2018 Equality Labs survey had earlier been rejected as "admissible evidence by California courts" – Judge Drew Takaichi's 2/11/21 ruling,  and was also called out as unscientific by the 2021 Carnegie survey on Indian Americans (Footnote 29). With the recent withdrawal of the lawsuit against the two Cisco engineers, a rational person might assume there would be a pause in the rush to judgment – but they would be wrong!
So, among all the media chatter, the question arises  – how does an average American view caste? The question assumes urgent significance in view of laws like SB403 in California – which means that we can expect to one day have an American individual in the court being judged on caste by a "jury of their peers".
A new survey conducted recently by CoHNA (Coalition of Hindus of North America) studies this issue and brings pertinent data to the topic and shows caste awareness in the US is low and based on inaccurate or anecdotal information.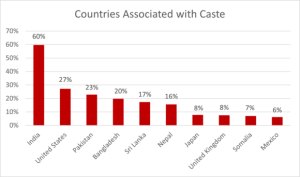 A salient finding from the survey – most Americans associate caste with India (and therefore Hinduism) and believe that there are only four castes. Nine out ten Americans had no idea how to tell someone's caste based on markers such as last name, skin color, educational level, hair texture, etc.; their understanding of caste is already shaped by the time they graduate high school; and, social media and online platforms play a very important role in shaping the understanding and "experiences" of US-based Millennials.
"These findings are significant, since a trial or investigation around caste discrimination would empanel a jury of ordinary Americans or appoint them to conduct the investigation," said Suresh Krishnamoorthy, Board Member of CoHNA. "Would they be able to identify castes by last names or other markers and reach a fair verdict? Or would they be biased about the origins and nature of caste, which can potentially result in racial profiling, targeting and stereotyping of South Asians and especially people of Indian and Hindu origin, along with government overreach?"
The survey also tests popular claims that discrimination based on caste is ubiquitous in the United States or that Americans can easily identify the numerous castes and sub-castes based on markers such as last name, skin color, food habits, etc. This data is important in light of the claims from caste experts pushing such laws, that is it possible to identify/locate the "caste of a South Asian living in America through such markers.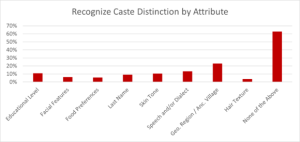 The new survey data warns that community specific changes in any civil rights laws should only be taken up after due diligence and consultations with all stakeholders and experts.  It also emphasizes the need for a deeper, statistically valid study of the actual prevalence of caste-based systems of discrimination in America before any legislation or policy is passed. Passing laws and policies based on inaccurate or anecdotal information is unethical and can lead to violations of civil rights and the targeting and profiling of Hindu Americans and other micro minorities.
"We undertook this study because we were concerned about claims of mass discrimination within the South-Asian community", said Nikunj Trivedi, President of CoHNA. "It is important to validate and cross-check claims around caste in the US, especially since these unverified claims have been used to create policy and laws that can have broad and unintended consequences and harm on minorities living in the country. Our data validates what other scientific studies before us have also found."
The full survey results can be found here. Key findings include:
1) Only 8% of respondents had actual experience with the caste system. Therefore, it is not as widespread as claimed.
2) A majority of those surveyed first learned about caste from school textbooks and had not experienced it.
3) Only a handful of those surveyed knew of the thousands of castes and sub-castes in India. A majority claimed there are only four castes in India.
4) US-based Millennials reporting extensive "personal" experience with caste point to social media and WhatsApp as their sources of knowledge.
5) A majority of those surveyed associated caste with India and Hinduism. It is therefore untenable to associate it across geographies and peoples.
6) Nine out of 10 respondents had no idea how to associate a last name with caste.
7) Over 60% of Americans can't identify caste distinctions via other attributes such as food preferences, educational level, skin tone, hair texture, etc.
8) An overwhelming majority of those surveyed do not find the caste system important.
The CoHNA survey was based on a YouGov US national sample of 1,500 responses. YouGov is an internationally recognized internet-based polling company that is widely used by major organizations, media houses, political analysts, and others to collect opinions on business, politics, public affairs, social trends, etc.