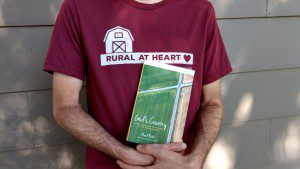 I'm excited to have in hand the Advance Reader Copy of my book, God's Country: Faith, Hope, and The Future of the Rural Church, coming out September 19 from Herald Press!  It's beautiful.  After nine months of writing and many more months of editing and rewriting, we're almost there, and I wanted to share the joy.
God's Country
 sets forth a vision for vibrant rural congregations–congregations that often bear a profound sense of both loss and possibility.  The book is rooted in stories from Scripture, my own ministry, and interviews with rural church leaders.  It aims to offer theological and practical alternatives to church-growth strategies that rely on flashy metrics.
God's Country is about reclaiming God's kingdom vision for the rural church. It's about learning to praise, abide, watch, pray, grow, work the edges, die, befriend, and dream.  Ultimately, it's about coming to love rural people and places as God loves them.