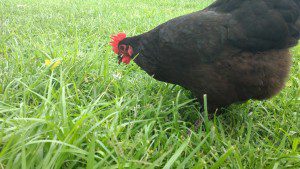 Our chickens are chasing green June beetles.  The beetles are large, iridescent, clumsy, and voracious.  They've been tearing into our sweet corn and running amok on the ripe tomatoes.  When they're not consuming my garden, the little buggers trundle through the humid air, careening into the side of the house and circling above the grass where the chickens peck and pin them.  It's a beautiful sight to see a speckled hen snatch a green June beetle out of the air and rip it limb from limb.  Think summer lobster boil, but without the butter and bibs.  The chickens eliminate a nasty pest, and we get delicious eggs out of the deal–with a bit of entertainment thrown in.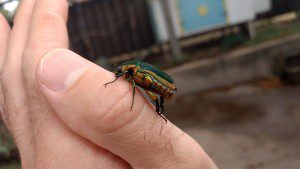 So…
What if we came each morning to the Scriptures like this?  What if we read the Bible with the sense that God will speak to us what we really need to hear?  A word will buzz off the page.  Go.  Mustard seed.  Follow me.  Refuge.  We'll spot something.  We'll be impacted by something.  We'll snatch a meal from the word.
Maybe that's how you already come to the Bible, with that faith that God will speak, has not left us orphaned, will never leave or forsake us in our hour of need and guidance.  Maybe that's you.  But I find myself thinking 
context
and 
history
and 
transmission
.  I find myself studying more than listening.  It's my job.  But I've discovered that I have to continually renew myself in the Bible-reading disciplines of trust and love and listening.  Don't dissect; receive.
We recently visited a librarian friend at a great theological library, and she showed us a sixteenth century German Bible she was curating.  An owner along the way had made detailed marginalia: brackets and notes in Latin and German.  It was a well-loved Bible.  The handwriting was as beautiful as the old Fraktur script.  On some of the pages, the note taker had carefully drawn a hand with a (rather long) finger pointing toward the text.  I imagine him (it was probably a him) pouring over that precious Bible, at dawn or by candlelight, and then: A word!  A verse!  Daily bread!  A meal snatched from the word.