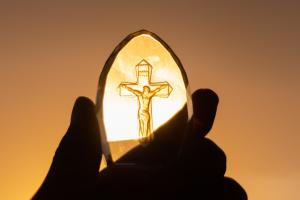 As a Christian, I'm always looking for ways to deepen my faith and my connection with God. Along my journey, I've discovered the power of Christian meditation. This practice has helped me not only to study the Bible more effectively but also to pray with greater focus and intentionality.
In this post, I will share my experience and insights on Christian meditation, its benefits, how to meditate as a Christian, and some of the best Christian meditation apps and resources available.
Introduction to Christian Meditation
Meditation has been around for thousands of years and is practiced by people belonging to various cultures and religions. However, Christian meditation is different from secular meditation, which focuses on self-awareness and relaxation.
Christian meditation is a spiritual practice that aims to deepen our relationship with God and help us connect with His Word. It involves focusing our minds on God's truth and presence, using techniques such as Scripture reading, prayer, and contemplation.
What Does the Bible Say about Meditation?
The Bible has a lot to say about meditation. In fact, it is an essential part of the Christian faith. Psalm 1:1-3 (NIV) says:
"Blessed is the one who does not walk in step with the wicked or stand in the way that sinners take or sit in the company of mockers, but whose delight is in the law of the Lord, and who meditates on his law day and night. That person is like a tree planted by streams of water, which yields its fruit in season and whose leaf does not wither—whatever they do prospers."
The Psalmist describes the benefits of meditating on God's Word, which include bearing spiritual fruit, experiencing spiritual prosperity, and being spiritually nourished.
In Joshua 1:8 (NIV), God instructs Joshua:
Keep this Book of the Law always on your lips; meditate on it day and night, so that you may be careful to do everything written in it. Then you will be prosperous and successful.
When we meditate on God's Word, we will be more likely to obey it. And with obedience come the rewards of prosperity and success. It's important to remember, however, that this is prosperity in God's eyes, not necessarily what the world considers as being prosperous.
In the Bible, meditation is also described as a way of seeking God's face and understanding His ways (see Psalm 27:8 and Psalm 119:15). There's no better way to prosper than to know God more!
Benefits of Christian Meditation
Christian meditation has numerous benefits, some of which include:
1. Deepened relationship with God
Meditation helps us to develop a more intimate relationship with God by drawing us closer to Him. As we meditate on His Word, we become more aware of His presence and more in tune with His will for our lives and for the world He created, in general.
2. Improved mental health
Meditation has been shown to reduce stress, anxiety, and depression, which are prevalent in today's society. By focusing our minds on God's Word, we can find peace and calm in the midst of life's challenges.
3. Increased focus and clarity
Meditation helps us to focus our minds on what is important and avoid distractions. As we meditate on God's word, we gain clarity and direction for our lives.
4. Better understanding of the Bible
Meditation helps us to understand the Bible better by allowing us to reflect on its meaning and significance. As we meditate on God's Word, we gain insights and understanding that we might not have if we just read a passage, closed the Bible, and went on about our day.
Understanding the Difference between Secular and Christian Meditation
Secular meditation is focused on the self and aims to achieve relaxation and inner peace. It often involves practices such as mindfulness, breathing, and visualization. Christian meditation, on the other hand, is centered on God and His word. It isn't so much about connecting with our selves, as secular meditation is. Rather, it's about connecting with God. To this end, techniques such as Scripture reading, prayer, and contemplation are emphasized.
How to Meditate as a Christian
Here are some steps to help you get your Christian meditation practice started.
1. Find a quiet place
Find a quiet place where you can be alone with God and avoid distractions. It may be helpful to set aside a specific time for meditation each day.
2. Choose Scripture
Choose a Scripture passage that speaks to you and reflects your current situation or need. Read it slowly, and meditate on what it means.
3. Reflect on the Scripture
Reflect on the Scripture, and ask God to reveal its significance to you. Consider how it applies to your life and what action God may be calling you to take.
4. Pray
Pray and ask God to deepen your relationship with Him and help you to apply His Word to your life. Thank Him for His presence and faithfulness.
Biblical Meditation Techniques
Here are some biblical meditation techniques to help you deepen your faith and connect with God's Word.
1. Lectio Divina
Lectio Divina is a traditional Christian practice of reading and meditating on scripture. It involves four stages: reading, meditation, prayer, and contemplation.
2. Breath Prayer
Breath prayer involves repeating a short prayer or scripture verse while breathing in and out. It helps to focus the mind and connect with God's presence.
When I first started to engage in this practice, God laid it on my heart to go through the Beatitudes, one by one. Little did I know at the time that He was using this to prepare my heart and spirit for the Scarlet Hope Celebrate Recovery ministry, as well as the CR ministry that would later be adopted at the church I was attending at the time. I still get chills when I think about how God worked this all out behind the scenes, with me being none the wiser at the time.
3. Contemplative Prayer
Contemplative prayer involves sitting quietly in God's presence and listening to Him speak. It allows us to connect with God on a deeper level and experience His love and grace.
"Prayer is talking to God. Meditation is listening to God talk to us." adapted from Edgar Cayce: The Sleeping Prophet by Jess Stearn*
Top Christian Meditation Apps for Deepening Faith
Here are some of the best Christian meditation apps that will help you deepen your faith and connect with God's Word:
1. Abide
Abide is a Christian meditation app that offers guided meditations based on Scripture. It also includes prayer prompts and Bible readings.
2. Soultime
Soultime is a Christian meditation app that offers personalized meditation sessions based on your needs and preferences. It includes guided meditations, music, and Scripture readings.
3. Pray
Pray is a Christian prayer and meditation app that offers daily prayer prompts, Scripture readings, and guided meditation sessions.
4. Glorify
Glorify is my personal favorite. I've used it for a few years now. Its focus is on daily worship through Scripture readings, meditations, and even music. My favorite thing about it is the daily notification I get that says, "It's time for your daily worship."
It's a great reminder of what worship should be, and how often we should be doing it (at least daily, if not more often).
Christian Meditation on YouTube
YouTube is another great resource for Christian meditation. There are many channels that offer guided meditations based on Scripture. Here are some of the best.
1. The Bible Project
The Bible Project offers animated videos and guided meditations that help viewers understand the Bible and how to apply it to their lives.
2. Alabaster Co.
The Alabaster Company, which makes the beautiful Alabaster Bible, has a channel that offers guided meditations and prayers based on Scripture. These are designed to help viewers better connect with God's Word and His presence.
3. The Mindful Christian
The Mindful Christian offers guided meditations based on Scripture, which are designed to help listeners connect with God's presence and achieve freedom from anxiety. This channel's videos are few, but they are mighty.
Common Misconceptions about Christian Meditation
As you might imagine, there are some common misconceptions surrounding Christian meditation. These include the following ideas:
1. Meditation is against Christianity
Some people believe that meditation is against Christianity. For the most part, people associate meditation with Buddhist, Hindu, or New Age practices. And while these traditions have adopted meditation, that doesn't mean Christians have to eschew it. In fact, as mentioned above, meditation is commanded in the Bible. God wants us to meditate because it draws us closer to Him and helps His Word sink down deeper into our hearts.
2. Christian meditation is only for monks or mystics
Christian meditation is for everyone, not just monks or mystics. When we have the right tools and the right mindset (start slow, and build up from there, for example), any one of us who has the Holy Spirit inside us can practice – and benefit from- meditation focused on Christ.
3. Christian meditation is only about relaxation
While relaxation is a byproduct of Christian meditation, it is not the main focus. The focus of Christian meditation is to tap into the heart of God and take time out of our busy days to hear from Him.
Deepening Your Faith through the Practice
Christian meditation is a powerful tool that can help us deepen our faith and connect with God's Word and His presence. It offers numerous benefits, including improved mental health, increased focus and clarity, and a better understanding of the Bible. By practicing Christian meditation, we can draw closer to God and experience His love and grace in a deeper way. So, take some time each day to meditate on God's Word and see how it can transform your life.
Start practicing Christian meditation today with one of the apps or resources mentioned in this article and experience the power of connecting with God's Word and presence. Then, let me know in the comments which one you tried and how it's working for you.
---
*Some of the links included in this article are affiliate links. I may make a small commission if you buy something from one of these sites.