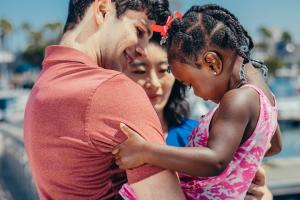 The concept of adoption holds profound meaning within the Christian faith. It represents a powerful symbol of God's love and acceptance. To fully understand what happens when we are adopted by God, we must go beyond our earthly understanding of adoption. We must look to the spiritual dimension that illustrates the depth of God's grace and mercy. In Christianity, adoption is not merely a legal process. Rather, it is a transformative journey that brings individuals into the family of God, thus offering them a sense of belonging and identity.
Adoption as a Symbol of God's Love and Acceptance
At its core, adoption in Christianity symbolizes God's unwavering love and acceptance for all individuals, regardless of their background or past. It serves as a tangible demonstration of God's grace, as He willingly chooses to embrace and include His special creation into His family. This act of adoption reveals God's desire to restore broken relationships and bring healing to those who have experienced rejection or abandonment. Through adoption, God extends His love and acceptance to all, offering them a new beginning and a sense of belonging.
Bible Verses that Explain What It Means to Be Adopted by God
In the Bible, adoption is portrayed as a divine act of God's grace and mercy. Several New Testament verses discuss the concept of adoption.
Becoming a child of God
John 1:12-13 (KJV) tells us:
"But as many as received him, to them gave He power to become the sons of God, even to them that believe on His name. Which were born, not of blood, nor of the will of the flesh, nor of the will of man, but of God."
We are not all children of God merely because we are born on this earth. We become His children through the adoption process, which comes through faith (see Galatians 3:26).
The Love of the Father
In his epistle at the end of the Bible, John writes:
"See what great love the Father has lavished on us, that we should be called children of God! And that is what we are! The reason the world does not know us is that it did not know Him. Dear friends, now we are children of God, and what we will be has not yet been made known. But we know that when Christ appears, we shall be like Him, for we shall see Him as He is." (1 John 3:1-2, NIV)
Our heavenly adoption process starts much like any earthly adoption process. It starts with love, and a desire for a relationship.
God wants us to choose Him
The apostle Paul writes in Ephesians 1:5 (NIV):
"He predestined us for adoption to sonship through Jesus Christ, in accordance with His pleasure and will."
This verse, as well as the verses in John mentioned above, highlights the intentional and purposeful nature of God's adoption, emphasizing that it is not based on human merit or worthiness, but solely on God's sovereign choice. Throughout the Bible, adoption is used as a beautiful picture of God's love and the restoration of broken relationships.
Our inheritance
Paul writes in Romans 8:14-18 and Galatians 4:4-7 (NIV):
"For as many as are led by the Spirit of God, they are the sons of God. For ye have not received the spirit of bondage again to fear; but ye have received the Spirit of adoption, whereby we cry, Abba, Father. The Spirit itself beareth witness with our spirit, that we are the children of God. And if children, then heirs; heirs of God, and joint-heirs with Christ; if so be that we suffer with him, that we may be also glorified together. For I reckon that the sufferings of this present time are not worthy to be compared with the glory which shall be revealed in us. For the earnest expectation of the creature waiteth for the manifestation of the sons of God."

"…when the set time had fully come, God sent His Son, born of a woman, born under the law, to redeem those under the law, that we might receive adoption to sonship. Because you are His sons, God sent the Spirit of His Son into our hearts, the Spirit who calls out, 'Abba, Father.' So, you are no longer a slave, but God's child; and since you are his child, God has made you also an heir."
We are not only God's children. We are His heirs. We have been given the right to a rich, heavenly inheritance through our brother, Jesus. And we have a close relationship with our Heavenly Father. So close, in fact, that we get to refer to the Creator of the Universe as "Daddy."
The Role Jesus Plays in the Adoption Process
Jesus is the central figure in the process we undergo when we are adopted by God. Through His sacrificial death and resurrection, Jesus made it possible for humanity to be reconciled with God. Because of this renewed relationship with Him, we can be adopted into His family. As we place our faith in Jesus, we are united with Him both in death and in resurrection.
Through Him, we become heirs of God's promises. Jesus serves as the bridge between humanity and God. He enables the adoption process to take place, so that we can experience a profound transformation in our lives. The spiritual adoption process holds paramount importance in our faith journey. This process involves a recognition of our need for redemption and reconciliation with God. Through faith in Jesus Christ, we are able to enter into an intimate connection with our Heavenly Father.
What It Means to Be Part of God's Family
In Christianity, adoption is more than a legal process. It is a spiritual reality during which we are brought into the family of God. Spiritual adoption not only grants us the privilege of being called children of God. It also grants us access to the abundant blessings, guidance, and love that flow from our Heavenly Father. By becoming part of God's family, we gain a strong sense of belonging and identity, as we are united with other believers in a community of faith. Here, we find support, encouragement, and love. Adoption transforms our identity, giving us a new name and a new purpose as we embrace our new role as children of God.
This adoption is not just a one-time event. Rather, it is an ongoing journey, in which we grow in our understanding of God's love and seek to live in alignment with His will. Through spiritual adoption, we are invited to experience the fullness of life and purpose that comes from being a cherished child of God. This includes eternal life and relationship with Him, forgiveness of sins, and the indwelling of the Holy Spirit. Through adoption, we receive the fullness of God's love and the assurance of a glorious future in His presence.
Adoption First for Israel, and then for Everyone Else
In the Jewish faith, adoption holds a significant spiritual meaning. It is seen as a way to become a part of God's family. This belief is rooted in the biblical teachings of the Old Testament, where God proclaimed that Israel was His chosen people (see Romans 9) and adopted them as His own. However, this concept of adoption into God's family is not limited to the Jewish people. It extends to all of humanity.
Israel's adoption
From the covenant made with Abraham (see Genesis 15 and 17 to the establishment of the Mosaic Law, Israel was chosen as a special people, set apart by God to be His treasured possession. This divine selection included the privilege of being adopted into God's family, symbolizing a unique relationship and a divine purpose. As a chosen nation, Israel was to be a light to the world, showcasing God's righteousness, mercy, and love. This adoption of Israel into God's family reflects His sovereign grace and serves as a crucial part of His divine plan for the salvation of all mankind.
Gentiles included in the adoption process
As the narrative of salvation history continues, the scope of God's redemptive plan extends beyond the borders of Israel to include the Gentiles. While adoption into God's family was initially bestowed upon the nation of Israel, it was not an exclusive privilege. The apostle Paul, in his letters, elucidates how Gentiles also find a place in God's family through faith in Jesus Christ (see Romans 1:16). Through His sacrificial death and resurrection, Jesus broke down the dividing wall between both Jews and Gentiles and their Creator. In so doing, He made it possible for all people to be reconciled to God and experience the fullness of adoption as His beloved children.
This inclusion of Gentiles as adopted children depicts the impartiality and universality of God's love and grace. It demonstrates that salvation is not limited by nationality or ethnicity. It is available to all who put their faith in Jesus Christ. The apostle Paul passionately proclaimed this truth, declaring that in Christ, there is neither Jew nor Gentile, but all are one in Him (see Galatians 3:28-29). The Gentiles, once considered outsiders, are now invited to partake in the same privileges and blessings as the chosen people of Israel. Thus, they can also enjoy the fullness of adoption into God's family and receive the inheritance of eternal life.
This expansion of adoption to include Gentiles serves as a testament to the all-encompassing nature of God's redemptive plan. It highlights His desire for all people to come to know Him, experience His love, and be united as one family in Christ. This divine inclusion of Gentiles affirms the unchanging faithfulness of God throughout history. It reveals His purpose to reconcile and gather together all nations under the lordship of Jesus Christ (see Philippians 2:10-11 and Revelation 7:9-17).
Embrace the Wonder of Being Adopted by God
Adoption, as understood in the Christian faith, symbolizes God's unconditional love. In addition, it represents His desire to embrace and accept all individuals into His family. It is a transformative journey that restores broken relationships, grants a sense of belonging, and allows individuals to experience the depth of God's grace and mercy. By embracing the profound meaning of adoption, we can remember our identity as children of God. Further, we can extend the love and acceptance we have received from God to others. Adoption is a beautiful reflection of the love and belonging God offers to all who come to Him. We need to let everyone know about it.
What does being adopted by God mean to you? How can you extend His love and acceptance to others around you?