E-governance has often defined as the application of Information and Communication Technology (ICT) for delivering government services, exchange of information communication transactions, integration of various stand-alone systems and services from the Government to its customers, businesses, other governments, and also management of the entire back office processe and interactions within the government system.
In India, the e-governance initiative is handled via what is known as the National e-Governance Plan (NeGP).  It is a comprehensive framework for the government to engage with its stakeholders.  Here is how the Government of India defines it:
The National e-Governance Plan (NeGP) has been formulated by the Department of Electronics and Information Technology (DEITY) and Department of Administrative Reforms and Public Grievances (DARPG). The Union Government approved the NeGP, comprising of 27 Mission Mode Projects (MMPs) and 10 components on May 18, 2006.

The NeGP aims at improving delivery of Government services to citizens and businesses with the following vision:
"Make all Government services accessible to the common man in his locality, through common service delivery outlets and ensure efficiency, transparency & reliability of such services at affordable costs to realise the basic needs of the common man."
Given the expanse of the country and the diversity in every sphere of life, and the overall federal structure where the states in India are major stakeholders in governance, it is not easy to bring the whole country onto the e-governance band wagon so easily.
History of e-Governance in India
In 1970, the Government of India set up the Department of Electronics, which was later followed up with the setting up of National Informatics Center (NIC) in 1976.  This was the first time, that the country's ruling elite focused on technology and communications for the first time as an area of importance.
In a decade, the government was able to create a national satellite-based computer network called NICNET.  Using this technological infrastructure, a drive to digitize and computerize all the district level offices in the country was started.  States were offered free software and hardware and by 1990, the NICNET connectivity had been extended from the State Capitals to the District headquarters.
The rather well done National Informatics Center Website discusses the achievements of NIC since its inception.
National Informatics Centre (NIC) was established in 1976, and has since emerged as a "prime builder" of e-Government / e-Governance applications up to the grassroots level as well as a promoter of digital opportunities for sustainable development. NIC, through its ICT Network, "NICNET", has institutional linkages with all the Ministries /Departments of the Central Government, 35 State Governments/ Union Territories, and about 625 District administrations of India. NIC has been instrumental in steering e-Government/e-Governance applications in government ministries/departments at the Centre, States, Districts and Blocks, facilitating improvement in government services, wider transparency, promoting decentralized planning and management, resulting in better efficiency and accountability to the people of India. (emphasis added)
Given the scale of the entire task, this is nothing short of amazing!
NICNET – the brain behind e-Governance in India
NICNET does all the spade-work behind the entire connectivity in the country.  With its rich expertise, over the years it has been able to come up with new means of digitizing Government works and providing consulting to the state governments.  The major activities undertaken are:
Setting up of ICT Infrastructure
Implementation of National and State Level e-Governance Projects
Products and Services
Consultancy to the government departments
Research and Development
Capacity Building
NICNET's repertoir of e-Governance initiatives is large and growing.
Various initiatives like Government eProcurement System(GePNIC), Office Management Software (eOffice), Hospital Management System (eHospital), Government Financial Accounting Information System (eLekha), etc. have been taken up which are replicable in various Government organizations.

As NIC is supporting a majority of the mission mode e-Governance projects, the chapter on National e-Governance Projects lists the of details of these projects namely National Land Records Modernization Programme (NLRMP), Transport and National Registry, Treasury Computerisation, VAT, MG-NREGA, India-Portal, e-Courts, Postal Life Insurance, etc. NIC also lays framework and designs systems for online monitoring of almost all central government schemes like Integrated Watershed Management (IWMP), IAY, SGSY, NSAP, BRGF, Schedule Tribes and other Traditional Forest Dwellers Act etc.
So, if you are getting any information from the Government in anyway, chances are that NICNET will have a major hand in its information gathering, reporting and delivery.
Models for e-Governance
Primarily there are four e-Governance models:
Government to citizens (G2C)
Government to government (G2G)
Government to employees (G2E)
Government to business (G2B)
The following graphic explains the different models in context of India.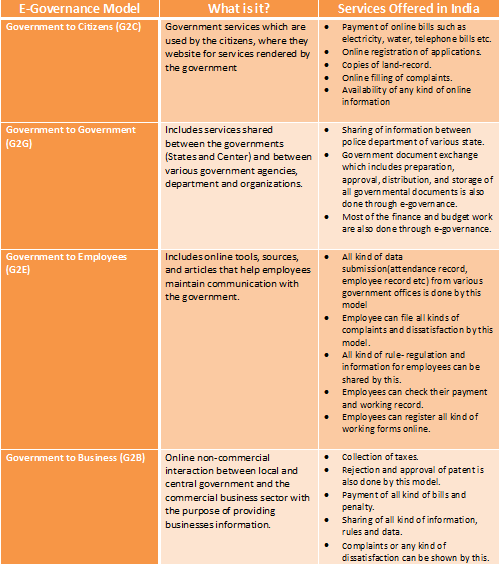 Challenges in e-Governance in India
In a country with the diversity and size as India's, there are bound to be several challenges, least of which are technical.
Interaction and integration: The success of any e-Governance initiative lies in complete integration between the services.  That is easier said than done.  We are a country with 18 official languages and states having different parties in power than at the Center.  This creates language issues and also political issues.  Even though NIC is the one body responsible for the whole framework, but there is no ready-made framework out there that can be used by NIC to easily dove-tail different components together.  Whatever it does in a way, becomes the standard.
Technical divide: Even though awareness has grown over the last decade. Still, the Urban-Rural divide is quite huge in terms of technical capabilities and accessibility.  Internet access is not that readily available in villages and small towns. So the political motivation to spend time and resources on something that will provide benefits to the people of the state is sometimes absent.  It takes a back seat.  This is accentuated by the lack of education and awareness of the politicians themselves!
Infrastructure and Speed:  Even in the urban areas, the speeds of Government websites and its user friendliness is suspect.  People would like to use the resources available, but it can all go waste if the websites are badly designed (which many are) and do not open up fast enough.  NIC's own portal is a rather well done website though!
Security and technical changes:  technology is changing at such a fast pace while the government speed is rather slow.  Both don't work well.  Within a matter of months these days, the entire technologies change – old ones become obsolete and new ones become standards.  In such a scenario, we need to be nimble in the government.  Add to this the high need for top class security.  With so many hackers out there with newer and newer ways to get in, it is important that the government takes full care of the latest advances.  There have been many instances of hackers defacing the government websites time and again.  This makes using internet and e-governance a big challenge!
Process and administrative inertia:  At the core of it, e-Governance is not a "technical initiative".  It hinges on the re-engineering of process and administrative methods.  If one has to enable technology to do things better and faster, then people and processes need to change the ways.  That is most often not possible in a government set up.  The personnel in government have little or no motivation to change the way they have been doing things.  That can fail any well laid out processes and technologies!
Digital India – the new Umbrella initiative
In a bid to quicken the pace of technical integration and boost the e-Governance implementation and acceptance in the country, the new Modi Government has put its weight behind the Digital India initiative.
Digital India[1][2] is an initiative of Government of India to integrate the government departments and the people of India. It aims at ensuring the government services are made available to citizens electronically by reducing paperwork. The initiative also includes plan to connect rural areas with high-speed internet networks. Digital India has three core components. These include creation of digital infrastructure, delivering services digitally and digital literacy.
This initiative is slated to be completed by 2019.  It is a public – private initiative where even restructuring of NIC is one of the agenda!   Some of challenges that Digital India initiative will face will be:
lack of legal framework
absence of privacy
data protection laws
civil liberties abuse possibilities
lack of parliamentary oversight for e-surveillance in India
lack of intelligence related reforms in India
insecure Indian cyberspace
Going forward, it will be interesting to see how the Modi Government can tackle these challenges and make it a successful program.
Despite the challenges, the program is very ambitious and something that will indeed take India to the next level in terms of governance and attracting business.  Of course, this also has a huge potential to create jobs!
The Digital India project that aims to offer a one-stop shop for government services would use the mobile phone as the backbone of its delivery mechanism. The government hopes the Rs 1.13-lakh crore initiative that seeks to transform India into a connected economy to also attract investment in electronics manufacturing, create millions of jobs and support trade.
Here are the 9 Pillars of the Digital India program.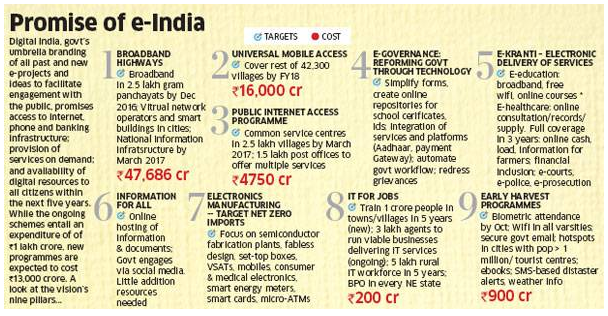 For a complete presentation of the government on Digital India, please check out this slideset

Interestingly, a lot of private companies, specially MNCs are joining hands with the government to take this initiative forward.  For example, Intel has pledged its support to empower 5 million people by the end of 2015 towards the sucess of Digital India program.
US-based chipmaker Intel Tuesday said it will work with the Indian government through its 'Digital Skills for India' program to help 5 million people by the end of 2015.

Intel India will also work with Bharat Broadband Network Limited (BBNL) to build capacity by imparting digital literacy training to key resource persons in the first 1,000 Panchayats under the National Optic Fiber Network roll-out in India.

"At Intel we believe that skill development and innovation are imperative for realizing the Digital India vision and these are the two areas in which Intel will begin working with the government to digitally empower the citizens of India.

"We are proud to launch the Intel Digital Skills for India Program which will set India on the path of becoming a digitally inclusive society. We are also excited to announce the Intel Innovate for India Challenge which will foster local innovation for pervasive technology adoption and usage across India," said Debjani Ghosh, vice president, sales and marketing group, and managing director, Intel South Asia.
One hopes that with the new energy that Modi Government brings to this area, India will have a solid and powerful Digital infrastructure in the coming years.  After all, this initiative is being personally monitored by the PM himself!
MAJOR e-GOVERNANCE INITIATIVES
TRANSPORTATION
Services Included:
Issuance of Time Table of buses.
Provision of booking facility for Interstate transport.
Transportation Improvement Program.
Regional Transportation Plans.
Congestion Management Process.
Transportation Demand Management
Projects that have been done:
CFST: Citizen Friendly Services of Transport Department by Andhra Pradesh government to provide services such as Issue of learner licensees ,Issue of driving licenses ,Renewal of driving licenses etc
Vahan and Sarathi: The backend applications Vahan&Sarathi help in speeding the overall work flow in the transport department but Tamil Nadu govt.
OSRTC: The Orissa State Road Transport Corporation project was started to provide transport related facilities online
HRTC:  Himachal Road Transport Corporation project is for online bookings, cancellation of seats, for enquiry about departure of buses, availability of seats and buses etc.
PAYMENT OF BILLS AND TAXES
Services Included:
Online Transaction
Payment of Bill
Payment of taxes
Payment of house EMIs.
Projects that have been done:
FRIENDS: This project is started by Kerala Government for its citizens to make online payment of electricity and water bills, revenue taxes, license fees, motor vehicle taxes, university fees, etc
E-SEVA: Electronic seva by Andhra Pradesh government to pay utility bills, avail of tradelicenses and transact on government matters at these facilities.
BWSSB ganakeekruthaGrahakaraSeve, water billing, and collection system:  This e-governance project is started by the Bangalore government. In this every month bills of houses are generated through BGS software
DOMESTIC:  This project is started by Daman and Diu. It is an Electricity Billing System for domestic consumers.
E-Pourasabha Municipal Application: E-Pourasabha is an e-governance application for urban local bodies. It is implemented for Tax Collection system, Property Tax, Water Tax etc.
E-Mitra by the Government of Rajasthan
SAMPARK by Chandigarh government
E-Suvidha by the government of Uttar Pradesh.
PUBLIC SERVICES
Projects that have been done:
LokMitra:  By the government of Himachal Pradesh. The services offered include information about vacancies, tenders, market rates, matrimonial services, village e-mail.
Mahiti Shakti: By Gujarat government to provide information related to its working to its citizens.
OLTP: By Andhra Pradesh government. With this project 16 government departments in Andhra Pradesh are connected on a single network.
MUNICIPAL SERVICES
Services Included:
House Tax Assessment, Billing and Collection.
Maintain records of Land & property.
Issue of Death Certificates.
Registration & Attorneys of properties.
Review and approval authority for site plans
Projects that have been done:
E-Panjeeyan: It is started by Assam government to deals with the computerization of the Document registration work at Sub Registrar Office.
SDO Suite: By Assam government. This system helps in issuing various certificates like Land sale Permission, Legal heir certificate, Issue of Passport Verification Certificate, Birth and Death Report,
Palike: The Palike-property tax software capture the basic details of the owner and property, payment details for which receipt is generated and given to the citizen was hosted.
Rural Digital Services (Nemmadi): Provide services such as issuance of certificates, issuance of orders in respect of Social Security Schemes such as old age pension, widow pension, freedom fighter pension etc.
TRIS: Tripura Registration Information System is meant for capturing of online photograph and biometric impression, Service for visit commission, request for duplicate document, searching of document etc.
ROAD AND TRAFFIC 
Services Included:
Network of Roads & Bridges
Road construction and their maintenance
Traffic Management
Safety ,Accident and pollution control
Projects that have been done:
BHOOSWADEENA: This project is computerized land acquisition system with tight integration with BHOOMI. The purpose of this project is to develop a system to automate the process Land acquisition
I-GeoApproach Internet Geometrics: Purpose of this project is development of Geometrics based web enabled decision support system for Rural Road Network of Madhya Pradesh.
RSPCB (Rajasthan State Pollution Control Board):  The project relates to establishment of computer based system by fulfilling the Hardware, Software International Journal of Computer Applications (0975 – 8887) Volume 53– No.7, September 2012 40 and Networking Requirements The project will be beneficial to the Government, Central Pollution Control Board, RSPCB itself.
CFST: Citizen Friendly Services of Transport Department This project is started by the government of Andhra Pradesh to keeps check on pollution control, road safety, road signs and safety of its citizens.[
Rural E-Governance Initiatives
Here are some of the Rural e-Governance initiatives
Agriculture
Gyandoot: In the State of Madhya Pradesh it is an Intranet-based Government to citizen (G2c) service delivery initiative.
BELE: It is a web-based application with 3-tier architecture for capturing and monitoring the major activities and services.
AGMARKNET:  It is a project approved by Department of Marketing & Inspection (DMI), Ministry of Agriculture, and Government of India.
SEEDNET: It is a SEED informatics network under ministry of Agriculture, Government of India. The project was started in Chhattisgarh in the month of July' 2008 for Kharif season.
Mustard Procurement Management System: It is started by Haryana government. It Conducted the Survey of mustard sown by the farmers and feed this data in to the database of the system. This data is then processed and generate coupons having information of dates on which farmer may visit in the mandi to sale his mustard.
Local Information
E-JanSampark: Services & Information accessible to the common man in his locality to meet his basic need. This project is started by Chandigarh.
Prajavani: it is started by the Government of Andhra Pradesh.it is a Web based On-line Monitoring of Public Grievances.
WebPortals for Hyderabad and Cyberabad Police: It is designed by hyderabad, developed and hosted with many exciting public utility features like Safety tips for all citizens, verificatiosn status of Passports, Stolen vehicles etc.
Intranet Portal of Chandigarh Administration: It provides an environment where administration could interact.
E-DISHA EkalSewa Kendra: This project is started by Haryana government.E-Disha to deliver any service from any counter/location, so at the peak requirements of services, counters can be extended as per crowd.
E-Samadhan: the Government of Himachal Pradesh stressed upon to develop grievances redressed mechanism so that the genuine public grievances may be redressed in a time bound manner.
Land Records
Bhoomi: It is the first e-Governance land records management system project which is successfully implemented for the benefits of the common man by the Government of Karnataka.
Comprehensive Modernization of Land Records (CMLR): This project is started by the government of Andhra Pradesh. It allows integrating functions of property registration, mutations and updating of field survey maps.
Land Record Computerisation: The objective of the project is to computerize fresh allotment, land transfer, regularisation of occupied land etc. related actives of the Dept. of Land Management at district level.
Gyandoot: it is an intranet in Dhar district of Madhya Pradesh, connecting rural cybercafés catering to the everyday needs of the masses [4].
Land Records Management System State Government of Punjab.
Devbhoomi State Government of Uttarakhand.
Bhu-Lekh  UP State Government of Uttar Pradesh.
E-Dhara State Government of Gujarat
Panchayat Services
Services Offered:
Issue of Birth/Death certificate.
Application for inclusion of name in Voter list.
Conducting various welfare schemes for the poor and needy sections of the society.
Preparing district wise planning, implementing those plan, and review for success.
To provide wage employment to the needy from amongst the poorest section of the rural society.
Rural water supply and sanitation
Projects that have been done:
E-GramViswa Gram Project: This Project Initiates e-Gram Project connecting 13716 Gram Panchayats and 6000 Citizen Common Service Centres as a part of the e-Gram connectivity Project by Gujarat.
RajNidhi: "RajNidhi" is a web enabled information kiosk system developed jointly by Rajasthan state's Department of Information Technology and Rajasthan State Agency for Computer Services (Raj Comp)
Raj-SWIFT: The Rajasthan State's Department of Information Technology (DoIT) has developed Government's own Intranet called as "rajSWIFT"
Support for P & RD sector in Assam: NIC, Assam State Centre has been identified as the technical consultant for e-Governance solution and Computerization of the Department of Panchayat and Rural Development.
SamanyaMahiti by the State Government of Karnataka
Across Urban and Rural
Here are some some of the initiatives that go across Urban and Rural areas.  These initiatives involve two major areas – Education and Health.
Health and Hospital
Services offered are:
Availability of medicines
Special health camps
Facilities at Anganwadi canters
Projects that have been done:
Online Vaccination Appointment for International Traveller: Citizen centric application for the purpose of vaccination of the persons proceeding abroad and issuance of International Health Certificate
SMS based Integrated Disease Surveillance System: it is an SMS based Integrated Disease Surveillance System facilitates to report the occurrences of disease, number of persons affected from the area of occurrences immediately to the concerned authority.
Hospital OPD Appointment: Hospital OPD Appointment System is another welfare measure undertaken by Chandigarh Administration to make life of citizens simpler.
Education
Services offered are:
Providing computer education to children
Results for 10th& 12thclasses
Information on eligibility for "Distribution of books" scheme
Projects that have been done:
CASCET: This project is started by the Karnataka government for Education Department.
Online Scholarship Management System: It is meant for the purpose of distribution of scholarships and fees reimbursement.
AISES (All India School Education Survey): this project is started by Assam government. This project is used for surveying the number of schools in district. Census
CAPnic: This is for the Centralized seat allotment process for professional courses and come under Kerala.
VHSE Examination Management System: it has been developed to handle pre-examination related activities of the vocational higher secondary education.
Featured image source: Flickr
 #DigitalIndia