When I first heard about the accusations against Roy Moore, I didn't want to believe them. After all, he was the brave soldier of the Lord who refused to stand down when commanded to have a monument inscribed with The Ten Commandments removed from the courthouse. As a result, Moore was removed from office. Something similar happened when he ordered all of the state judges in Alabama not to issue marriage licenses to same sex couples. And while I understand that federal orders should usually be followed, I respected the Judge for placing his principles over his position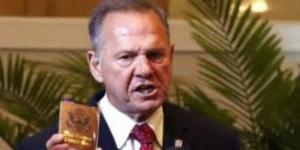 (Image from "The Daily Banter")
So, hearing that he had been accused of sexually assaulting a young lady when she was 14 years old in the late 1970s was shocking. Like I said, I didn't want to believe the accusations. And I held off on reading the original story. But then I heard that in an interview with Sean Hannity, Moore refused to deny dating teen girls while in his 30s.
I decided it was time to read the full article, and it was pretty convincing. Then this accusation came out earlier this week  followed by this one , bringing the count up to six.
Are all these women lying?
The same question can be asked about the women who accused Trump of everything from being inappropriate to downright sexually assaulting them.
When I started hearing about the allegations against Trump, I kept an eye on them, but my gut instinct was "HRC set all of this up." I starting hearing the rebuttals from Trump and his campaign. And while some of them made me wince, most of the denial defenses seemed pretty solid (from "that was a public place and no one has come forward supporting this claim" to "that woman has emailed me asking for assistance or offering her support for my campaign.") In fact, Leigh Corfman, the woman who accused Moore of assaulting her when she was 14 years old reports she supported Trump as well, and voted for him. I did too.
And, yet, I don't support Roy Moore. Now, I don't live in Alabama so it doesn't really matter a whole lot what I think, but I have been wrestling with this since the news broke.
Am I a hypocrite for supporting Trump, but not Moore? Maybe it's easier to denounce Moore when I am not personally faced with making the choice in the ballot box. Whereas with Trump, I knew I could easily support Pence (who also did not condone Trump's lewd comments), and I knew that not only could I never vote for Clinton, but I also couldn't be a part of helping her succeed. I knew the presidency would come down to one of the two, so I made my choice: Donald Trump.
But there are a few differences between Moore and Trump that I'd like to point out to help Trump supporters (and detractors) see why it's okay to support one and not the other. Why supporting one, but not the other, doesn't necessarily make me a hypocrite.
Point #1: As noted, Moore previously stated he would not deny dating teenagers while in his 30s. This leaves room for doubt when he claims that he was never physical with a teenager.
Point #2: It is not uncommon for political candidates to be accused of sexual misconduct or crimes. The accusations in and of themselves do not make the person guilty. What makes the Moore case different than many others is the credibility of those that have come forward and the inconsistencies in his own statements.  (Like the fact that now he is denying dating underage girls.)
Point #3: Again, 
Trump has evidence
that disputes many of the claims, and many of the rebuttals are more than "I didn't do it. The end."
Do I believe that Trump walked in on women in various stages of undress behind the scenes as his pageants, intentionally or unintentionally? Yes. (While not the level of Miss Universe, I participated in some pageants myself in my early 20s, and know that anyone involved in the pageants pretty much had free reign behind the scenes. Some men were more respectful than others.) Do I believe that Trump hugged or kissed women without their expressed permission? Quite possibly. I think people with varying degrees of power and influence often believe that these kinds of behaviors are acceptable because of their fame – and they believe that the women want what they're offering. Sometimes these things happen and people think they're acceptable or funny in the moment, but later on realize they were inappropriate. It happened to me too.
Several years ago, I was on the set of a movie to serve as an extra. In all the downtime, the lead actor (a formerly well known TV star) was joking around and taking pictures with the rest of the cast. When it was my turn, he said something to the effect of "kiss my cheek for the picture." Feeling a bit awkward, I said I would pretend to kiss his cheek for the picture. At the last second, he turned his face and kissed me right on the mouth. Everyone laughed, including me, despite my utter embarrassment. I did share it with the person in charge who put a stop to his behavior. I also shared about it on Facebook, thinking "well, he got me on that one." It was only after seeing a loving family member's reaction and reflecting on this that I realized how inappropriate it was. And, yet, I would not call this assault or harassment. But, truly, what happened to me is no more than what several claimed Trump did to them. Was that enough to keep the man out of office? I didn't think so.
But I also believe those actions are quite different than what Moore is being accused of. Please remember that Moore is being accused of sexually molesting a 14-year-old girl while in his 30s. Even if she had claimed (or people think) she was a willing participant, she was too young to consent. She was a child. He was an adult. If this incident took place, Judge Moore engaged in sinful and criminal behavior. Dating teenagers while in his 30s (and reportedly giving them alcohol) is bad enough, but this? This, we cannot ignore. I just don't think Moore saying "I didn't do it" is enough to counteract the evidence that says he very possibly did. If evidence surfaces that clears Moore, I will apologize for not believing him. For now, I must believe the women who, without any apparent ulterior motive, have come forward.
So, call me a hypocrite if you must. Many people on both sides of the aisles that have defended their candidates against accusations. I believe most of us do what we believe is right based on what we believe the truth to be. But sometimes we willfully turn a blind eye, saying that having the opposing party's candidate in office is worse than the awful behavior of our own candidate. I know many fellow Republicans on both sides of these cases, and I love and respect those I call friends, even when we disagree. But we really can't have it both ways. We can't say that all the women who accused Bill Clinton are telling the truth while saying all the people who accused Trump and Moore are lying. (And vice versa, democrats.)
If more evidence comes forward that Trump sexually assaulted ANY woman, I will repent of my vote and publicly acknowledge that failure as a follower of Jesus Christ. Regardless, he is now President of the United States, and I am praying for his success. If he fails, we all fail. And while I continue to support our President despite disagreeing with some of his comments and behaviors, because I believe there are enough red flags in the Moore case, I can't support him. My gut instinct is that he's a changed man. Perhaps he repented and began fervently following the Lord, leading him to defy federal laws in order to protect his beliefs. Yet, that does not change what may have happened. Being a forgiven follower of Jesus does not mean we are free from earthly consequences of our sin…and it certainly doesn't mean we should be placed in positions of power.
P.S. I would never vote for Moore's opponent, and implore all Alabama voters to follow suit. Sometimes we simply can't choose between the lesser of two evils. Never the less, whatever the voters of Alabama decide to do is on them.