I know a lot of service members and veterans. I am the wife of an active duty veteran who is now in the reserves. I used to work for the Department of Veterans Affairs. I've conducted research with service members and veterans. I've talked with countless current and former military members through the years. Yep, I know a lot of service members and veterans.
And I don't know a single one who wants to be recognized on Memorial Day.
You see, it's important we understand the difference between the holiday that is held the last Monday in May as opposed to Armed Forces Day (which, sadly, just passed with little fanfare) or Veterans Day. While we should be ever grateful for all of our current and former service members, we need to know what makes Memorial Day special. Memorial Day is to remember those who paid the ultimate sacrifice. It's reserved to honor those that have died in service to our country.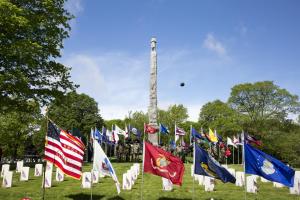 Not only do we remember and honor the fallen, but we should also acknowledge the sacrifice of the surviving loved ones. Even if we don't personally know someone who has died while on duty, we probably all know someone who has been impacted by this significant loss.
There are still over a million living WWII veterans.
You know a WWII veteran. And that veteran still remembers his buddies that were killed. In fact, anyone who was alive during WWII likely knows someone who was killed during this war. Now think about the Korean War veteran you know. Or the Vietnam veteran. What about one of the almost 700,000 service members deployed to Desert Shield or Desert Storm?  And you must know someone who has served in Iraq or Afghanistan. You know people who have served in war. And they know people who were killed in action.  Expand that circle to all those who had loved ones killed in combat. They remember. We should too. They'll never forget. We shouldn't either.
Almost 380,000 service members have been killed in battle since the start of WWII. Memorial Day is about remembering them – and those who died in combat before them. So, while you're taking a day off or swimming in the pool or going to a cook-out, remember. Remember the men and women that have died in defense of America. Remember those who grieve the loss of a beloved service member. Remember our freedom. Remember.