As a parent, there is a lot to be concerned about. The world is filled with scary stuff. We all watch the news, and know what our children are facing. They don't even have to be said. Who really wants a reminder anyway? But, as my only child nears 20 months, I have figured out the real enemy our children face.
I know, I know. What makes me an expert on the topic as a fairly new mama? Who am I to tell the world that there is One. Clear. Adversary. that our boys and girls will battle more than any other, and as a result, parents everywhere will be in the fight too.
Are you ready?
Brace yourselves.
Here goes.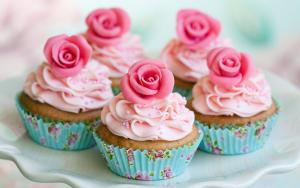 Yes, cupcakes.
Seriously – WHO approved "that" author to place a beautiful picture of a perfect cupcake in a book for babies? Thanks to you know who, my daughter became obsessed with this sweet treat before she ever had her first bite. She would not have even known what they were had she never seen this book with the two lovely liners, coifed mound of frosting, and sprinkles. Now, anytime she spots a cupcake, it's all she wants. And even if she doesn't see them, it's all she wants.
Sometimes I cave and give her a few tiny bites of the burnt bottoms (blame my oven), but that does nothing to discourage her insatiable appetite for these precious little cakes. Nope, it makes her want them even more. Even without the frosting.
The sad thing is it's already becoming a bribe. <sigh>
Child fights not to get buckled in to her seat? Do you want a cupcake?, mama asks. CUPCAKE!?, baby yells excitedly as she then attempts to help buckle herself in.
Little one won't eat the veggies? If you eat your vegetables, you can have a cupcake! <Little one scarfs down the peas and carrots.>
Kiddo refuses to go to lay down for bed? There might be a cupcake for you tomorrow, but first you have to go to sleep. <A split second later, it's all snores.>
It's also become another source of the word "No." <double sigh.>
No, you can't have a cupcake. It's the middle of the night!
No, you can't have a cupcake. You just woke up!
No, you can't have a cupcake. We don't have any!
So, yes, it's very clear to me that the foe we face is cupcakes. And to think how much I used to love them. I guess that's just another my daughter has helped me with my diet. Who knew cupcakes could be so scary.