Happy Holidays! Hope that doesn't offend you. After all, it's been a common expression for many decades. Take, for example, this 1942 hit, written by Irving Berlin and performed by the beloved Bing Crosby.
Mr. Crosby was encouraging folks to come stay at Holiday Inn, where they might find relaxation, peace, quiet, comfort, and rest. Doesn't that sound nice? Since the Inn was only open on holidays, he was referring to all holidays when singing this hit song.
But how about Perry Como's "Home for the Holidays"? One of my dad's favorites, this song was released at Christmas in 1954, without one mention of Christmas. Listen for yourself HERE.
Clearly, not everyone who uses the word "Holiday" at Christmastime is trying to be politically correct.
Yet, there are people who are concerned about this greeting. A couple of years ago, some friends and I were out for dinner. At the end of the meal, the waitress wished us well with the words "Happy Holidays" and my friend cheerfully said "Merry Christmas" in response. (To be clear, my friend wasn't saying this to be snarky.) The waitress immediately smiled and exclaimed "Merry Christmas" back to us, and shared she was afraid to offend people with those words. Sad, huh?
Truthfully, we should never be fearful of sharing this greeting…and we shouldn't be offended when others don't. The first amendment gives us freedom OF religion, not freedom from it. And this works both ways.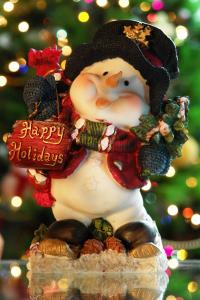 I was reminded of this as I was driving through Bethlehem. No, not that Bethlehem (although I've been there too) . Instead, I was in a tiny town in Georgia (http://bethlehemga.org). As I started to drive through this adorable little community of less than 1,000 people, I noticed a sign that said "One Mile Prayer Walk." As I continued down the road, I noticed the star of Bethlehem everywhere and greetings such as "In God We Trust" painted on businesses. Merry Christmas was all around. As I reached the end of the mile, another sign was posted that said "AMEN!" I loved it. A one-mile prayer walk right through town! You see, the people of that community have this right. They can express their collective faith as they see fit. Clearly, the people of this town follow Jesus and desire to point all who enter their neighborhoods to Him. How awesome is that?
You see, friends, we who live in a free country should take advantage of every opportunity we have to express and share our faith. But when others say "Happy Holidays," there is no need to jump the gun (can I say that?) and assume they are being politically correct or trying to destroy Christmas. Perhaps they are afraid, like that waitress, but we can put their minds at ease rather than becoming upset. Or, maybe, they don't celebrate Christmas. In those instances, God may be giving us a chance to share Jesus with them. Do that instead of getting frustrated. It may be that they are referencing all of the holidays that occur in the short window between the end of the November and the start of January. Or, it could be that their greeting is one of cheer and celebration over the birth of Christ. They're HAPPY about this HOLIDAY! I'm going to default to that…instead of being offended. Join me?
NOTE: This post has previously been published on Patheos.