O little town of Bethlehem, how still we see thee lie. Above thy deep and dreamless sleep, the silent stars go by. Yet in thy dark street shineth the everlasting light. The hopes and fears of all the years are met in thee tonight.
While in Israel a few ago, we sang this popular hymn while standing in the cave where Jesus Christ was born. I can hear it now: "Wait a minute: Jesus was born in a stable!" Well, yes he was; however, in Israel, caves are stables. While in that cave, which is now covered by a church, I followed behind the orthodox Christians in front of me and bowed at the traditional site of Christ's birth. I didn't actually kiss the ground as they did (because, germs), but I did blow a kiss while thanking God for sending His Son for me…for you…for all of us.
The Church of the Nativity is the oldest operational church in the world, and has several Christian denominations that worship there. Interestingly, they celebrate Christmas on three separate dates. It's an important reminder to me that it doesn't matter what day we celebrate, so long as we celebrate. There's no sense debating about the actual birth date of Christ, but there is a whole lot of reason to celebrate HIs birth. In fact, we should celebrate not only His birth, but most importantly His death, burial, and resurrection every day!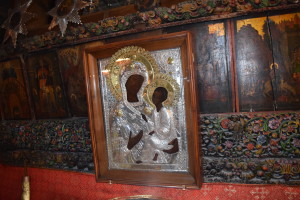 Artwork above the entrance to the cave that Jesus was born in.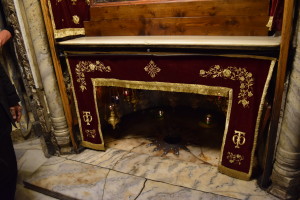 The site of the birth of Jesus.
My time in Bethlehem was hopeful and peaceful. Life changing, really. Even more so than before my trip to the birthplace of our Savior, Bethlehem is more than just a memory. The child that was born there has come to set us free…He is the King of Kings, and Lord of Lords, and He WILL come again! Listen HERE to "Bethlehem Morning" by Sandi Patty and let us worship our Savior together from the North, East, West, and South. And may we devote ourselves to spread this Good NEWS!
NOTE: This is a previously published blog post.