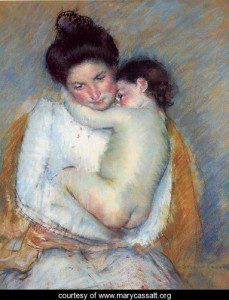 Mother's Day is usually a day on which other people in my life think nice things about me (I hope), or I think of my own mother (always), and yet, perhaps this year it's time to reflect on just exactly what on earth has happened to me.
There are those mothers who anticipated the delights of a house full of children from the first time, as little girls, someone put a plastic doll into their arms. I was not one of them. Then there are the mothers whose maternal instincts subtly lured them into the joys of motherhood as they matured into the fullness of womanhood. I was not one of those either. And then there are the mothers whose motherhood sort of snuck up on them, pounced, and overpowered them in a blitzkrieg of astonishment. That was me.
And while I never got the hang of certain conventional and appropriate mothering activities (Creative Memories? um, no; making Halloween costumes? not so much), I really, really loved mom-ing the two children I was given. Now, as an empty-nester mother, much of my hands-on mothering is past. Some things, though, have changed permanently; we don't just resume the pre-mother life. I am not who I was. Is this a good thing? What if I hadn't had any children? Would I be better off? Let's see…
If I hadn't had children…
Well, I would be richer. No question about that. Those little darlings made my checkbook bleed and my credit cards pant for breath. Diapers and formula; squeaky toys and cuddly toys and creative toys and building toys and artsy toys and game toys; paraphernalia—the crib, the changing table, the high chair, the crank-up swing (loved that one); the clothing (OshKosh B'gosh made a killing on us); the school supplies and sports equipment; the food; the shoes; the class fees, the athletic fees, the club fees, the prom fees; and the Colossal Costs: college tuition.
Yes, indeedy, I'd be a richer woman.
If I hadn't had children…
I would be safer. So much safer. My heart wouldn't beat anxiously and I wouldn't fretfully wait for phone calls reassuring me that they were safe at home. I wouldn't be so dreadfully vulnerable on long empty highways, in Chicago streets or South African villages or Nicaraguan treks. I wouldn't be so terribly exposed to the unforeseen, the calamitous—the violence, the illness, the accident.
Yes, I would be much more invulnerable to the fearsome changes and chances of life.
If I hadn't had children…
My car wouldn't have as many dents, scratches, and stains.
If I hadn't had children…
I might be more tech-savvy. Nothing quite as easy as having your IT guy available evenings and weekends (after track practice) and dependent on you for his dinner. Who needs to learn about drivers and stmp numbers and registries and whatever? Now I'm hopelessly ignorant.
If I hadn't had children…
I would look better in a swimsuit. (Okay, I'm reaching here. Swimsuits and I have never been on the best of terms.)
If I hadn't had children…
I would be more selfish. There may be women out there who do not need motherhood to push them to pour themselves into the lives of others, but I am probably not one of them. Motherhood broke open the shell of my selfishness and made it astonishingly possible for me to give of myself way past any previously imagined thresholds of self-denial. Before that little girl-baby lay there in the blanket-lined laundry basket on my kitchen table, her sweetheart face mesmerizing me, I could never have imagined the kind of love that would give, and give some more, and give again. That pudgy little boy who slobbered a wet kiss all over my face laid claim to all that I'll ever have to give.
One of my children, after reading Bonhoeffer's Cost of Discipleship for a college course, reflected on the call to self-denial in that book:
Much of what Bonhoeffer is expressing can only be fully understood in an experiential way; discipleship does not happen in a moment. Yet, in his urgency he paints this transformation of discipleship as black and white, an immediate step from cheap grace to costly grace, comfort to suffering, "Christians" to disciples, as if it could happen immediately by sheer will. There is a seeming inconsistency in Bonhoeffer's impatient cry to change and follow Christ, and the very slow, experiential nature of following.
Perhaps reflecting on the cost of discipleship within the context of motherhood might make you snigger, but if you do, you're probably not a mother. "Discipleship does not happen in a moment": oh so true. It happens over years of early morning carpooling, and early March baseball games and vomit on the kitchen floor and one more trip to the grocery store and the sudden bedtime recollection of the need for three empty and cleaned orange juice cans for a morning project at school. This obviously does not equate to the courageous resistance of Nazi ideology, but if you can't pull off selflessness in the face of your child's peccadilloes you'll never muster the courage for anything greater. Self-denial, as Therese of Lisieux taught us, begins with little flowers of grace. "The very slow, experiential nature of following."
If I hadn't had children…
I would be less hopeful. We change the world with our children, and for the most part, this is a very, very hopeful thing. My children are vessels of promise to the world. Their gifts and interests, abilities and talents, questions and plans and thoughts and desires will have ripple effects for, God willing, the better part of this century. I think of all the children whose lives are linked with mine, the ones who have been drawn into my world as my children's friends and my friends' children: Daniel, Hannah, Ben, Savannah, Christian, Grace, Lilli, Gretchen, Cory, Sydney, Jessie, Aly, Katy, Grady, Bridget, Kyle, Marcus, Charlie, Peter, Taylor, Keely, Brittany, Shawn, Brit, Jonathan, Tahlia, Levi, Alex, Tucker, Wes, Madelyn, Corie, Anna, Kelly, Bryce, Maggie, Ben, Cameron, David, Lucas, Caitlin, Hugo, Jamie, Lizzie, Tally, Chloe, Austin, Michael, Xavier, Dana, Aparna, Rebecca, Lily, Kari, Jim, Laura, Will, Joel, Kristin, Brian, Timothy, Elyse, Ashley, Mac, Blake, Heather, Colin, Rob, Kaylee,
Wait. Am I going to name them all? Impossible. My heart has been stretched, and they all enter my prayers, and through them, and the millions more that reach around the world—through our children—God is changing the world. What a delightful, magical partnership.
I may not have done much for the Kingdom, but I have given it my children.
If I hadn't had children…
My husband and my father would be bereft. Both are men who adore children, cherish them, and want to be with them. But my husband needed me to become a mother so that he could be their father; and my father needed me to become a mother so that he could be their grandfather; and sometimes we women forget that we are the channels of the greatest of all gifts to men, who, despite all the advances of science, cannot do it without us.
If I hadn't had children…
My mother's violin would probably still be a broken, abandoned instrument on a basement shelf somewhere. Instead, it vibrates with joy.
If I hadn't had children…
I would have had to climb all those 14ers with my husband. And camping? (Not much more needs to be said about that.)
If I hadn't had children….
My prayers would be smaller. So much smaller, mainly because my imagination would be so stunted. The vision of children is bizarre and wonderful, and they push and shove and shake us until we drop our blinders and see the world as they do. And as we see with them and love with them and imagine with them, our whole existence expands with holy yearning.
I remember holding my newborn baby, nursing the voracious little thing, while watching on television about the famine in Mozambique. The screen showed mothers holding hungry, crying children, but their breasts were dry and collapsed from lack of nutrition. That day I wept, for the first time understanding something of genuine compassion. Now those mothers, and the ones I met in the Brazilian dump and the ones in the Sudan that I read about and the ones fleeing with their children from the chaos in Syria—all those mothers, they are with me. Now I can imagine their pain.
I pray bigger because, while my children were making my bed more crowded, my house more cluttered, my food bill more shocking, and my hair more gray, they were also directing my heart in grander ways of love and joy, hilarity and hope. They made me see the world. I can't not pray.
If I hadn't had children….
I don't think I would understand nearly as well the ridiculously undeserved love God has for me. Ridiculous. Completely undeserved. In the kids' last years in high school, I would watch them drive away in the morning to school, and wonder at my feelings for them. And I realized then that I love them beyond measure not because they're beautiful or smart or talented or successful or compassionate or good or, or, or anything. I love them simply because they are mine.
As I am His.
Thus have my children become sacraments of God's grace to me, part of God's transforming work in me, through me, for me, despite me. I'm sure the good Lord could have figured out another way to shape my soul, but it surely wouldn't have been as fun.
So, on this Mother's Day, I celebrate the two mother-makers in my life.