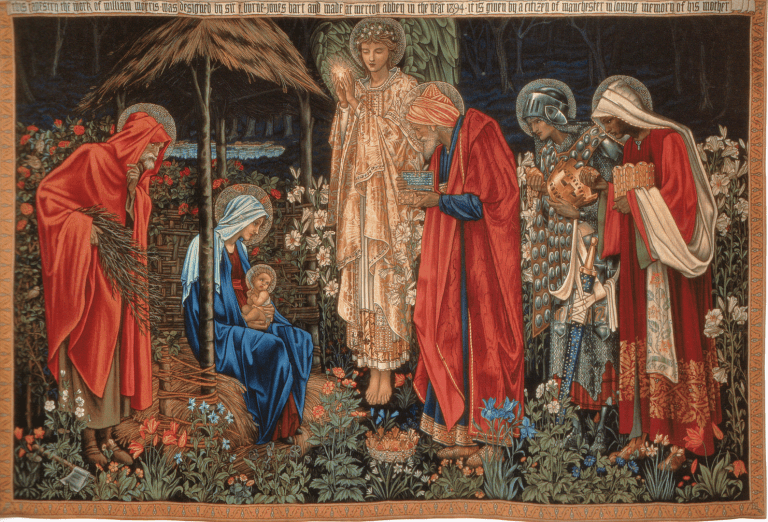 Adoration of the Magi, Edward Burne Jones, 19th c.
Shall we adore Our Lord Jesus Christ? Is he worthy?
"Behold, wise men from the east came to Jerusalem, saying, 'Where is he who has been born king of the Jews? For we saw his star when it rose and have come to worship him.' … They saw the child with Mary his mother, and they fell down and worshiped him. Then, opening their treasures, they offered him gifts, gold and frankincense and myrrh."
Edward Burne Jones' visual reflection on these verses from the Gospel of Matthew demonstrates the power of the imagination in understanding scripture. At one level, from a strictly biblical perspective, he gets the whole scene wrong. Mary and Joseph received them in a house, according to Matthew, not in a stable. No one knows how many wise men there were, and Jones portrays them as kings, which is also speculative. Joseph is portrayed as an old man, which comes from a post-biblical legend about the Holy Family. And Jesus was most certainly not blonde. It would be wrong, however, to get hung up on the inaccuracies of a portrayal like this and miss the deeper truths in the picture.
The power of prayerful imagination is such that Jones also gets it all right. It's almost as though the whole scene is taking place in his heart, each detail reflecting some part of the artist's own experience of the event: Joseph's humble service, quietly taking the lesser part in the scene; Mary's serene acceptance of yet another unexpected episode in this crazy year of her life; the wise men's longing love and generous adoration; the gazebo serving as an altar; the lush, verdant garden of paradise surrounding them, replete with lilies of purity and holiness and roses surrounding the mother; the gifts, so irrelevant to an infant and yet so indicative of his true identity and so very useful in the night flight and long journey to come; the crowns thrown down in worship; the night everywhere outside of the scene; the attending angel who holds the star of revelation in his hands.
While the scene flows with life and energy, it is the baby's glance that steals the scene. Jesus, God-with-us, looks at the three wise men, receiving them like the King that he is. Their eyes are locked on him, his on them. At that moment, the only moment in their lives when they are in his presence, the Great Exchange is made. They offer him their devotion; he offers them a place in his kingdom.
"Being warned in a dream not to return to Herod, they departed to their own country by another way."
As we begin this new year, we have had the opportunity to experience this Great Exchange in our own hearts. Somewhere beneath and behind all the twinkling lights, Christmas trees, relentless carols, piles of wrapping paper, and tables of rich foods—all the incongruities of a season supposedly about an obscure young woman in a sleepy corner of a remote Roman province—we have been invited to come to the newborn King and worship. We have offered him our devotion; he has offered us a place in his kingdom.
We will know it was a true experience if indeed we do not return to Herod—the king of this world with his greedy, hate-filled, deceitful, and corrupt order of things—but take a new way into the country ahead. We move into these new ways poorer, for we have left our crowns and our gifts behind, and perhaps we move into them with some trepidation because the paths are unfamiliar. We are stripped and impoverished, and we have a long journey ahead sustained only by that Child's loving acceptance of us.
Nevertheless, he is worthy, he is worthy, he is worthy.
"While him I love, in him I live, and cannot live amiss. …
His birth our joy, his life our light, his death our end of thrall."
~ St. Robert Southwell (1561-95)