One of my dumb ambitions for Thanksgiving was to cook Turducken. I bought turkey and duck, let them both thaw, then decided the night before that turkey was enough, and the duck was a bad idea. So after we ate all the Thanksgiving leftovers, I recalled that I had a duck to cook, stat. I roasted it for dinner Sunday night according to the package directions, which made about four servings and was neither here nor there taste wise.
The next day, I boiled the carcass with onions and celery to make a stock, separated out the solids, put the meat scraps back in the broth, and started looking online for a recipe for duck soup.
Here's what I came up with: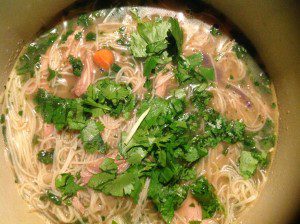 saute an onion and a clove of garlic in olive oil and add to broth
throw in about half a bag of cole slaw mix
(add more chopped carrots if you want)
1 T ginger
3 T brown sugar
3 T soy sauce
salt and pepper to taste
Ten minutes before serving add mai fun noodles
two minutes before serving add a bag of spinach (see tip below)
garnish with cilantro, green onion and more soy sauce, if desired
If you like oriental food, this one was a winner. Often, my oriental cooking tastes exactly like an American mom imitation of oriental food.  This one tasted like the real deal, and my kids ate it too. It was a nice variation on ordinary chicken and noodles, and I imagine you could make it just fine with a chicken carcass. Of course, the kids called it a MOM FAIL when they saw the picture of what I was actually going for.
If you wanted to, you could refrigerate the stock overnight and skim off the extra fat. I didn't because I needed dinner that night, and my boys, no matter how much I feed them, are skinny. It's kind of a weird quandary.
Spinach tip: I buy spinach when it's marked down at the grocery, then put it directly into the freezer when I get home. Before using, I break up the spinach leaves in the bag while they're still frozen. They crumble like bread crumbs, so you don't have to chop them up, and you can add them to recipes discretely. The children think they're eating herbs or something if they notice them at all.