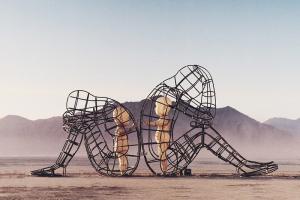 Discipleship would be easy if it wasn't for other people. If it were just the Lord and I, communing in the privacy of my home, and that alone determined the quality of my personal growth, I'd be flying. Though discipleship begins with divine connection, its continuance is found in human relationships.
We all carry wounds. Some of the deepest were inflicted in childhood, and have festered ever since. They undermine us, send us round the same loop time and again, build in predictable failure points, and become a glass ceiling, above which we cannot rise. Unless we address them.
No parent is perfect and every child can be a nightmare, and yet children have no concept of that balance and are driven to meet their own needs. It's an instinct they can't be blamed for, but sometimes, in the attempt to meet those needs, they reopen their parents' most sensitive wounds, and the parent loses control of their emotions. Perhaps the parent reacts by saying things they shouldn't, causing lasting pain. No sane parent intends to harm their child, but they all leave scars nonetheless, and all children live with pain until they learn the power of forgiveness. This is the environment in which we grow up, and the wounds we bear are the hinderances that limit our growth and happiness, until we let God mediate between us, and find healing. The Bible is clear about what to do with such hindrances:
Heb 12, 1-2a:
'Therefore, since we are surrounded by such a great cloud of witnesses, let us throw off everything that hinders and the sin that so easily entangles. And let us run with perseverance the race marked out for us, fixing our eyes on Jesus, the pioneer and perfecter of faith.'
What would it look like to 'throw off' these wounds that hinder us? It might be tempting to forgive from a distance, and move on. Sometimes that's the only possible route, in which case we find the grace available to us and embrace it, but often we are able to go further than that. Reconciliation is the ultimate expression of mercy, and just as we are called to be reconciled to God, we are called to be reconciled to each other.
2 Cor 5, 18-20:
'All this is from God, who reconciled us to himself through Christ and gave us the ministry of reconciliation: that God was reconciling the world to himself in Christ, not counting people's sins against them. And he has committed to us the message of reconciliation. 20 We are therefore Christ's ambassadors, as though God were making his appeal through us. We implore you on Christ's behalf: be reconciled to God.'
We are called not only to be reconciled to God in the Hereafter, but here on Earth, drawing ever nearer to his love and mercy. But what of each other?
Colossians 3, 12-15:
'Therefore, as God's chosen people, holy and dearly loved, clothe yourselves with compassion, kindness, humility, gentleness and patience. Bear with each other and forgive one another if any of you has a grievance against someone. Forgive as the Lord forgave you. And over all these virtues put on love, which binds them all together in perfect unity.
Let the peace of Christ rule in your hearts, since as members of one body you were called to peace.'
We are called to peace, as congregations and as individuals. There are so many wonderful stories of reconciliation in the Bible, despite intense family pain. Look at Joseph, whose heart yearned to be reconciled to the brothers who had doomed him to slavery. See the intensity of his emotion:
Genesis 45, 1-5:
'Then Joseph could no longer control himself before all his attendants, and he cried out, 'Make everyone leave my presence!' So there was no one with Joseph when he made himself known to his brothers. And he wept so loudly that the Egyptians heard him, and Pharaoh's household heard about it.
Joseph said to his brothers, 'I am Joseph! Is my father still living?' But his brothers were not able to answer him, because they were terrified at his presence.
Then Joseph said to his brothers, 'Come close to me.' When they had done so, he said, 'I am your brother Joseph, the one you sold into Egypt! And now, do not be distressed and do not be angry with yourselves for selling me here, because it was to save lives that God sent me ahead of you…
…Then he threw his arms around his brother Benjamin and wept, and Benjamin embraced him, weeping. And he kissed all his brothers and wept over them. Afterwards his brothers talked with him…
… So they went up out of Egypt and came to their father Jacob in the land of Canaan. They told him, 'Joseph is still alive! In fact, he is ruler of all Egypt.' Jacob was stunned; he did not believe them. But when they told him everything Joseph had said to them, and when he saw the carts Joseph had sent to carry him back, the spirit of their father Jacob revived. And Israel said, 'I'm convinced! My son Joseph is still alive. I will go and see him before I die.'
Wonderful! A family riven by jealousy, violence and betrayal are reconciled to each other in moments of heavenly forgiveness. See the yearning of Joseph, the catharsis of Benjamin, the astonishment of the brothers and the joy of their father. What a victory over pain and conflict! Our God is a healing balm.
So important is reconciliation to Jesus, that he would have us prioritise it over worship:
Matthew 5, 23-24:
'Therefore, if you are offering your gift at the altar and there remember that your brother or sister has something against you, leave your gift there in front of the altar. First go and be reconciled to them; then come and offer your gift.'
What broken relationships do we live with, what pain do we carry and bury? What reconciliation is God calling us to, individually? Who is he asking you to approach?
These deep, historic wounds inform our present battles too. We all have our naysayers, and it is easy to feel hurt by their rejection, especially when it reminds us of family pain, but most disagreements stem from misunderstandings and judgements. Nobody is equipped to measure what's in another person's heart, but it's too easy to slip into judgement anyway – judgement being the assumption of motive (I will cover this in another post). When we assume a person's motivation (perhaps that they are selfish, or lazy, or threatened by us), we are instantly blinded to the truth of their perspective. The assumption of motive leads to the gathering of cliques – those who see things as we do, against those who don't. The Bible warns about letting this form of divisiveness into the church, and when congregations are not vigilant in this, they become microcosms of the world.
Galatians 5, 19-21:
'The acts of the flesh are obvious: sexual immorality, impurity and debauchery; idolatry and witchcraft; hatred, discord, jealousy, fits of rage, selfish ambition, dissensions, factions and envy; drunkenness, orgies, and the like. I warn you, as I did before, that those who live like this will not inherit the kingdom of God.'
According to Paul, discord, jealousy, selfish ambition, dissensions, factions (cliques, or expressions of 'group think') and envy are just as ungodly as orgies, idolatry and witchcraft, but how often do we come across a church which focuses as intently as it could on reconciliation and unity? Reconciliation is everything to God, because he is the Great Reconciler, who chose to heal and restore us through his Son, rather than judge us. Our highest calling is to be like him.
1 John 4, 17:
'Love has been perfected among us in this: that we may have boldness in the day of judgment; because as He is, so are we in this world.'
As he is, so are we in this world, when we walk in love! When we put aside factions and envy, judgements and assumptions; when we are humble enough to acknowledge our own faults; when we're brave enough to have the difficult conversation and to seek a solution that works for everyone; when 'I'm sorry' and 'I forgive you' flow from honest lips; and when we address the deepest historic wounds with love and honour in our hearts, as Joseph did, we are like Jesus in this world.
This is the fulness of our calling – to love God with all our hearts, minds and strength, and to love our neighbours as ourselves. We simply cannot claim to be committed to the love of God, or that we walk in that love, unless it expresses itself courageously in our relationships.
1 John 4, 20-21:
'If someone says, "I love God," and hates his brother, he is a liar; for he who does not love his brother whom he has seen, how can he love God whom he has not seen? And this commandment we have from Him: that he who loves God must love his brother also.'
John equates walking in love to having boldness on the Day of Judgement. Why might that be? Because the way we love those around us, especially those we might naturally tend to be suspicious of, those who see the world differently to us, those we can't understand and might seem frightening, and those who have hurt us, is the measure of how transformed we are by the love of God. It is not a measure of personal righteousness, but of how yielded we are to God.
And what is Judgement Day if not an extension of reconciliation? Most of the sins we commit in this life affect other people, and where reconciliation has not happened on Earth, it will certainly be the focus on Judgement Day, when everything will be seen for what it is, including the motivations of the human heart.
1 Cor 4, 5:
'Therefore judge nothing before the appointed time; wait until the Lord comes. He will bring to light what is hidden in darkness and will expose the motives of the heart. At that time each will receive their praise from God.'
Many believers view Judgement Day with trepidation, seeing it as a day of harshness and vengeance, but it will also be a day of rewards – 'at that time each will receive their praise from God.'
What will God praise us for? The unavoidable conclusion, at least for me, is that his praise falls on every choice to be like Jesus in this world, to embrace reconciliation, painful though it can be at first, and to know the healing power of God's grace in our relationships. In this, we perfectly perform the will of God, expressing the very nature of God, who is Love.
So if reconciliation will be the substance of Judgement Day, and if being reconciled to each other is at the very heart of who God is, why not get a head start? It's going to happen anyway, but we are much better off if we start in this life, and experience God's healing now, when we need it most. Let's remember what Jesus taught us to pray:
Matthew 6, 9b-13:
'Our Father which art in heaven, Hallowed be thy name. Thy kingdom come. Thy will be done in earth, as it is in heaven. Give us this day our daily bread. And forgive us our debts, as we forgive our debtors. And lead us not into temptation, but deliver us from evil.'
Yes Lord. Your will be done, right here in our families, relationships and communities, as it is in Heaven. Let reconciliation unfold in our lives. Help us reach out to the people we habitually battle with, to see our own faults, to say sorry, to forgive, to initiate those difficult conversations, to really listen. Help us deal with even the deepest, most debilitating wounds with courage and humility. Life can be painful and messy, but through you we can cover all with grace and mercy by putting in the work, and receiving your love through the healing of even our most fractured relationships. Let all that is hidden, festering, and diseased be cleansed, bathed in your healing balm, and bound with grace. Lord, heal each of us of our deepest ache. Amen.