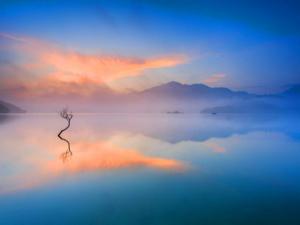 To the best of my understanding, God has blessed us abundantly in every area (Romans 8, 32):
'He who did not spare his own Son, but gave him up for us all – how will he not also, along with him, graciously give us all things?'
We are inheritors of a fabulous spiritual and emotional life (Romans 14, 32):
'For the kingdom of God is not a matter of eating and drinking, but of righteousness, peace and joy in the Holy Spirit.'
Certainly, peace is a direct promise of God, left to us by Jesus himself, but all too often, these blessings remain untouched within us; a wasted resource. I believe, however, that the Bible displays the dynamic of how to flow in peace. First of all, a reminder of the promise:
John 14, 27: 'Peace I leave with you, My peace I give to you; not as the world gives do I give to you. Let not your heart be troubled, neither let it be afraid.'
Philippians 4, 6-7: 'Be anxious for nothing, but in everything by prayer and supplication, with thanksgiving, let your requests be made known to God; and the peace of God, which surpasses all understanding, will guard your hearts and minds through Christ Jesus.'
When living in divine peace is mentioned in the New Testament, the dynamic described is always one of allowing, rather than striding into blessing. We don't claim peace by force – it already lives within us. Instead of seizing and proclaiming it, we allow it to flow; we yield to its energy by yielding to Jesus. This is a letting go rather than a putting on; a surrender of our will to God. Jesus urged us to allow peace to flow, which implies it's in our power to either abide in peace or to block it, just as it is possible to yield to or quench the Spirit of God. In other words, our hand is already on the faucet.
If this is so, and yet peace is elusive, how do we identify and remove the blocks we impose? Philippians 4, 6-7, quoted above, provides a handy blueprint:
Present the matters that worry us to God, thanking him that he will make a way for us to overcome. If we struggle to believe this, meditating on scriptures about God's goodness will soften the heart.
Having presented our needs, relinquish all control. Peace will flow – we don't need to stir it up. In particular, we must abandon mental rigour. The peace of Christ passes human understanding; it is something we experience and feel, flowing from trust in his promises.
The peace of God will rise up and guard our hearts and our minds.
Naturally, this takes a little practice, but when Jesus said he left his peace with us, he could be trusted. Victory comes when we get out of peace's way. If we fret and fuss, when fretting and fussing achieves nothing, we literally block the flow of the peace of God. Knowing peace is about learning to yield, like one dancer to another, like one lover to another.
When Jesus lay asleep in the hull of a boat, beset by a storm in the Sea of Galilee, his disciples woke him, afraid for their lives, and Jesus responded (Matt 8, 26-27):
"Why are you fearful, O you of little faith?" Then He arose and rebuked the winds and the sea, and there was a great calm. So the men marvelled, saying, "Who can this be, that even the winds and the sea obey Him?"
His response to them might seem harsh at first glance, but Jesus was teaching them (and us) a valuable lesson. If they had remained in faith, they could have avoided fear, even in the midst of the storm. The promises of God are not on pause during life's challenges, when we need to receive them most. Peace is more consequential in the tempest than the zephyr. We can know God's peace in the midst of trouble, and marvel along with the disciples that even the winds and the sea obey him.
This story from Jesus' life is a perfect picture of the interaction of divine peace with human suffering. We can remain in the divine flow of assurance as he guides us through even the deadliest storms, but only if we refrain from worry (as best we can), present our requests to God and relinquish all control, trusting him to come through as he has promised to. The first time I truly learned to lean into the peace of God, when all around me said that my life was over, I discovered a divine flow that changed me forever. I learned to lean in so hard that if the promise wasn't real, and the peace of Jesus had no spiritual substance, I'd have fallen over.
All transformation is dependent on knowing the love of God. If we underestimate the goodness of God, and his devotion to every one of us, we might not find the courage to lean in. And why would we, if we fear he might not hold us up? If this is the case, and our image of God is confused, wrong thinking has to be addressed if we want to enter the promises of God (Romans 12, 2):
'And do not be conformed to this world, but be transformed by the renewing of your mind, that you may prove what is that good and acceptable and perfect will of God.'
According to this passage, we cannot know the will of God for our lives if our thinking about him is confused. If we want to feel differently, we need to think differently, and there is no more restrictive a set of thoughts than an unloving image of God. So often, God's people greatly underestimate his love, as seen in the story of the prodigal son, in which both sons thought less of their father than they ought. The prodigal, having wasted his inheritance, returns home in what he believes is disgrace, hoping at best to be allowed to work as a servant in his father's household, but instead he receives the only welcome love offers to the one who has strayed – open arms, restoration, and great joy. Praise God for his mercy. The other son, who had remained home and been faithful to his father, is similarly blind to his father's love (Luke 15, 25-32):
"Now his older son was in the field. And as he came and drew near to the house, he heard music and dancing. So he called one of the servants and asked what these things meant. And he said to him, 'Your brother has come, and because he has received him safe and sound, your father has killed the fatted calf.'
"But he was angry and would not go in. Therefore his father came out and pleaded with him. So he answered and said to his father, 'Lo, these many years I have been serving you; I never transgressed your commandment at any time; and yet you never gave me a young goat, that I might make merry with my friends. But as soon as this son of yours came, who has devoured your livelihood with harlots, you killed the fatted calf for him.'
"And he said to him, 'Son, you are always with me, and all that I have is yours. It was right that we should make merry and be glad, for your brother was dead and is alive again, and was lost and is found.' "
The faithful son was ignorant of two crucial truths that would otherwise have given him peace:
The extent of his father's merciful nature. Certainly, he did not share it in full.
His father's goodness towards him. His focus was on the calf, the like of which had never been sacrificed in his honour, but his father graciously put him back on the right path – 'you are always with me, and all that I have is yours'.
What a statement the father makes to the faithful son. The believer can know that they are always with God, and all he has is theirs. Even when our lives don't look like this is true, this is the lodestone of our spiritual reality, and it can solidify into reality in our lives (Hebrews 1, 1):
'Now faith is the substance of things hoped for, the evidence of things not seen.'
Substance! Evidence! This is not the language of hope, but the language of manifestation – of promises becoming reality. Jesus has promised us peace, and if we surrender in faith, presenting our requests to God, abandoning all control and trusting him to provide; if we lean in so hard there's no pulling back; the peace of God, which transcends understanding, will guard our hearts and minds in Christ Jesus.
To demonstrate how this can work in practice, I'll share something personal. At the age of 23 I had a breakdown. It's hard to overstate how devastating it was to me, but I want to avoid pointing the entrance to dark alleys for others, so I'll refrain from sharing details. The important thing to understand is that I couldn't function at all, because of anxiety. If I relaxed even for a moment, I was seized by panic, and so maintained a terrified, rigid vigil over my mind, seeking constant distraction to avoid the thoughts that reduced me to a fearful mess. The hardest part came every night, when trying to sleep. Every day I fought for my life, as my heart rate rose to dangerously high levels, and at times I was fighting to live – not for another day, but for another five minutes. As some readers will appreciate, suicidal thoughts were an inevitable product of the horror my life had become.
After eighteen months of this suffering, I went on a healing retreat, run by skilled and sensitive spiritual counsellors, who spent hours with me each day on a free residential course, praying and discerning my troubles. That ministry probably saved my life, or at least the quality of that life. On the final morning I had my breakthrough, and it came in the form of surrender. I was rigid and tense because I'd appointed myself my own protector, guarding against fearful thoughts because of how they made me feel. It was the feeling I was frightened of, and my reaction to that feeling – a perfect trap, in which I was both prisoner and jailor. It was the promise of peace in Philippians that led me to the escape hatch:
Philippians 4, 6-7: 'Be anxious for nothing, but in everything by prayer and supplication, with thanksgiving, let your requests be made known to God; and the peace of God, which surpasses all understanding, will guard your hearts and minds through Christ Jesus.'
How could the peace of God guard my mind, when I was busy guarding it myself? Seeing this clearly, I gave up my self-appointed role there and then, saying 'Lord, I'll get out of your way, and from now on you are my protector, as you've always yearned to be."
I knew the breakthrough had happened. I could feel it in my bones, and so could my counsellors, one of whom wept with gratitude, but the change wasn't put to the test until I was on the train home. Panic began to rise, my heartbeat to hasten, but instead of fighting it, I abandoned myself completely to God's protection. I leaned in, yielding, surrendering, trusting, and the panic, which had been rising like a storm, fell away to nothing. Rarely have I had a better moment, realising that I had a future after all.
I have rarely met an individual who suffers as acutely from anxiety as I did back then, and yet I am free. Oh, anxiety still speaks to me, even tries to get me now and again, when the pressure is on, but by surrendering to God on each and every occasion, it has always been sent packing. The peace of God literally guards my heart and mind in Christ Jesus.
I hope this testimony will serve to demonstrate the dynamics of divine peace, and one way at least to enter the promises of God. Over the years, I've learned numerous ways to apply this lesson, and entered into all manner of blessing through surrender, but those are topics for another day.