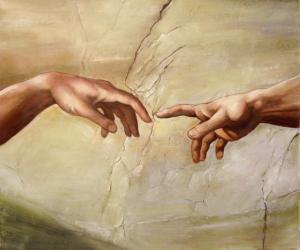 What does it mean to receive the grace of God? What does grace provide? The most familiar confusion I come across is that grace is principally (or entirely) provision for the forgiveness of sins. For me this mixes up grace and mercy, which are different expressions of the love of God, with explicit purposes. We need them in different moments, to meet specific needs. Sometimes, the most familiar Biblical concepts are the least understood, made nebulous by assumptions we've carried for years, and by casual repetition and confusion of terms. Where grace loses its definition, it loses its power.
Personally, I believe the Bible is clear on the topic of grace, and I hope to bring clarity through this article, because our understanding of grace limits or enriches our understanding of Jesus, our effectiveness for God, and our personal freedom.
The New Testament word for grace is 'charis', which if you look at a Greek lexicon, is a concept so broad it is hard to pin down (e.g. here). Rather than go through the definition, I will be looking at the contexts in which 'charis' is used in the New Testament, to reveal the breadth and depth of what is provided by grace.
Righteousness is a good place to start, as this is the most commonly understood aspect of grace. We are made righteous by the transforming power of God's grace. In fact, righteousness is grace. Titus 3, 7:
So that being justified by his grace we might become heirs according to the hope of eternal life.
Grace is therefore the substance of our justification and the establishment of our position as heirs (even co-heirs with Christ). This is at the very heart of the Gospel, and covers the important matter of forgiveness of sin by imputation of righteousness. This is a most wonderful truth, and the cause of great gratitude in the hearts of believers, but grace does not begin and end there. It extends into every part of the life of the disciple. For example, miraculous powers are a manifestation of grace. Acts 4, 33:
'And with great power the apostles gave witness to the resurrection of the Lord Jesus. And great grace was upon them all."'
Grace then, is divine power, testifying to the truth of the Gospel as we give witness. When the apostles laid hands on the sick and saw them healed, that was an expression of grace.
Grace is also financial provision. In 2 Corinthians 9, Paul describes the ideal experience of financial provision, giving and blessing. In reference to the outpouring of financial blessing, he writes:
'And God is able to make all grace abound toward you, that you, always having all sufficiency in all things, have an abundance for every good work."'
Financial provision, giving and blessing is a manifestation of grace, and this grace has a purpose – that we, having all we need, on every occasion, will be able to give abundantly to every good work. The grace of financial provision is not for personal hoarding, but for the blessing of others. It is a miraculous aspect of the Christian life that should not be underrated. It is entirely selfish to seek only what we need and no more, or we refuse the grace of God and limit our effectiveness in helping the needy. If this is an area you feel you could grow in, I suggest you seek the Lord for an opportunity to give. Whatever he leads you to do, go for it, and watch as your financial life moves from the natural realm to the supernatural realm of grace. I could not begin to recount the number of times the Lord has provided for me, and enabled me to bless others. It is a wonderful, exhilarating rhythm of grace.
Spiritual gifts are also a manifestation of the grace of God. Rom 12, 6:
'Having then gifts differing according to the grace that is given to us, let us use them.'
If the use of spiritual gifts is an expression of grace, it doesn't bode well for those who claim to accept the grace of God for righteousness, but reject the grace of God for moving in the Spirit. Grace is not just for passing the Pearly Gates; it is for kingdom life, here and now, and learning how to move in spiritual gifts should be a priority for every believer. Otherwise we harden our hearts to grace, refusing to be effective for God with the gifts he intends for us to use. This includes the list of spiritual gifts in 1 Corinthians (tongues, prophecy etc.), which are also expressions of 'charis'.  The true disciple doesn't say yes to one manifestation of grace, and no to another. For the avoidance of doubt, Peter also wrote of spiritual gifts as a manifestation of grace. 1 Peter 4, 10-11:
'Each of you should use whatever gift you have received to serve others, as faithful stewards of God's grace in its various forms. If anyone speaks, they should do so as one who speaks the very words of God. If anyone serves, they should do so with the strength God provides, so that in all things God may be praised through Jesus Christ.'
When we use spiritual gifts, we are faithful stewards of God's grace. When we treat them with disdain, or esteem them not, we are unfaithful stewards of grace. It's really very simple.
Grace is not just something we will experience in the by and by, when we are welcomed into Heaven. Grace is the power and ability, provision and intervention of God, manifesting in our lives right now. If we do not see the manifestation of grace here and now, why would we be confident we will see it after death, when eternity is on the line? What works now will also work then. There are not two schemes. We can't just buy into the retirement fund, and ignore the power of God here and now.
By grace we can overcome habits that harm us and others – Rom 6, 14:
'For sin shall no longer be your master, because you are not under the law, but under grace.'
Grace then, is not merely for the forgiveness of sins, but for the overcoming of sin (that which harms ourselves or others) during our lives on Earth. Grace is transformation and freedom.
Grace is also something we grow in. It's not a static, inert substance; It is a present, lively power, in which the true disciple is always developing. 2 Peter 3:18:
'But grow in the grace and knowledge of our Lord and Saviour Jesus Christ."'
We can grow in grace until we are strong in its power. 2 Timothy 2,1:
'"You therefore, my son, be strong in the grace that is in Christ Jesus."'
Being strong in grace doesn't mean being unusually nice, or even very forgiving, which would be an expression of mercy rather than grace; it means exercising and experiencing the divine power of God within us – the same power which raised Christ from the dead, and which will raise us from the dead too. Eph 1, 15-21:
'[I] do not cease to give thanks for you, making mention of you in my prayers: …that you may know…the exceeding greatness of His power toward us who believe, according to the working of His mighty power which He worked in Christ when He raised Him from the dead and seated Him at His right hand in the heavenly places.'
The same power that raised Christ from the dead is at work in us right now, and we can experience it in increasing measure as we walk more closely with God and yield to grace. But the opposite is also true. If we can grow in grace, then we can be stunted in grace. If we can be strong in grace then we can be weak in grace too.
If all of this – the gift of righteousness, victory over sin, financial provision, using the mighty power of God, spiritual gifts, personal growth and much more are manifestations of grace – how then do we access it? How do we grow in grace? Rom 5: 1-2 provides us with the answer;
'Therefore, since we have been justified through faith, we have peace with God through our Lord Jesus Christ, through whom we have gained access by faith into this grace in which we now stand.'
We gain access to grace (everything pertaining to life and godliness) through faith, but how does that work? What might it look like?
Acts of faith (which release grace) are done in obedience to God – i.e. we can't just make them up, according to our agenda. For example, when Moses led the Israelites to the Red Sea, he was in something of a bind. The Egyptian army was closing in, and before them was an impassable body of water. They were trapped, and in desperate need of the power of God, but the Lord hadn't led them there to die. He gave Moses a simple command. Exodus 14, 15-16:
'Tell the sons of Israel to go forward. As for you, lift up your staff and reach out with your hand over the sea and divide it, and the sons of Israel shall go through the midst of the sea on dry land.'
All Moses had to do was extend his staff over the sea – something that is entirely within human ability – and the Lord's power was released by Moses' act of faith, parting the Red Sea and rescuing the Israelites from their enemy.
This is the nature of faith – we are led by the Spirit into small, even tiny acts of faith, and as we obey God, the miraculous flows into our lives. Acts of faith are infinitely varied, as they are an expression of a myriad of personal relationships with God, following the leading of God. It could be anything – the giving of a financial gift, praying for a specific outcome, committing to 15 minutes of prayer each day, placing a phone call you've been putting off, reaching out to someone – as long as it is led by the Spirit. We each have a unique relationship with God, and enjoy the privilege of being led by him. This is the key to discipleship and the life of growth and faith – that we keep in step with the Spirit. We don't just inherit life in Heaven by the Spirit; we inherit Kingdom Life by the Spirit, to be lived here on Earth. Galatians 5, 25:
'Since we live by the Spirit, let us keep in step with the Spirit.'
You and I have a calling – to walk ever closer with God, and see the manifestation of grace in our lives by following the leading of the Spirit in faith. When we live like that, we transform not only our own lives, but bring grace to those around us. Entire communities can be transformed by the presence of a small group of believers, walking with their God. Psalm 84, 5-7:
'Blessed are those whose strength is in you,
    whose hearts are set on pilgrimage.
As they pass through the Valley of Suffering,
    they make it a place of springs;
    the autumn rains also cover it with pools.
They go from strength to strength,
    till each appears before God in Zion.'
When a believer sets their heart on pilgrimage, they enter the blessing of grace. When they pass through places of suffering, they make them places of springs and pools. They go from strength to strength till each appears before God in Heaven. This is the life of believer – to grow in grace, which means to break into new areas of provision, power and blessing in God, transforming our own lives and the lives of our families and communities.
This isn't an optional part of discipleship; responding to grace is the moving part in God's plans to redeem every part of our lives, but it is difficult if not impossible without being attuned to and filled with the Spirit of God. Our crucial act of obedience, which enables us to act in faith as we are led, is to continually seek greater closeness with the Spirit of God. If we cannot hear God, we cannot discern the small acts of faith that release grace, and therefore growth.
I pray that God will awaken pilgrims, setting a fire in their hearts, and that those reading this will move from strength to strength as they grow strong in grace, and live a life that stops the world in its tracks. May they say: 'Look at what their God has done! See how he loves them!' Amen.