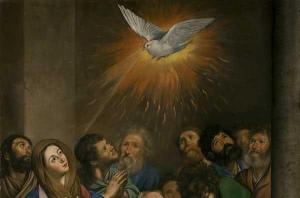 You might have heard it said that worship takes many forms – that cleaning the toilets is a form of worship, as much as, or perhaps more than, singing and praising. I take issue with that – not because toilets don't need cleaning, but because I think we've confused worship with service.
There are several words for worship in the New Testament. Proskuneo is the most common, used for example when Jesus prophesied about those the Father sought, who would worship in Spirit and in truth. Proskuneo has three implied meanings – to draw near and kiss, to prostrate oneself in profound reverence, and to pay homage to a person of higher rank. I think all three make sense, in the context of worshipping the Living God. In Revelation, there are 22 instances of the word, referring to the casting of crowns before God, the worship of God by the living creatures and angels, and human worship of the Lamb Who Was Slain. Proskuneo worship is profound, reverent, appreciative and has an aspect of intimacy – drawing near and kissing the hand.
Latreuo is less commonly used, and in context it means to serve rather than to worship in Spirit and in truth. In Matthew 4, 8-10, Jesus is tempted by Satan in the wilderness.
'Again, the devil took Him up on an exceedingly high mountain, and showed Him all the kingdoms of the world and their glory. And he said to Him, "All these things I will give You if You will fall down and worship me."
Then Jesus said to him, "Away with you, Satan! For it is written, 'You shall worship the Lord your God, and Him only you shall serve.'"'
This is a useful passage, contrasting proskuneo and latreuo. The two instances of the word translated as 'worship' are proskuneo, referring to profound reverence and adoration. Jesus rebuff's Satan's invitation to worship him, saying we should revere and adore the Lord, and serve him only. In this context, latreuo is translated as 'serve'. Worship then, is distinct from service. We are to reverence and adore God (proskuneo) and serve him only (latreuo).
Acts of service do not exist in isolation from adoration. They flow from the first and most important part of worship – profound reverence and love for God. Did not Jesus emphasise the supernatural, intimate aspect of our relationship with God above our interaction with other people? Matthew 22, 35-40:
'Then one of them, a lawyer, asked Him a question, testing Him, and saying, "Teacher, which is the great commandment in the law?"
Jesus said to him, "'You shall love the Lord your God with all your heart, with all your soul, and with all your mind.' This is the first and great commandment. And the second is like it: 'You shall love your neighbour as yourself.' On these two commandments hang all the Law and the Prophets."
The commands are not equal, any more than the locomotive is equal to the carriage. Jesus clearly stated that the greatest commandment was to love the Lord your God with all your heart, soul and mind, placing it above the second commandment to love your neighbour as yourself. Jesus also makes it clear that we are to love God with all our hearts, souls and minds. In Biblical terms, the heart is the seat of the emotions, the soul the seat of the self (the personality) and the mind is the seat of thought. There's no getting around it – our highest calling is to adore God with every part of our being, including our emotions.
Why do I feel clarity is needed on this? I've mentioned once before, in Nullifying the Word of God, that we in the Evangelical movement have a habit of reducing scripture to match our experience. We paint a lesser image of God and worship it instead. This happens through poor doctrine and teaching, in the main, where reductive ideas are insinuated into our understanding of the Bible, and then propagated by word of mouth. Often it's done to avoid offence – if we state that Jesus wants to heal us, might we hurt the feelings of someone who hasn't yet received a healing? If we speak of the importance of spiritual intimacy and power, might we offend the person who experiences very little? It may well be that this compromise comes from a place of good intentions, but giving up on the word of God does nothing but harm in the long run. Just as the pharisees did, we create and cling to false traditions which nullify the word of God. In this instance, the tradition goes something like this:
'Worship isn't about singing. It's about everything we do to serve God. One person's form of worship might be to sing and pray, and another's is putting out the chairs.'
This might not sound too dangerous on first hearing, but it might be the most consequential error of all. Jesus was quite clear that the Father is actively seeking a certain type of worshipper – those who get deep into the Spirit of God, experiencing the love of God and giving him profound reverence and adoration in response. The most profoundly fitting place for a human being is at the feet of Jesus, lost in worship.
The tradition then, confuses true worship (reverence and adoration) with service. It mixes up Proskuneo with Latreuo. Jesus spoke of this when he visited Mary and Martha in Luke 10, 38-42:
'Now as they went on their way, Jesus entered a village. And a woman named Martha welcomed him into her house. And she had a sister called Mary, who sat at the Lord's feet and listened to his teaching. But Martha was distracted with much serving. And she went up to him and said, "Lord, do you not care that my sister has left me to serve alone? Tell her then to help me." But the Lord answered her, "Martha, Martha, you are anxious and troubled about many things, but one thing is necessary. Mary has chosen the good portion, which will not be taken away from her."'
By sitting at Jesus' feet, adoring him, learning from him, just being with Him, Mary chose the only thing that is truly necessary. She chose the 'good portion', and it would not be taken from her. Clearly Jesus' approved of Mary's choice. Martha welcomed him, and busied herself with serving, but what Jesus was looking for was connection. However important it is to serve, intimacy with God comes first, second and third.
Matthew 26, 6-13:
'Now when Jesus was at Bethany in the house of Simon the leper, a woman came up to him with an alabaster flask of very expensive ointment, and she poured it on his head as he reclined at table. And when the disciples saw it, they were indignant, saying, "Why this waste? For this could have been sold for a large sum and given to the poor." But Jesus, aware of this, said to them, "Why do you trouble the woman? For she has done a beautiful thing to me. For you always have the poor with you, but you will not always have me. In pouring this ointment on my body, she has done it to prepare me for burial. Truly, I say to you, wherever this gospel is proclaimed in the whole world, what she has done will also be told in memory of her."'
It is easy to fall into false piety. The disciples were critical of Mary's extravagance, but her act of worship came from her heart, from deep love for Jesus. Jesus pointed out that they would always have the poor among them, but they would not always have him. It seems then, that intimacy with God, and the true worship of a devoted heart, is more important to God than looking after the poor, or at least it was in that moment. This can be hard to swallow, especially for people like myself who are highly concerned about the plight of the poor in their own countries, but Jesus wasn't saying the poor were unimportant, any more than he was saying to Martha that service doesn't matter. He was acknowledging the supremacy of time spent in his presence, basking in his love, learning from the Master, over all other matters.
And so we return to the false tradition. Whether intended or not, the consequence of de-emphasising spiritual experience is to lower our expectations of God. Prior to the Pentecostal revival of the early twentieth century, which was built upon by the Charismatic renewal of the late twentieth century, the Church knew hundreds of years of spiritual drought. It was the dissatisfaction and yearning of the saints, seeking a move of God, that helped release gifts and power which changed the Church across the world. Through these movements, we found ourselves in the abundant flow of Living Water. The renewal of the Spirit in our churches was the greatest breakthrough the Church had experienced for centuries – an act of God, who has promised to build his Church so strong it will assault and prevail against the very gates of Hell.
The way I see it, we're in danger of casting these blessings and breakthroughs aside. The false tradition tells us that worship isn't so important, that adoration and intimacy are optional, that spiritual gifts should be used discreetly, to avoid offence. It saddens me when I see churches from Pentecostal and charismatic traditions lose their fire. As a young man, I knew very little intimacy with God. I was not taught to expect it, and didn't experience it. As an adult, I went on a self-imposed quest to seek the Lord for something entirely more life-giving, loving, invigorating and satisfying, and boy did I get it! God changed my life through the ministry of profoundly Spirit-filled people, who laid hands on me and passed on what they had – something we ought to be doing as often as sharing the Gospel, and should not be retreating from. Through direct experience of the divine, I learned that God is more wonderful than I'd ever dared to dream.
What of you? Is it time to raise your expectations? To go deeper? The promises of God are far greater than any of us are yet to realise, and he wants to each of us to walk more closely with him. He wants  every human being to experience his love. Ephesians 3, 14-21:
'For this reason I bow my knees before the Father, from whom every family in heaven and on earth is named, that according to the riches of his glory he may grant you to be strengthened with power through his Spirit in your inner being, so that Christ may dwell in your hearts through faith—that you, being rooted and grounded in love, may have strength to comprehend with all the saints what is the breadth and length and height and depth, and to know the love of Christ that surpasses knowledge, that you may be filled with all the fullness of God.
Now to him who is able to do far more abundantly than all that we ask or think, according to the power at work within us, to him be glory in the church and in Christ Jesus throughout all generations, forever and ever. Amen.