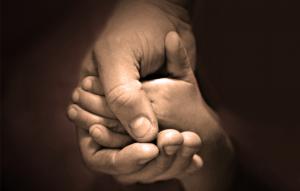 My brothers and I never had a pet you could stroke, because of allergies in the house, but we did have a tank of tropical fish. I used to enjoy watching their colourful little ecosystem at work, except when Oscar the catfish developed a bowel condition. Every now and again, the tank needed a clean (thanks Oscar!), so the fish were carefully removed and temporarily housed elsewhere, while the tank was emptied. This was my dad's job, and I was fascinated by the physics of it. Dad would insert a rubber tube into the water, and suck for the briefest moment on the other end, to get the water moving along the pipe. The water would continue to flow down the pipe after he stopped sucking, as long as the end outside the tank was lower than the end in the water. Out the water came, spilling into a waiting container, and that was it. You could walk away and let it continue its job until all the water had emptied from the tank. All from a tiny little suck.
Over the years, I've found this a useful metaphor for growing into the things of the Spirit. There are steps of faith we can take (sucking on the tube), but once the water of life starts to flow, it does so by itself. The Holy Spirit is the Living God, and once we step out in faith, and receive his blessings, the flow has an energy of its own, because it is directed by the love of God. More than that; it is the love of God. Obviously we are talking about the wonderful, clear, life-giving water of the Spirit here, rather than the dirty water of a fish tank, but metaphors have their limits. Jesus said, in John 7, 37-39:
'On the last day, that great day of the feast, Jesus stood and cried out, saying, "If anyone thirsts, let him come to Me and drink. He who believes in Me, as the Scripture has said, out of his heart will flow rivers of living water." But this He spoke concerning the Spirit, whom those believing in Him would receive.'
He made a similar statement to a Samaritan woman at a well, in John 4, 14:
"Whoever drinks of this water will thirst again, but whoever drinks of the water that I shall give him will never thirst. But the water that I shall give him will become in him a fountain of water springing up into everlasting life."
Rivers flow and fountains gush. There is movement inherent in both, just as there is in a waterfall, or any of the rich water-based imagery used in the Bible. The implication in both these verses is of a dynamic, living process. This river (the Holy Spirit) doesn't just appear from nowhere. It (He) flows from Heaven. Revelation 22:1-6,
'And he showed me a pure river of water of life, clear as crystal, proceeding from the throne of God and of the Lamb. In the middle of its street, and on either side of the river, was the tree of life, which bore twelve fruits, each tree yielding its fruit every month. The leaves of the tree were for the healing of the nations. And there shall be no more curse, but the throne of God and of the Lamb shall be in it, and His servants shall serve Him. They shall see His face, and His name shall be on their foreheads…And they shall reign forever and ever.'
This was part of John's revelation of the future, but I think we can take the metaphor to mean the Holy Spirit sustains and gives life in heavenly places. He is God, after all. That river of life, which is God himself, issues from Heaven into our renewed spirits, wells up in us and flows out to those around us, giving life. He is our contact with Heaven, our connection with Jesus, and we are his conduit for touching the world with love.
The Holy Spirit was the great promise of Jesus to his disciples. Even in the context of their imminent parting, and the grief that would cause, he said it was better for him to go away, that the Holy Spirit might come, and boy did the Spirit make an impact on Pentecost! The world was changed forever, when he filled the hearts of believers! He is the fire in our hearts, the living power of the Almighty, and yes, the river of life, welling up in us and flowing out to others. We are called to walk in the presence and power of the Spirit, and to journey into increasing knowledge of his love. Ephesians 3:14-19,
'For this reason I kneel before the Father, from whom every family in heaven and on earth derives its name. I pray that out of his glorious riches he may strengthen you with power through his Spirit in your inner being, so that Christ may dwell in your hearts through faith. And I pray that you, being rooted and established in love, may have power, together with all the Lord's holy people, to grasp how wide and long and high and deep is the love of Christ, and to know this love that surpasses knowledge—that you may be filled to the measure of all the fullness of God.'
This is not mealy-mouthed language. Paul prays that we would grasp the dimensions, the reach, the extent of the love of Christ, and to know (experiential knowledge) this love that passes knowledge (head knowledge). We are called to experience this love through the flow of the Holy Spirit, our River of Life, even though his love is incomprehensibly generous and rich, and far beyond what you or I can intellectually grasp. And this experience of love transforms us – that we might be filled to the measure of all the fullness of God. Extraordinary language, speaking of extraordinary love and an extraordinary life!
Paul's ambition for our spiritual lives and experience was as lofty as it gets, and his heart for believers, as captured in this incredible prayer, reflects the perfect love and intentions of God.
How does our own spiritual experience compare to this? I hate to say it, but too often I come across apologetics for a lack of spiritual experience than vibrant, life-giving conversation about the closeness of God. The apologetics go something like this:
God does more behind our backs than before our faces.
I'm going through a wilderness time (this is completely unbiblical).
Everyone's walk with God is different (this is true, but there is no walk with God that ought to lack the regular, tangible experience of the Holy Spirit).
There was a time when I knew almost nothing of God's love. My faith was largely intellectual, with occasional glimpses of something more. It's ugly to boast of spiritual experience, so I won't say much about my current daily experience, beyond what is needed to make a point. Yesterday I was washing the dishes and singing a worship song, when I was utterly caught up in the love of God, and thrust soapy hands into the air, crying grateful tears. This is not a rare occurrence, but a blessing I often enjoy. God has no favourites; no-one is special, unless we are all special. The closeness any individual enjoys is available to all who are willing to believe and go on a journey of faith.
The transformation of my spiritual life didn't happen overnight, but it had a clear beginning – a moment when I understood how spiritually barren I was, when I looked at my boughs and saw they were fruitless, and realised there had to be more. It led to a frank conversation with God, in which I expressed my frustration and disappointment in the lived experience of the spiritual life I knew, and asked him for more – much more. There was no sudden change, but within the next few days, or perhaps it was weeks, a quiet knowing came over me. I was to speak and pray with people whose experience of God was richer and more satisfying than my own.
Thus began a journey of change that led to where I am today. Not that I've arrived, in any sense, but if I'm completely honest, I don't know how I'd cope with a more intense experience of God. You can know the same, or more to the point, your unique version of the same, and more too, should you ask the Lord for it in faith. That frank conversation was my sucking on the tube. Just a heartfelt, honest prayer, asking (almost demanding!) more of God. At the time I was worried about angering God (I didn't know him very well at all), but God likes faith, even when it is expressed as frustration. Hebrews 11:6,
'And without faith it is impossible to please God, because anyone who comes to him must believe that he exists and that he rewards those who earnestly seek him.'
This is the nature of God. He is pleased by faith, and requests made in faith, and by anyone who desires a closer walk with him. Most importantly, he rewards those who earnestly seek him.
What one step could you take to suck on the tube, and get the water flowing? Is it a heartfelt, honest and bold prayer, as it was for me? Is it asking a spiritual friend to lay hands on you and pray for an increased flow of the Spirit, or the impartation of a spiritual gift? Whatever it is, it is crucial not be half-hearted about it. If the Bible promises us something, we ask for it in faith. False humility adds 'thy will be done', after making such a request, but if the promise is explicit in the Bible, that's just a fancy way of dressing up doubt. Real humility says 'I believe', when God's promises are clear. I know this for certain – if a person creates a back door, they'll end up using it. They will not get what they want. James explains it like this (James 1:6-8):
'But when you ask, you must believe and not doubt, because the one who doubts is like a wave of the sea, blown and tossed by the wind. That person should not expect to receive anything from the Lord. Such a person is double-minded and unstable in all they do.'
That is as explicit as it gets. When we pray half-hearted, mealy-mouthed prayers, asking for what the Bible says is ours but then add 'thy will be done', as if God might change his mind about his intentions and promises, we undermine our own faith with false humility and doubt, and we demean his faithfulness. We stand on the Word; we don't water it down.
What are you looking for from God? Is it promised in the Bible? Then ask in faith, suck on that tube, and expect the water to flow. God loves us all, and will answer the prayer of faith with joy. Luke 11:9-13,
"So I say to you: Ask and it will be given to you; seek and you will find; knock and the door will be opened to you. For everyone who asks receives; the one who seeks finds; and to the one who knocks, the door will be opened.
"Which of you fathers, if your son asks for a fish, will give him a snake instead? Or if he asks for an egg, will give him a scorpion? If you then, though you are evil, know how to give good gifts to your children, how much more will your Father in heaven give the Holy Spirit to those who ask him!"
Let's trust in God's promises, rely on his love, lean on his faithfulness, and boldly step forward into the next stage of our growth. Lord, I pray you would release your Spirit into the lives of those reading this. Let all of us know in increasing measure, the height, depth, length and breadth of the love of God, and be filled to the measure with the fullness of God.
P.S. For anyone wanting to explore this more deeply, here is the very first talk I delivered during lockdown. Please forgive the ridiculous robe, the lockdown beard and my slightly nervous manner at the start. Deepen Your Connection With God