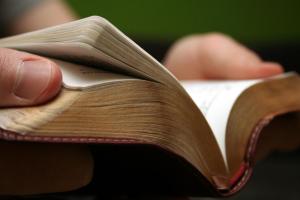 Many of us have watched on, horrified, as sections of the church have given themselves to an extreme of faith known as 'The Prosperity Gospel', have we not? Leaders have become gleaming, suited and booted celebrities, syphoning money from the wages of their millions of TV followers, and carving out extraordinary lifestyles of obscene wealth, enormous mansions and private jets. Some such leaders are straight-up fraudsters, and others have been sucked into a maelstrom of greed, endangering their faith and the faith of those who follow them. It is, undoubtedly, a perversion of the truth and a long way from the heart of Jesus.
The evangelical movement, by and large, is highly antagonistic towards any talk of prosperity, as a result. But here's the rub – the promise of prosperity is in the Bible. It's been misused and mis-taught, but it is undoubtedly based on scripture. In the heat of our impassioned opposition to the bastardised version of prosperity described above, we are in danger of throwing the baby out with the bathwater. Rather than jettison important promises of God in an attempt to avoid error, it would be better to achieve balance. So I'm going to present the case for Biblical prosperity, under both the Old Covenant and the New:
Under the Old Covenant, the promises of God were for the blessing and protection of the Jewish people, if they continued to live in submission to him. Their kingdom was a worldly one, and as such, the promised blessings and protections of God were physical and visible. The promise of prosperity was one such blessing, but it always came with the condition of obedience to God. There are dozens of verses on the topic, but for the sake of simplicity, I'll stick to a single passage, which is explicit about the prosperity God wanted to bring to his people. Deuteronomy 28: 1-14,
'If you fully obey the Lord your God and carefully follow all his commands that I give you today, the Lord your God will set you high above all the nations on earth. All these blessings will come on you and accompany you if you obey the Lord your God:
You will be blessed in the city and blessed in the country. The fruit of your womb will be blessed, and the crops of your land and the young of your livestock – the calves of your herds and the lambs of your flocks. Your basket and your kneading trough will be blessed. You will be blessed when you come in and blessed when you go out.
The Lord will grant that the enemies who rise up against you will be defeated before you. They will come at you from one direction but flee from you in seven. The Lord will send a blessing on your barns and on everything you put your hand to. The Lord your God will bless you in the land he is giving you.
The Lord will establish you as his holy people, as he promised you on oath, if you keep the commands of the Lord your God and walk in obedience to him. Then all the peoples on earth will see that you are called by the name of the Lord, and they will fear you. The Lord will grant you abundant prosperity – in the fruit of your womb, the young of your livestock and the crops of your ground – in the land he swore to your ancestors to give you.
The Lord will open the heavens, the storehouse of his bounty, to send rain on your land in season and to bless all the work of your hands. You will lend to many nations but will borrow from none. The Lord will make you the head, not the tail. If you pay attention to the commands of the Lord your God that I give you this day and carefully follow them, you will always be at the top, never at the bottom. Do not turn aside from any of the commands I give you today, to the right or to the left, following other gods and serving them.'
Pretty clear, isn't it? The abundance and productivity of land and crops was something he wanted the Israelites to know. His purpose was to mark out his people as blessed, as an expression of his love but also as a sign to the nations looking on, that the Israelites were his people and that he was Almighty God.
The question, then, is whether or not the physical blessings of God enjoyed by the Israelites are also part of the New Covenant, as they were of the old. Or are they somehow altered? It might be argued that Christ's Kingdom is not a worldly kingdom, and as such his blessings are not physical or practical, in the way they were for the Israelites. Perhaps we only need spiritual blessings, in the Kingdom of God?
The problem with that argument is that it contradicts aspects of the New Testament. The clearest teaching on this is 2 Corinthians 9: 5-11,
'So I thought it necessary to urge the brothers to visit you in advance and finish the arrangements for the generous gift you had promised. Then it will be ready as a generous gift, not as one grudgingly given.
Remember this: whoever sows sparingly will also reap sparingly, and whoever sows generously will also reap generously. Each of you should give what you have decided in your heart to give, not reluctantly or under compulsion, for God loves a cheerful giver. And God is able to bless you abundantly, so that in all things at all times, having all that you need, you will abound in every good work…
Now he who supplies seed to the sower and bread for food will also supply and increase your store of seed and will enlarge the harvest of your righteousness. You will be enriched in every way so that you can be generous on every occasion, and through us your generosity will result in thanksgiving to God.'
To the person who rejects any doctrine of prosperity, this passage presents a problem. Its context is singular – Paul is urging the Corinthians to put together a generous financial gift, for use in the spreading of the Gospel. I've slightly abbreviated the passage, but within it he quotes an Old Covenant promise of prosperity for the righteous person, and goes on to explain that God will prosper them for their faith, expressed in this gift. The two key verses, which are almost impossible to misinterpret, are these:
'And God is able to bless you abundantly, so that in all things at all times, having all that you need, you will abound in every good work…'
Paul is telling the Corinthians that because of God's abundant financial blessing, they would at all times, in every matter, having all that they need, be able to give to every good work. The second statement is this:
'You will be enriched in every way so that you can be generous on every occasion, and through us your generosity will result in thanksgiving to God.'
In their obedience, the Corinthians would be enriched in every way, so that on every occasion, they would be able to be generous. He leans on the dynamics Jesus described when speaking of divine blessing. Luke 6:38,
'Give, and it will be given to you: good measure, pressed down, shaken together, and running over will be put into your bosom. For with the same measure that you use, it will be measured back to you.'
If we are to take this passage seriously, the promise of God for financial blessing (prosperity) is still intact under the New Covenant. It's a shocking thought for the sombre-minded evangelical – that as an expression of his abundant nature, God wants to bless our businesses and careers, enriching us so that on every occasion, having everything we need, we can give generously to every good work. We've spent so long rejecting the extremes of the prosperity movement we seem to have neglected these important truths. Worse than that, by skirting around these promises of God, we fail to enter God's grace for provision and blessing, which would in turn have enabled us to help others out. How many people have not received the mercy of God, because we aren't receiving the blessings God intends?
So on the one hand, we have the grotesqueries of the prosperity movement, but on the other, we have the legitimate promises of God for financial blessing. How do we square this circle?
For me, the answer lies in understanding where the prosperity movement went wrong. My view is that it didn't and doesn't teach on the dangers of wealth, as clearly expressed in the Bible, resulting in a lack of balance. Where money is concerned, there are several dangerous pitfalls the Bible warns of, including loving money itself rather than what money can do, which leads to all kinds of sorrows and snares and can even result in straying from faith. 1 Timothy 6: 9-10,
'But those who desire to be rich fall into temptation and a snare, and into many foolish and harmful lusts which drown men in destruction and perdition. For the love of money is a root of all kinds of evil, for which some have strayed from the faith in their greediness, and pierced themselves through with many sorrows.'
Jesus was clear about the spiritual difficulties that can arise from personal wealth. A wealthy person lives with the daily temptation to rely on their riches to get them through, instead of on God. Self-sufficiency is the enemy of a close walk with God, because it spins the illusion that we do not need his help. Indeed, it is entirely possible for a wealthy believer to go through their weeks without needing to trust God for any detail of their life, turn up on Sunday and appear just as devout as those who cling to their God each day. Spiritually, the one who clings is infinitely richer than the one who doesn't. Mark 10: 24b,
"Children, how hard it is for those who trust in riches to enter the kingdom of God! It is easier for a camel to go through the eye of a needle than for a rich man to enter the kingdom of God."
The dynamics of self-reliance are demonstrated in one of Jesus' parables. Luke 12:16-21,
"The ground of a certain rich man yielded plentifully. And he thought within himself, saying, 'What shall I do, since I have no room to store my crops?' So he said, 'I will do this: I will pull down my barns and build greater, and there I will store all my crops and my goods. And I will say to my soul, "Soul, you have many goods laid up for many years; take your ease; eat, drink, and be merry."' But God said to him, 'Fool! This night your soul will be required of you; then whose will those things be which you have provided?'
"So is he who lays up treasure for himself, and is not rich toward God."
So then, it seems there are two forms of wealth – personal wealth, horded primarily for the purpose of providing for oneself, and spiritually blessed wealth, which comes from the overflow of God's abundant nature, and is acquired for the purposes of generosity and love.
The key to understanding the difference between the two is captured in the last sentence from the previously quoted passage in Luke 12:
"So is he who lays up treasure for himself, and is not rich toward God."
If we lay up treasures for ourselves, we bar ourselves from the promises, provision and blessings of the Kingdom of God. A believer in such a state enjoys wealth in exactly the same way the world does. If, however, we are rich toward God in our hearts, seeking to enter the flow of his blessing and be his hands and feet to those in need, we walk in step with the Saviour and know what it means to see the Kingdom of God come in our lives, and in the lives God uses us to touch. As with all things, it's all about the heart.
It has concerned me for years, that in rejecting the prosperity movement, we've stepped away from actual Biblical promises that are moving parts in the provision of God for the needy, and therefore moving parts in the coming of the Kingdom of God. If the prosperity movement is out of balance, focussing on money itself rather than the One who provides it, the evangelical movement is equally unbalanced, focussing on the dangers of wealth but ignoring the clear promises of God to bless us financially. Is it time then, for the evangelical movement to repent of its own imbalance, and to embrace the Word of God more closely?
For me, prosperity is as much a promise of God as peace. I trust that the Lord will bless the work of my hands. If I start a business, I do so clinging to him, trusting him to bless it, give me favour with decision makers, and lead me in its growth. I expect success, because I believe God wants me to do well, and be generous with his blessing to meet the needs of others. I believe that such generosity results in the world looking on and saying 'Look what the Lord has done!', just as it did for the Israelites, and just as it did for the Corinthians. That is the purpose of wealth – to provide for the needy, and to display the goodness of God. God is abundant in every aspect of his nature, and he calls us to be like him. 1 John 4: 17,
'Love has been perfected among us in this: that we may have boldness in the day of judgment; because as He is, so are we in this world.'