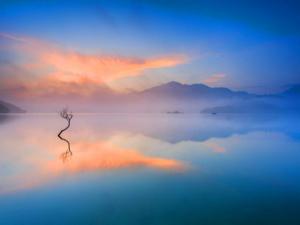 I love Psalm 23, and often draw strength from it. After recent discursive posts, I thought I'd offer something more devotional – a moment of repose and refreshment. I'll be going through the psalm, explaining what I take from it, and hope readers might respond with their own reflections and insights.
Meditating on the scripture has two active elements to it – repeating/muttering, and imagining. When I return to this psalm for refreshment, I repeat each line numerous times, letting it come to life in my imagination, as the Holy Spirit ministers it to me. On each occasion, it is fresh and gives life, and I encourage readers to do the same – repeat, imagine, listen, feel, until engaging with scripture becomes a divine encounter.
The Lord is my shepherd;
I shall not want.
He makes me to lie down in green pastures;
He leads me beside the still waters.
For me, these first lines are grouped together because they speak of the same thing – the complete provision of all our needs; mentally, emotionally, spiritually, relationally and practically. God has never wanted his children to suffer the gnawing pain of lack – the continual sense of something being wrong or missing; he is a good God, full of love and care, and he has promised to supply us with all we need. For example, where I used to be a loner, very much stuck in my ways, he has given me a family. Receiving this blessing required considerable change on my part, but by following his leading, I was able to make the transition bit by bit, until my daily experience was transformed. As my shepherd, he led me from the dry, rocky wilderness to abundance and fulfilment.
(Edit: This is not to imply being single is a wilderness for anyone else, but it was for me, leading to loneliness and isolation. There are plenty of folk out there who make the most of the opportunities being single affords.)
This is about so much more than provision. It is about the personal leading of God. The Lord isn't just a shepherd – he is my shepherd, your shepherd, our shepherd. He is personally engaged in our individual leading, from lack to abundance – an act of tender, protective service. It is humbling to know God does this for each of us.
If the Lord leads us, we must be on a journey, and have a destination. The essence of that journey is capture in the next two statements:
'He restores my soul;
He leads me in the paths of righteousness
For His name's sake.'
This speaks of growth. Our spirits were renewed when we gave our lives to Christ (hence the term, 'born again'). They are already perfect through the work of the cross, which is why and how we can connect directly with God, but our souls are on a journey of transformation from glory to glory. There are endless biblical references about this – we work out our salvation, we labour to enter rest, we put off the old and put on the new, we are transformed by the renewing of our minds. Each of us is a masterpiece, conceived in the creative mind of the Almighty, but we are all in need of restoration. He restores our souls – our emotions, our innocence, our ability to trust, our enjoyment of simple pleasures, our delight in life, our loved ones and in him. The life of the disciple is a life of renewal. But often, in the process of renewal, we go through some dark places:
'Yea, though I walk through the valley of the shadow of death,
I will fear no evil;
For You are with me;
Your rod and Your staff, they comfort me.'
What is the valley of the shadow of death? It is not death itself; this is not about the passage from mortality to immortality, but a passage through difficulty. Death, loss and destruction might loom and threaten, but we are led through such perils by one who knows the way. Without that leading, we might stumble into a pit, but if our ears are tuned to the Holy Spirit, we'll hear his warnings and instructions, even in the most dramatic and urgent of circumstances. And as we follow his leading, we change.
Many of the valleys I've been through were created by my own excesses, lack of wisdom, or poor choices. There might have been other contributing factors, but I almost always played a part, and found myself in shadow. Most people don't change until their backs are against the wall, and I am no exception. In the midst of peril and fear, the Lord has always led and changed me. He helps us reach the other side of the valley, and in doing so, we learn how to avoid taking that same dark path in the future. The leading of God is only of use to us if we are willing to change, and in our transformation, we pass through the valley of shadow, and out into the light.
There are other valleys not of our creation, such as times of mourning and loss. In that place, the comfort of God is our guide and our strength. He leads us through weeping, ministering consolation, and into rejoicing again.
'You prepare a table before me in the presence of my enemies;
You anoint my head with oil;
My cup runs over.'
One of the most beautiful and humbling aspects of the Christian faith is the service of God. Most notably, Christ demonstrated this when he gave up his divine rights and became a vulnerable human being, ultimately allowing himself to be mocked, spat on and crucified by his own creations, for the salvation of all. He washed his disciples' feet, and demonstrated in all he did that love is service – considering the needs of others first. It is extraordinary that he did this for us, that his scars and presence in Heaven will stand forever as intercession.
When we come to him in our struggles, mistakes and flaws, he washes our feet still. The service of God to his creation stops me in my tracks, makes the breath catch in my throat, leads me to worship. This stanza is another example of the service of God to his creation – he prepares a table for us, he anoints our head with oil, he fills our cup till it is overflowing. Our Lord, whom we worship, revere and serve, and who is infinitely greater than we will ever be, prepares a table for us. He anticipates our arrival, lays out the feast, eagerly imagining our delight as we partake. The goodness of God is beyond my comprehension, but gratitude resonates in my very bones.
The feast is not an image of the afterlife. It does not take place in Heaven, where threat no longer looms. It happens in the very presence of our enemies. To me this speaks of victory over the wiles and plans of those who would undermine, hurt or overcome us, be they spiritual forces or the people who temporarily serve them. They are still there, trying to achieve their ends, but they are foiled, and we are untouched. The Lord has led us to victory. We have followed him through the valley and come out changed. Our enemies cannot reach us at the feast, because we are wiser; we have yielded to the one who leads us through trouble, and found ourselves free.
'Surely goodness and mercy shall follow me
All the days of my life;
And I will dwell in the house of the Lord
Forever.'
Just as the Good Shepherd goes looking for the lost sheep, the love of God chases us throughout our lives. This is the nature of the life of faith – we are forever being wooed by divine love. God is so, so good and, knowing this, how can we not be good, also? For all our days and in the life beyond, we will be welcome in God's presence. What a glory and honour to sit at the feast, and to have the nail-scarred hands of Jesus pour oil on our heads. In humility and gratitude, we receive his love, and acknowledge the incomparable greatness of his goodness and mercy.
What of you? What reassurances does the Holy Spirit whisper to you, as you meditate on this wonderful psalm?