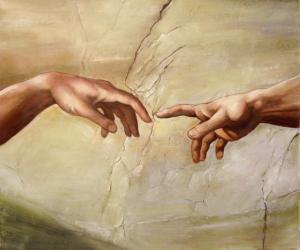 Knowing the nature of God is at the heart of a meaningful walk of faith. Understanding God's intentions towards us informs our interpretation of passages that could be taken in a number of different ways, and shapes our spiritual experience. As a young man, I thought God was stern and remote, leading to heaviness, drudgery and misery. After learning that God is good, in simple ways we mortals can understand, such as in parental love and care, my spiritual life was transformed. The Bible came alive! This post is the first in a series, on aspects of the nature of God. Today I'm looking at God the rewarder.
The Bible is littered with promises of rewards, but why does God honour us in this way? Some of the stern reformists I knew in early adulthood would not have considered themselves worthy recipients of a reward from God. Indeed, they tried to make themselves so small they were beneath divine notice. They identified as servants, but did not understand they were also children of God. Their spirituality was dour, heavy and servile, with little joy in it. They greeted each other as 'Dirty Rotten Sinner', and were lauded by others for their devotion, but such talk always made me shudder.
The other day a friend shared a Spurgeon quote on social media, that goes thusly:
'Brother, if any man thinks ill of you, do not be angry with him; for you are worse than he thinks you to be.'
What a dreadful sentiment! An obsession with sin does not magnify God; it magnifies sin. Paul described this as living under the law, and it is the very opposite of what God intends for us to feel about ourselves. Calvinism has a lot to answer for, but I will save that for another day.
What is it all these people were/are missing? What is it in the nature of God that seeks to reward? For me, the key to understanding rewards is found in Hebrews 11:6,
'But without faith it is impossible to please Him, for he who comes to God must believe that He is, and that He is a rewarder of those who diligently seek him.'
If it's impossible to please God without faith, then it must be true, by implication, that faith pleases God. Faith is a recognition of his nature – e.g. that he is a rewarder of those who diligently seek him. It is not an abstract of belief, or merely religious language to define having belief in the first place; the person with faith draws near to God because they understand he is good. They trust him, and this pleases God because that trust opens up all the gateways that would otherwise be closed. His great pleasure in our faith is that it enables us to know him and receive from him. It ushers in the kind of close relationship God desires to have with us. When we see him as he is, he fills our open hands with good things. Matthew 7: 7-11,
'Ask, and it will be given to you; seek, and you will find; knock, and it will be opened to you. For everyone who asks receives, and he who seeks finds, and to him who knocks it will be opened. Or what man is there among you who, if his son asks for bread, will give him a stone? Or if he asks for a fish, will he give him a serpent? If you then, being evil, know how to give good gifts to your children, how much more will your Father who is in heaven give good things to those who ask Him!'
God rewards faith because faith is the enabler of the entire Kingdom experience. It is our access to grace. Romans 5:2,
'Therefore, having been justified by faith, we have peace with God through our Lord Jesus Christ, through whom also we have access by faith into this grace in which we stand, and rejoice in hope of the glory of God.'
Faith is our access to grace, because faith sees God clearly – that he is love, and that he specifically loves us. It sees his goodness, his sacrifice, his closeness, his delight, his abundance, his desire to bless, and yes, his desire to reward.
So back to the central question – why does God reward us? The answer is as simple as could be. He rewards us because we have done something that has pleased him, and his heart overflows towards us. This is a wonderful truth – we have the ability to bless God's heart, to thrill him, and dare I say it, to make him happy. In Christian circles, happiness is often talked of as something shallow and transient, in contrast to joy, which is seen as spiritual and permanent. Personally, I've never been able to see much of a difference. It might well be that all this anti-happiness talk exists to provide an excuse for living in a self-imposed state of pseudo-spiritual misery. Every person I know who walks closely with God is frequently in a state of happiness, because their lives are filled with love.
Faith (seeing God for who he is) moves God so profoundly that he is painstakingly diligent in rewarding even the tiniest act of service. Matthew 10: 42,
'And if anyone gives even a cup of cold water to one of these little ones who is my disciple, truly I tell you, that person will certainly not lose their reward.'
The gratitude of God flows easily, for as small an act of service as filling a cup of water. Think how abundantly he will reward us on Judgement Day, when every minute act of kindness is revealed.
Judgement Day is often spoken of in dire tones, but Judgement Day is a day of rewards, as much as anything else. 1 Corinthians 4:5,
'Therefore judge nothing before the appointed time; wait until the Lord comes. He will bring to light what is hidden in darkness and will expose the motives of the heart. At that time each will receive their praise from God.'
If the giving of a cup of water is praiseworthy, and to be rewarded, the praise God will shower on us on Judgement Day will surely be more abundant than the flow of all the great waterfalls of Earth combined.
To the stern reformist, the idea that God is pleased by us, blessed by us, made content by us, praises us, and longs to reward each tiny act of service, is hard to take, because it requires self-acceptance to embrace. If we have been poisoned by Calvinism, and despise ourselves as a fundament of faith, then it is impossible to even glimpse these life-giving truths. If however, we've accepted ourselves, just as God accepts us, and learned to see ourselves with kind eyes, we are in a position to perceive and receive the abundant acceptance and love of God. Rewards then, are an expression of mutual delight. We delight in the Lord, and he delights in us, for it. Zephaniah 3: 17,
'He will rejoice over you with gladness,
He will quiet you with His love,
He will rejoice over you with singing.'
The Hebrew word 'rejoice' literally means to 'spin around under violent emotion.' The imagery is of impassioned dancing, while singing and shouting for joy. My next article will focus on this aspect of God's nature, so I won't go into any more detail, other than to say it is mind-bustingly wonderful to know that we can bless God so deeply he spins, leaps, dances, sings and shouts for joy. It is this wild, emotional God who rewards us. It is fundamental to his nature to bless us so.
God is diligent and steadfast in rewarding his children, but this is not the act of an Eternal Accountant, dispassionately intent on balancing the books. In his dispensing of rewards, God is pouring out blessing from a blessed heart.
These many rewards are not for 'extra stuff' we do on top of believing – they are for believing itself, and in believing, allowing his love to touch us, change us, and flow through us. Our greatest reward is God himself. Genesis 15:1,
'After these things the word of the Lord came to Abram in a vision, saying, "Do not be afraid, Abram. I am your shield, your exceedingly great reward."'
The Lord himself is our great reward, and in truth, all Earthly rewards are an expression of his nature. When I met my darling Chanel, and fell in love, I saw God in her and in the relationship that grew from there. She was and is his blessing to me. When I embraced her son as if he were my own, I saw God in him, and in the closeness we have. the Lord gave me a family. In all our rewards, now and in the Hereafter, we meet the gaze of God. Our greatest privilege is to worship Him, and when we do so, we find all we could ever want or need in his love. It is the deep satisfaction of knowing God, walking with God, being saturated by God, that draws us onwards. He is our forever prize. Philippians 3:14,
'I press on toward the goal to win the prize for which God has called me heavenward in Christ Jesus.'