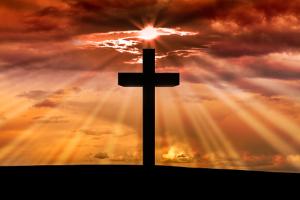 In the church of my youth, there was only one way of viewing what happened at the cross, and that was Penal Substitution – the idea that Jesus took our place on the cross, receiving the punishment each of us deserves. Progressives largely reject penal substitution, but rather than explain the thoughts of others, I want to examine the cross afresh.
Without doubt, the Bible makes it clear that all have sinned, but what does that mean? What is the nature of sin? In a previous post, I argued that sin is a way of labelling any expression of human brokenness. God is not capricious, drawing up lists of 'dos and don'ts', and punishing anyone who checks a box from the wrong list. Every sin has to be sin for a reason, or God is arbitrary.
The conclusion I've reached, which again is covered in the linked article, is that sin can be characterised as anything which harms ourselves or other people. God's preferences are not random; he wants to preserve us from harm. He would have us be well, happy and whole, knowing his transforming love in every part of our lives.
Many believers are confused about this, however, derailed by a poor understanding of Hebrew Law – its purpose and its limits. Under that Law, God appeared to be harsh and judgemental, punishing human beings for even minor breaches, such as picking up sticks on the Sabbath, which earned you a swift, unpleasant death. Rule breaking was instantly and brutally punished, and everyone was terrified of God because of it.
Many modern-day believers relate to God as if they live under Hebrew Law, failing to understand that the Law served a time-limited purpose, and is not representative of God's nature. The Law had a job to do, which was to make us aware of the impossibility of righteousness by works, and recognise our need for grace. Romans 7:7a…13,
'What shall we say then? Is the law sin?… Has then what is good become death to me? Certainly not! But sin, that it might appear sin, was producing death in me through what is good, so that sin through the commandment might become exceedingly sinful.'
The law reveals human brokenness, and the impossibility of perfection by adherence to any kind of imposed standard. It shows us there are two types of righteousness – that by works and that by grace – and urges us to choose grace. Romans 7:7b-9,
'I would not have known sin except through the law. For I would not have known covetousness unless the law had said, "You shall not covet." But sin, taking opportunity by the commandment, produced in me all manner of evil desire. For apart from the law sin was dead. I was alive once without the law, but when the commandment came, sin revived and I died.'
For those who wish to explore this in more depth, I've written of the purpose of the Law in a previous series, called Will the Real Jehovah Please Stand Up.
Confusion about the purpose of the Law, and therefore about perceived divine behaviour during the period of that Law, brings heaviness to many believers, whose relationship with God is hampered by their terror of him (the fear of the Lord is the beginning of wisdom, but not its end). For the avoidance of doubt, the writer of Hebrews sums up the believer's high calling, contrasting living under Law to living under grace. For clarity, the first mountain is Sinai, where Moses received the Law; the second is Zion, our heavenly home. Hebrews 12:18-24,
'For you have not come to the mountain that may be touched and that burned with fire, and to blackness and darkness and tempest, and the sound of a trumpet and the voice of words, so that those who heard it begged that the word should not be spoken to them anymore. (For they could not endure what was commanded: "And if so much as a beast touches the mountain, it shall be stoned or shot with an arrow." And so terrifying was the sight that Moses said, "I am exceedingly afraid and trembling.")
But you have come to Mount Zion and to the city of the living God, the heavenly Jerusalem, to an innumerable company of angels, to the general assembly and church of the firstborn who are registered in heaven, to God the Judge of all, to the spirits of just men made perfect, to Jesus the Mediator of the new covenant, and to the blood of sprinkling that speaks better things than that of Abel.'
Personally I visit this passage regularly, to remind myself of our heavenly destiny.
With all the above in mind, let's return to the cross. Penal substitution argues that we are so characterised by sin in God's eyes, that each of us should have hung on Calvary's cross. It states that Jesus took our place, receiving the wrath of God that would otherwise be ours.
If this is true, how did it work? Did Jesus die for individual sins, or for the collective sins of the world? In my youth, I was taught as follows:
That Jesus paid for my individual sins.
That he had me in mind when on the cross.
This presents insurmountable practical difficulties, in my view. From the Biblical records, we know that Jesus hung on the cross for a limited period of time, generally accepted to be about six hours, which is 21,600 seconds. Let's be generous, and say that right now, on this calendar day, a billion sins have been committed around the globe – a billion actions that harm either the perpetrator or another person.
If Jesus paid for each sin in a linear fashion, today's batch would leave him only 0.0000216 seconds per transgression. He'd have to cover nearly 5,000 sins every passing second – a fleeting moment to pay for 5,000 harmful acts, including murder, rape and other terrible acts of harm. If we divide those six hours further, incorporating every day of human history, the numbers become sillier still. If Jesus paid for each act of sin, in this way, he would have no time to dwell on any of them, and even history's most genocidal despots would be passed over in a nanosecond.
For this reason, I can't accept that Jesus paid for each sin individually, but instead paid for sin (the state and sum of human brokenness) in total. Similarly, I do not believe that I, or any individual, was on his mind during the crucifixion, other than those he walked with in life. All the Bible tells us for sure is that he was concerned for his mother, his dearest friend, John, and that he showed mercy to the man who hung beside him.
If Jesus wasn't thinking about you or I, and sin wasn't paid for in a linear fashion, what actually happened on the cross? If we put aside unhelpful traditions, and consider what the Bible teaches us, there is much to celebrate. 2 Corinthians 5:21,
'God made him who had no sin to be sin for us, so that in him we might become the righteousness of God.'
Jesus didn't just carry sin, or pay for sin; he became sin. The perfect Lord of all, who humbled himself to serve his own creation, became all human brokenness. Paying for sin is one thing; becoming sin is far deeper. Jesus became every expression of human brokenness, and more than that, became the cause of all human brokenness, which is judgement (to be dealt with in a forthcoming post). His spiritual agony was so much worse than the physical pain of the cross. It is no wonder the sky darkened, as all that is good became all that is harmful.
It doesn't stop there. Jesus became sin, that we might become the righteousness of God. In turn, this means that we become righteousness, as completely as he became sin. The cross, then, is an exchange – of our lack for his supply, our brokenness for his wholeness, our fear for his love, which can all be summed up as our righteousness (the best we have to offer in our own ability) for his righteousness (right-standing with God, forever).
I agree, then, that the cross is a substitution, but am not convinced it is penal, at least with regards to human beings. There is a punitive element, for sure, but what was being punished and why?
The cross was a battlefield, upon which Jesus slew the two great enemies of humankind – death itself (because he would rise again, and so would we, after his pattern), and sin (brokenness, stemming from judgement, including judgement of the self). If sin and death are the enemy, it is they which are being punished. On the cross, God's (and our) enemies were dealt a finishing blow, but we are not that enemy. Sin itself is the enemy God punished, by becoming it, paying for it, and ransoming us from its clutches. It was a spectacular victory. Colossians 2:13b-15,
'He forgave us all our sins, having cancelled the charge of our legal indebtedness, which stood against us and condemned us; he has taken it away, nailing it to the cross. And having disarmed the powers and authorities, he made a public spectacle of them, triumphing over them by the cross.'
This verse demonstrates two important truths:
The cross provides the forgiveness of sin, by cancelling our legal indebtedness. This is in reference to the Hebrew Law (hence the specific term 'legal indebtedness'), which required us to be perfect in our own strength, rather than become recipients of grace. On the cross, Jesus cancelled out that indebtedness by releasing a flood of eternal grace, forgave us our shortcomings under the demands of the Law (or any imposed standard of perfection), and removed any condemnation for failing to live up to such a standard.
Sin and death were destroyed. The enemies of humankind were disarmed, triumphed over, and made a spectacle of.
1 Corinthians 15:55-56, confirms the nature of the cross, and the victory that was won.
'Where, O death, is your victory? Where, O death, is your sting?'
The sting of death is sin, and the power of sin is the law. But thanks be to God! He gives us the victory through our Lord Jesus Christ.'
Sin and death are the enemies of humankind, but Jesus defeated them at the cross. It is these forces that were punished, and we that were ransomed from their airless grasp.
When I fall to my knees at the foot of the cross, I overflow with gratitude. My heart rejoices at the great exchange, where I give him my poverty, broken-heartedness, captivity, darkness, mourning, ashes and despair, and receive his good news, healing, freedom, favour, vengeance (against my enemies, sin and death), comfort, beauty, joy and spirit of praise. It was this passage (below) which Jesus quoted from at the commencement of his ministry, and this exchange which characterises the will of God in the believer's life. It is this which captures the heart of the cross, and the eternal gift of grace. Isaiah 61:1-3,
'The Spirit of the Sovereign Lord is on me,
    because the Lord has anointed me
    to proclaim good news to the poor.
He has sent me to bind up the broken-hearted,
    to proclaim freedom for the captives
    and release from darkness for the prisoners,
to proclaim the year of the Lord's favour
    and the day of vengeance of our God,
to comfort all who mourn,
    and provide for those who grieve in Zion –
to bestow on them a crown of beauty
    instead of ashes,
the oil of joy
    instead of mourning,
and a garment of praise
    instead of a spirit of despair.'
Generally speaking, Progressive Christianity has rejected penal substitution, seeing it as cruel and unjust, inducing self-loathing. Although I accept those reasons, I'm also convinced it's unbiblical – a joining of dots that do not belong to the same image. As that image clarifies, we meet the gaze of Jesus.