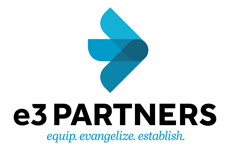 E3 Partners Expedition Podcast 13: Empowering Locals In India & Reaching Whole Families in Cuba
Play Now
|
Play in Popup
|
Download
Sam traveled to India to train pastors and see the Lord's presence in a very different culture. Here is his story:
This was my first trip to India, and Siliguri didn't seem to match up to my preconceived ideas of what India would be like. It was very primitive and third-world-ish. So, I spoke at a little church made of split bamboo on the first Sunday morning that we were there. It had a pulpit at one end with a couple of chairs, a bench along the back, and a wide open floor for the congregation to sit on – cross legged for three hours! (try that out sometime!)

Later that week, we went out to a small Nepali village, going door-to-door, sharing the Gospel with the people who lived there. I learned that day where the burden of evangelism ought to be – you see, it's not my responsibility to win over India for Christ. I can't do that. But I can encourage the people who live there, help them and pray for their role in showing God's love and plan for the lives of the people in their country. Just like at home, I can't win over my entire region for Christ, but I can equip the people of my congregation to go out and put God's love on display to their neighbors, co-workers and communities.

The role of any pastor – no matter where in the world they may be – is to equip the saints. So, it was so humbling and so cool to be a part of equipping the local congregations in Nepal and India so that they can grow God's kingdom through His grace.
Sam – and other team leaders who go out all around the world – really enjoyed connecting with the local churches and local pastors. He also learned that it's not important who shares the Gospel to the unreached people of the world, but it's simply important that the Gospel is shared!
As Romans 1:16 says – "For I am not ashamed of the gospel, because it is the power of God that brings salvation to everyone who believes: first to the Jew, then to the Gentile."
Next, Bill tells his story of sharing the Gospel with a man who had been prepared by the Holy Spirit before Bill even arrived in Cuba:
As 1 Corinthians 1:18 says:

18 For the word of the cross is foolishness to those who are perishing, but to us who are being saved it is the power of God.

By these words, we know that the only reason anything was accomplished during our trip was because of God's amazing power working through us.
My translator and I were standing outside a man's house, and we asked him if we could share a story with him and his family. At first, the man said that he didn't have time for it, but when we told him it would only take five minutes, he agreed. So, he allowed us to come into his home and invited us to sit at his table with him, his wife and their children. Now, when we first began sharing with him, his face was stern – hard like a rock. He didn't appear open at all to what we had to share. Yet, by the time we were about midway through our presentation – when we were sharing about Jesus suffering on the cross for us – his whole countenance had changed. Tears began to well up in the corners of his eyes as he contemplated Jesus' story. By the end of the week, this man, his wife and even her parents accepted Christ into their lives. It was such an encouraging answer to prayer to see whole families come to know Jesus!
For more encouraging and engaging podcasts and videos, visit the E-Squared Media Network at www.e2medianetwork.com