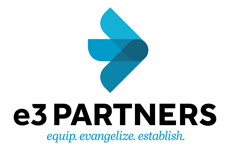 E3 Partners Expedition Podcast 24: Wheelchairs and Church Tours Opening Doors in Ethiopia and Israel
Play Now
|
Play in Popup
|
Download
Every week, we share stories about the amazing ways God is at work around the world. We hope that you'll be encouraged by these stories and inspired to greater involvement in God's Great Commission to go out to the world – near and far – and train, instruct, and baptize people in Jesus' Name. This week, we start off by hearing from Arville as he shared how he experienced first-hand the power of the Gospel in Ethiopia while delivering donated wheelchairs with Free Wheelchair Mission:
I've been involved with our missions team at Carlsbad Community Church for over 20 years, but this was my first short-term trip. You could say that it was time that I put my money where my mouth is and go instead of just sending people out into the mission field.

Twelve years ago, a retired missionary named Dr. Nathan Barlow came to our church and he had found the cause and cure for Mossy Foot in Ethiopia. The soil over there would sparkle in the sunlight from all these tiny shards of glass within the volcanic soil. These shards would get into the people's feet, and the lymphatic system couldn't flush them out. So their feet would balloon out, as if they had elephantitis. But, Dr. Barlow discovered the actual cause, the surgery to correct it and began helping the Ethiopians who were affected by the crippling condition.

One of the keys to fighting Mossy Foot was to provide shoes to the people. So for several years, our missions team provided shoes for children and adults alike. Then, we learned that there was a great need for wheelchairs throughout the region as well. So, we loaded up fifty pounds of socks in a big suitcase along with 550 wheelchairs to deliver to the people of Northern Ethiopia.

When we would arrive at the various villages, we would be met with anywhere from 25 – 65 crippled people crawling on the ground, eagerly waiting to receive a wheelchair. Even the people living in the village were surprised to see so many people in need, since they hide their crippled people out of sight.

But, what I found most interesting was the plethora of different denominations and various churches that banned together to serve, minister and translate in order to help the people that we visited. The mayors and politicians learned quickly that they didn't have the resources to care for the hundreds upon hundreds of people in need for wheelchairs, and so they were more than happy to allow us to help. In exchange, they allowed us to share the Gospel to wide audiences across the country. One line that stood out to me was, "Jesus loves you and we love you! God has designed some of you to walk, but He has designed others of you to ride in a wheelchair." This perspective offered the dignity to these people in need that should have been bestowed upon them from the beginning, as people created in the image of God.
E3 has had the extreme pleasure to serve the people of Ethiopia, providing wheelchairs and aid for these people afflicted with Mossy Foot; and the wheelchairs always open doors to share God's truth and love for the people we meet. And I think that God is even further glorified when people of a huge variety of denominations set aside their differences in order to spread the Gospel and expand God's kingdom!
Next, we hear from Julia who returned to Israel to see what God has done in the heart of a friend:
When we arrived in Israel, our driver Monir told me that he had a friend who was eager to see me. She was a tour guide from my previous trip to Bethlehem, and while I remember the tour very vividly, I couldn't remember exactly who she was as Monir told me about her.

When we arrived in Bethlehem, she met us at a falafel stand, rushed up to me and said, "I've been waiting for you for four months!" She then gave our group, consisting of several American Christian students, a tour of the Church of the Nativity. But, as the tour went on, there were several things that she was telling us that didn't quite "jive" with what we understood as the story of Christ in the Bible. As she concluded the tour, she turned and told the group, "Now, boys and girls, if you want to go to heaven, you must keep the Ten Commandments." This clued me in to her perspective on God and His plan for us.

Throughout the remainder of the day, I got to talk with her about the Gospel, culminating in me asking her about heaven. She believed that God would welcome her into heaven because she had suffered so much in her life here on earth. She felt as though she had earned and deserved eternal life. She did believe that Jesus had died for the sins of the world, but missed the true significance of His sacrifice. This proved to be one of the most challenging yet exciting discussions that I have ever had. I learned that she had grown up in the Greek Orthodox Church, and was a very religious person. She knew the stories of the Old and New Testaments, but she had never established a relationship with Jesus based on His grace. Until that day, stories such as Jesus' discussions with Nicodemus or the woman at the well hadn't had any application to her own life. But at the end of the day, she realized her need for Christ's redeeming love and mercy as well as her need to allow Him to be Lord of her life and not just thinking of eternal life as something to be earned through suffering.

I learned a deeper meaning to Matthew 16 where Jesus says: "Behold, I send you out as sheep in the midst of wolves; so be wise as serpents and innocent as doves."

As we let our light shine and touch the people we meet with compassion and love, He opens up the doors of opportunity for us to share the Gospel.

And now, today, as Maria finishes her tours of the Church of the Nativity, instead of encouraging boys and girls to simply follow the Ten Commandments, she shares about Jesus Christ and how whoever believes in Him can have eternal life and how it's not by works of righteousness, but by grace though our faith alone are we saved!
For more encouraging and engaging podcasts and videos, visit the E-Squared Media Network at www.e2medianetwork.com.