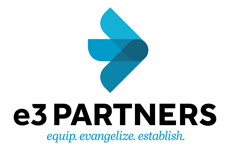 E3 Expedition Podcast 25: Familial Faith in Costa Rica and Miraculous Family Reunion in Cuba
[ 11:36 ]
Play Now
|
Play in Popup
|
Download
Every week, we share stories about the amazing ways God is at work around the world. We hope that you'll be encouraged by these stories and inspired to greater involvement in God's Great Commission to go out to the world – near and far – and train, instruct, and baptize people in Jesus' Name. This week, we start off by hearing from Al, as he reports back on what he saw God do in Costa Rica:
Costa Rica is a country of about 4 million people. It has no military and has pretty much been at peace for over 65 years, which is interesting considering its geography: bordering Nicaragua and Panama. We went down there with a team of about 30 of us, with about six different mission points from which we worked out of in the northwest corner of the country.

One of my challenges, as a team leader, was we had very few translators who were fluent in English. This made me quite frustrated with God for the first couple days we were there. Everyone was looking at me to lead them, but I felt as though we were facing an impossible situation with such a shortage of translators.

But by the end of the week, I saw God's hand at work, even through this process.

We learned that two of our translators who were the weakest weren't actually Christians. One day, I was walking along with one of them, Rigo, and I asked if he had ever made the decision to accept Jesus as his Lord and Savior. He replied, "No, I am in the process." At the end of the day, he said he needed to leave to go attend his cousin's funeral. We prayed for him, and even gathered later that evening to lift him up in prayer. I also told my prayer warriors back at home to pray for him throughout the night.

The next morning, when we were about to set out for the day, we realized that Rigo didn't show up as planned. My heart sank. We learned that his asthma had flared up and he wasn't going to be able to make it that day.

But then he unexpectedly showed up about 15 minutes later. We laid hands on him and prayed for his asthma, and he was able to go out with us that whole day.

Now I wasn't with Rigo throughout the day, but when I saw him that night at dinner, I noticed that his face was glowing and he was filled with a joy that I hadn't seen in him before.

He told me, "I've got good news for you! I ACCEPTED JESUS TODAY!!"

What I found especially remarkable about this was that he had done this with his best friend together that afternoon. Also, another team was visiting with Rigo's girlfriend and she also accepted Christ that day – completely unplanned and unbeknownst to any of us.

Now, during our stay in Costa Rica, we were mainly tasked with strengthening a local church there, and we saw so many young people come to Jesus that week that the church's weekend youth service saw an additional 40 teenagers show up to learn more about Jesus! Keep in mind, this little church only has a capacity of about 90 people total.

Earlier in the week, we saw a pair of teenage boys come to the Lord, and then they went out with us each day after that, sharing their testimonies and spreading the Gospel.

John Piper once said, "Missions exists because worship doesn't." Yet, in a matter of days, I saw new worshippers glorifying God and praising Him as part of our missions work.

Finally, we saw answered prayers regarding Spiritual family heritage. A teenage girl from the local church brought one of our groups to her family's home and eight of her family members, across multiple generations accepted Christ throughout that day.
Seeing people like Rigo, his best friend and his girlfriend all receive Christ on the same day, as well as Christ making an impact across generational lines in this young girl's family is no coincidence. It's actually seeing God's hand at work in the lives of His people. We also see the power of prayer and how God guides our prayers as much as he answers them in Al's story.
Next, the Island of Youth is off of the south coast of Cuba, and we have had the privilege of sending teams there from time to time in years past. Here is an amazing and miraculous report from Dan regarding connecting family members in the U.S. and Cuba:
One day in Cuba, we came upon this farmhouse and a girl named Jacqueline rode up to us on her bicycle. She knew how to speak English and invited us into her home. As we entered into her home, we met Jacqueline's mother, Margarita who also spoke English. We learned that many of their family members had left Cuba during the revolution and Jacqueline and Margarita felt very isolated. We saw this as a great opportunity to share with them about Jesus' unfailing love and they both accepted Christ that day. After going through much of the follow up materials and inviting them to that evening's services, I asked them if they had anything that we could be praying for. They both said that their prayer request was that they hadn't heard from any of their family members who had left in decades and they felt isolated from everyone they loved. Over the years, they had sent several letters, but never received any responses. Their family members apparently now lived in the U.S., parts of Australia and also England. I asked them to write new letters to their family members that I would send for them from American soil with, hopefully, better results. Later that night, the two women arrived at our meeting and it was such a treat to see them worshipping and enjoying Christian fellowship for the first time.

The next morning, we didn't have enough interpreters for each of our teams. It quickly dawned on us that both Jacqueline and Margarita were fluent in both Spanish and English and could possibly help us out. It turned out that Jacqueline couldn't help us that morning, but her mother could.

So, we drove together to a church 20 kilometers away and met with the local pastor there. Now, back in the states, I had been given several letters to deliver to different people in Cuba. I needed Margarita's help in figuring out which letters, if any, needed to be delivered to this church.

The final letter in the stack that I pulled out of my backpack was addressed to Margarita and Jacqueline Rice. Margarita ripped open the letter, and sure enough, it was a note from one of her relatives in the States, expressing her love for Margarita and Jacqueline. It said that she had tried to write Margarita before, but her mail couldn't get through. She had feared that perhaps Margarita had moved, but had hoped that her pastor in the U.S. could coordinate with the pastor in Cuba and somehow find Margarita and Jacqueline.

There are 80,000 people on the island, and somehow, we stumbled upon Jacqueline and Margarita's home. We then prayed that they would hear from their relatives and this whole time, I was holding this letter in my backpack. Needless to say, God's unbelievable love for these two women was on full display!

It was absolutely thrilling to witness!
For more encouraging and engaging podcasts and videos, visit the E-Squared Media Network at www.e2medianetwork.com.