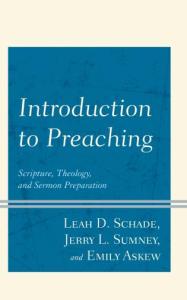 Introduction to Preaching Scripture, Theology, and Sermon Preparation
By Leah D. Schade
Rowman & Littlefield – 2023
Coauthored by a homiletician, a theologian, and a biblical scholar, this book is a preaching primer that provides tools for crafting effective, engaging, and inspiring sermons. Using a unique workbook-style format, Introduction to Preaching equips seminarians and preachers to use appropriate theological claims informed by solid biblical interpretation while providing several sample sermons from the authors.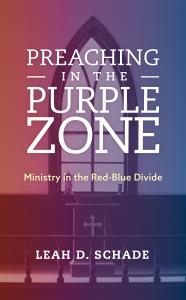 Preaching in the Purple Zone: Ministry in the Red-Blue Divide
by Leah D. Schade
Rowman & Littlefield, 2019
*Amazon #1 New Release in Christian Preaching!*
Preaching in the Purple Zone is a resource for helping the church understand the challenges facing parish pastors, while encouraging and equipping preachers to address the vital justice issues of our time.This book provides practical instruction for navigating the hazards of prophetic preaching with tested strategies and prudent tactics grounded in biblical and theological foundations. Key to this endeavor is using a method of civil discourse called "deliberative dialogue" for finding common values among politically diverse parishioners. Unique to this book is instruction on using the sermon-dialogue-sermon process developed by the author that expands the pastor's level of engagement on justice issues with parishioners beyond the single sermon. Preaching in the Purple Zone equips clergy to help their congregations respectfully engage in deliberation about "hot topics," find the values that bind them together, and respond faithfully to God's Word.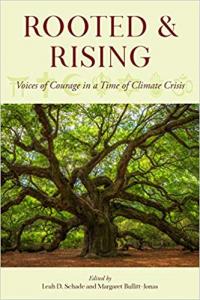 Rooted and Rising: Voices of Courage in a Time of Climate Crisis
Co-edited by Leah D. Schade and Margaret Bullitt-Jonas
Rowman & Littlefield, 2019
Rooted and Rising is an edited volume intended for readers who are concerned about the climate crisis and who thirst for the wisdom and spiritual resources of fellow pilgrims grappling with despair. In anticipation of the 50th anniversary of Earth Day in 2020, authors Leah Schade and Margaret Bullitt-Jonas have assembled a volume of essays that bring together a diverse range of voices that speak to the spirituality and faith perspectives that sustain our climate activism. The book seeks to highlight individuals who have found religious practices and perspectives that renew their capacity for compassionate, purposeful, even joyful action.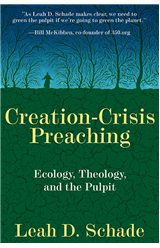 Creation-Crisis Preaching: Ecology, Theology, and the Pulpit
Chalice Press, 2015
by Leah D. Schade
How can we proclaim justice for God's Creation in the face of global warming? How does fracking fit with "the earth and its fullness are the Lord's?" Creation-Crisis Preaching works with the premise that all of Creation, including humankind, needs to hear the Good News of Jesus' resurrection in this age in which humanity is "crucifying" Creation. Informed by years of experience as an environmental activist and minister, Leah Schade equips preachers to interpret the Bible through a green lens, become rooted in environmental theology, and learn how to understand their preaching context in terms of the particular political, cultural, and biotic setting of their congregation. Creation-Crisis Preaching provides theoretical grounding and practical tips for preachers to create environmental sermons that are relevant, courageous, creative, pastoral, and inspiring.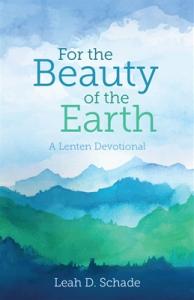 For the Beauty of the Earth: Lenten Devotional
by Leah D. Schade
Chalice Press, 2020
As we mark the 50th Earth Day (April 22, 2020), Christians can reflect on how caring for God's creation is connected to our faith. Drawing on the beloved hymn "For the Beauty of the Earth," each week of this 40-day Lenten devotional focuses on a different aspect of the splendor of nature, how God nurtures our spirit through creation, and how we must protect our precious home. As we walk with Jesus along shorelines, through gardens, and among trees, we learn from the birds of the air and the lilies of the field.
Bonus Section: 50 Ways to Honor the 50th Anniversary of Earth Day: Extend your Lenten journey into the 50 Days of the Easter season with this list of practices, activities, and ideas for celebrating and honoring Earth Day where you live.